TT:
On today's show, I want to go over a really important topic…
This is one that the natural health community has known about for decades but is just recently being recognized in the mainstream and by our government.
I don't want this to be an alarming episode but I feel it is important for you to understand what PFAs are, how they have infiltrated our lives, and what we can do about it.
Join me on today's #CabralConcept 2617 where I share with you what "Forever Chemicals" are and how they have finally been recognized as a real problem – Enjoy the show and let me know what you thought!
– – –
Audio Podcast:
Video Podcast:
Show Highlights & Big Takeaways:
1. What are PFAs
Perfluoroalkyl and Polyfluoroalkyl substances (PFAs) are man-made chemicals that were initially introduced in 1946 by the Dupont Company. Since then, thousands of products have been created using these chemicals which have infiltrated our water, soil, and bodies. PFAs are highly toxic, never break down in the environment, and remain in our bodies for years.
2. What are the Effects of PFAs
PFAs are known carcinogens and can lead to testicular, kidney, liver, and pancreatic cancer. They are also associated with high cholesterol, inflammation, allergies, thyroid issues, birth defects, and much more.
3. What Can You Do About PFAs
First and foremost, it is important to reduce the amount of PFAs in your household. Work with companies that test for heavy metals, purchase water filters, air filters, organic food, clean skin care products, and more. Ensure that you incorporate detox into your wellness routine, sweat on a regular basis, drink water, and provide your body with the nutrients in needs.
Show Notes & Resources:
> Biden-⁠Harris Administration Proposes First-Ever National Standards to Combat PFAS in Drinking Water (press release)
> Suspected industrial discharges of PFAS (EWG)
> PFAS Contamination in the U.S. (EWG)
> Study: More Than 200 Million Americans Could Have Toxic PFAS in Their Drinking Water (EWG)
> Protecting against 'forever chemicals' (research)
> C8 Science Panel (research)
> The Devil We Know (Film)
> PFCs: Global Contaminants (EWG)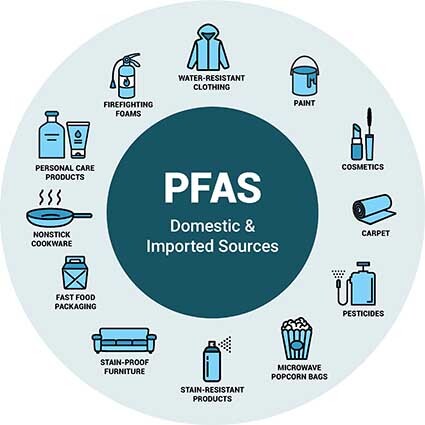 > Get a FREE Copy of Dr. Cabral's book, the Rain Barrel Effect
> Join Our Online Community (Free Q&A Facebook support group!)
> Dr. Cabral's Personal Resource Page
> Apply to Dr. Cabral's Private Practice 
> Become an IHP Certified Health Coach by Dr. Cabral
Dr. Cabral's Most Popular Lab Tests:
> Complete Minerals & Metals Test
> Complete Candida, Metabolic & Vitamins Test
> Complete Stress, Mood & Metabolism Test
> Complete Stress, Sleep & Hormones Test
> Complete Food Sensitivity Test
> Complete Omega-3 & Inflammation Test
> Complete Gut Bacteria & Parasite Test
> Comprehensive "Big 5" Lab Tests
> View all Functional Medicine lab tests
Get Your Question Answered on an Upcoming House Call!

Submit your question at:
https://stephencabral.com/askcabral/
– – –
Listen to Previous Podcasts:

To listen to other episodes of the Cabral Concept, visit:
https://stephencabral.com/podcasts
– – –
Would You Take 30 Seconds to Rate & Review the Cabral Concept?
The best way to help me spread our mission of true natural health is to pass on the good word, and I read and appreciate every review!
Click this link to open the Cabral Concept on Apple Podcasts
Click "Listen On Apple Podcasts"
Scroll down to the "Ratings & Reviews" section
Click "Write a Review"