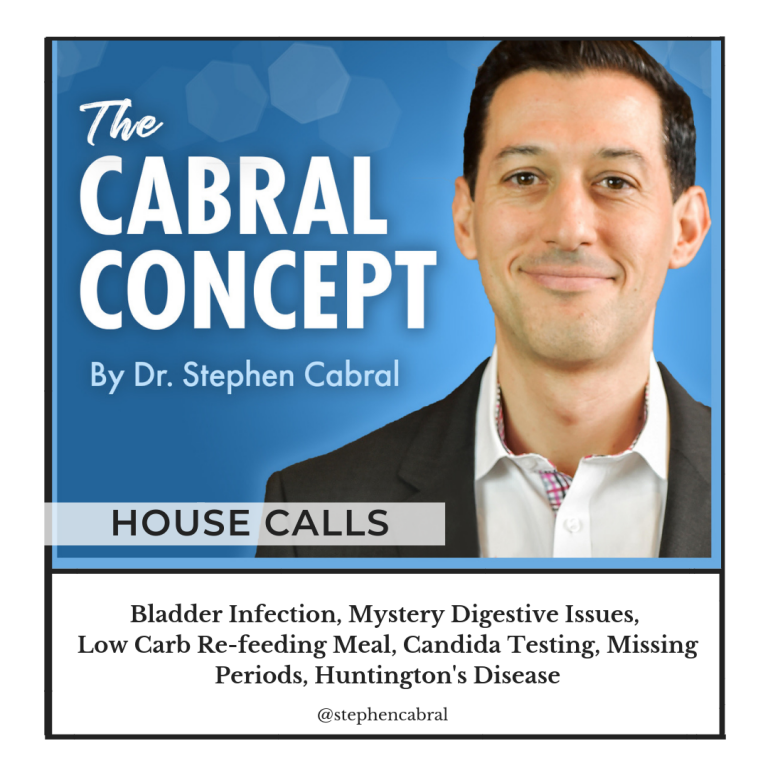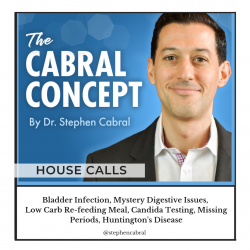 HouseCall: Bladder Infection, Mystery Digestive Issues, Low Carb Re-feeding Meal, Candida Testing, Missing Periods, Huntington's Disease
Thank you for joining us for our 2nd Cabral HouseCall of the weekend!
I'm looking forward to sharing with you some of our community's questions that have come in over the past few weeks…
Let's get started!
Lisa: I have A new challenging situation. I gave up coffee approximately one year ago and started drinking hot herbal green tea. Some caffeinated some not. I also drink a lot of hot lemon water. I drink a lot of hot drinks because my hands are cold. About a month ago I started having frequent urination feelings in my bladder. Pressure but hard to urinate. No bladder infection that I'm aware of. I have an eliminated hot tea and reduced the lemon water but it is still there and very uncomfortable. It appears to show up later in the day as it is not there when I first awake. Any ideas? Thank you!
Laura: Hi Dr. Cabral, I recently discovered your podcast and I've been loving it. Your approach to health and wellness is very refreshing. I've followed a vegan diet for the past four years. Lots of vegetables, fruits, grains, and some nuts and seeds. I've suffered with heartburn, chest pain, bloating, and tiredness after I eat for a long time. Going vegan has improved the symptoms a lot, but they haven't completely gone away. I usually never get symptoms after breakfast. It's mainly after lunch or dinner. I've tried eating smaller meals throughout the day and that didn't really help. I've tried eliminating known triggers like tomatoes, garlic, onions, citrus fruits, soy, corn, gluten, and cruciferous vegetables but that didn't help either. I still can't seem to pinpoint what the problem is or what food is the root cause. It's weird because I'll eat a meal one day and feel totally fine and then I eat the same meal another day and I get the symptoms. I don't really know where to go from here, so if you had any suggestions or recommendations that would be great. Thanks so much for all your help! Laura
Lisa: Hello Dr. Cabral. I have been doing a low-carb diet for some time now which has kept me at a good weight. I am not fat but I would really like to get more tone and build some muscle. I was told carb cycling is a great way to build muscle and lean out but I fear putting carbs back into my diet may bloat me. What's your take on carb cycling and have you seen results with this on someone who has followed a low-car diet for so long.
Demet: Hi. I am emailing from Australia and I have come across Dr. Stephen Cabral from a podcast that I have recently listened to. I have been battling with chronic health issues for quite a long time now and I am in a very dark place at the moment with no proper answers and treatments. I have been to countless practitioners/ naturopaths about my SIBO, severe candida overgrowth, chronic constipation (1-2 bowel movements p/w), lots of gut-related issues, PCOS, Amennorhea, Chronic Fatigue Syndrome, Bipolar disorder, depression anxiety, and other mental health challenges. I have tried so many different things and protocols, supplements, etc but nothing has lasted long term. I am started to become frightened at the idea that I may not be able to have some quality of life. mind due I am only a 26-year-old female. I am really losing hope and I feel extremely overwhelmed about all the conflicting information out there and really need some guidance and support. I believe that my digestive system is the 1st place to begin however I am very reluctant to try any other product or protocol again. I would like to find out more information on the Candida and Bacterial overgrowth cleanse protocol. How does it work? Do I need to work with a practitioner in order to use it? What if it doesn't resolve my issues? Do the supplements contain animal products or alcohol? Can you ship to Australia, if so, how long would it take, and what about the preservation of the probiotics? I am also chronically constipated and have only 1-2 bowel motions per week, would this protocol help with that? I would truly appreciate your clarity on all of my questions. kindest regards, Demet.
Ida: Hi! I'm 23 years old woman and have had long anorexia in my teens. Due to I'm living healthy and have a balanced weight I haven't gotten my periods back. The sad story is that I have had periods only once in my lifetime and I'm quite worried about it. Can you recommend some lifestyle/diet changes or tests?
Lisa: I'm writing on behalf of a friend who has Huntington's. (Huntington's disease is a fatal hereditary neurodegenerative disorder that is characterized by progressively worsening motor, cognitive, behavioral, and psychiatric symptoms). He is in Stage 1, confirmed by genetic testing. He is 55, overall healthy lifestyle (no smoking, drinking). Diet is Standard American Type Diet. No regular exercise. I believe he is open to specific supplementation IF it came from a credible doctor such as yourself or research studies but I haven't found anything. Is there anything, other than the Nutritional Daily Support and Daily Fruit/Veggie Blend that would help him? Would you recommend any tests? Whatever you say I will share with the family and or have them listen to this podcast. Thank you, Dr. Cabral. Lisa
– – –
> Click here to listen in iTunes

> Or, click the play button below to listen to this episode now:
Show Notes & Resources:
> Learn more about the Integrative Health Practitioner Certification
> Dr. Cabral's New Book, The Rain Barrel Effect
> Join Our Online Community (Free Q&A Facebook support group!)
> Apply to Dr. Cabral's Private Practice 
Dr. Cabral's Most Popular Lab Tests:
> Hair Tissue Mineral Analysis
> Thyroid + Adrenal + Hormone Test (also known as the "weight loss test")
> Dr. Cabral's "Big 5" Lab Tests
> View all Functional Medicine lab tests
Get Your Question Answered on an Upcoming House Call!

Submit your question at:
https://stephencabral.com/askcabral/
– – –
Listen to Previous Podcasts:

To listen to other episodes of the Cabral Concept, visit:
https://stephencabral.com/podcasts
– – –
Would You Take 30 Seconds to Rate & Review the Cabral Concept?
The best way to help me spread our mission of true natural health is to pass on the good word, and I read and appreciate every review!
1. Click link: https://itunes.apple.com/us/podcast/cabral-concept-by-stephen/id1071469441?mt=2
2. Click "View in iTunes" button
3. Click "Subscribe" button
4. Click "Ratings and Reviews" text
5. Click to rate and leave a short review and you're done!
* Thank you again and every review gets entered in my monthly contest to win great prizes!
– – –