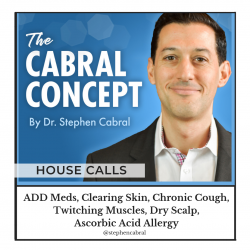 HouseCall: ADD Meds, Clearing Skin, Chronic Cough, Twitching Muscles, Dry Scalp, Ascorbic Acid Allergy
Thank you for joining us for our 2nd Cabral HouseCall of the weekend!
I'm looking forward to sharing with you some of our community's questions that have come in over the past few weeks…
Let's get started!
Kelly: Dear Dr. Cabral, Love and appreciate your podcasts. Do you have suggestions for ways to rebalancing energy and neurotransmitters after discontinuing ADD medications? I have inattentive type ADD and have been on Adderall for the last 8 years. I got sick of the worsening depression, mood swings, and low energy and read about the long-term effects of the medication and have since tapered off of it. I feel somewhat improved after starting on Wellbutrin and L-tyrosine in the AM but would love to hear your thoughts. I don't want to be on an antidepressant forever. Also, if you can recommend any books or other resources on neurotransmitters/ADD I'd appreciate them! I work in the ER and love reading research and learning! Thanks so much!
Tara: Hi Dr. Cabral, In recent years I've been learning a lot about holistic approaches to wellness. Since discovering your podcast a month ago, this journey has been expedited. Thank you so much for sharing your knowledge! I'm in my 30's and since having my second child, I've struggled with bad aches. It seems to be hormonal, as it increased with my menstrual cycle (which has also become much heavier and painful). I tried many natural remedies with no success, before going to the dermatologist who prescribed birth control and a topical gel called Veltin (generic for Ziana). I've been on it for 5 months and it has worked very well in clearing my skin. However, I'd really like to stop taking these drugs if possible. Besides the acne, my other major "dis-ease" is plantar fasciitis that won't go away after 7 months of resting, wrapping, icing, and stretching per my orthopedist's recommendation (she wants to start Cortisone shots next, which I don't want). I like to stay fit and work out 5-6 days a week. I'm currently on Day 5 (of 7) of the DCD and would like to run some labs afterward to determine the underlying problems, address them, and maximize my health. What would you suggest? Thank you!
Maxine: I have had a chronic cough for almost 5 years, starts off as a dry cough, then gets productive and I have to spit out phlegm, when I blow my nose in the morning there is greenish color mucus. Any advice on how to cure it. I was told it was due to nerve and I should take Lyrica, I've seen ENT, pulmonologist and no relief
Adrian: Hi Dr. Cabral! I am a 32 years old Personal trainer from Norway. I stumble on to your website, and listened to some of your podcasts, and found out you are the guy I should talk to! I was taking 3x1g Amoxicillin for 100 days for my Modic changes In my lower back. My symptoms now are twitching muscles, anxiety, flat mood, cold fingers, internal «rage» In my nervous system, extreme tiredness In the afternoon, and full Body stiffness and pain, especially ln the morning. I also seem to Get arthritis In my fingers. It can be better for a few days, then it comes back. Can't find a pattern with histamine or other foods. I took some blood tests But came back normal. Please Dr.Cabral tell me Where to start. My doctor is Always without suggestions. And if there is an answer to my problems I would be so happy to be myself around my little family again.
Tanya: Hi Doctor Cabral, Finding your podcasts ( through a Melissa Ambrosini podcast ) has been the best thing ever. I could listen to you all day. Actually, that is what I'm trying to do, get through all the past podcasts. I have a question about Marine collagen, here in Australia it is very big at the moment. What are your thoughts on taking this daily as suggested on the pack? My thoughts for taking this is for bone/joints support as I have a scoliosis and deterioration between the disks around my neck/shoulder area. The past year it seems to have become worse with a pretty constant pain radiating down and across my right shoulder and arm. I am looking to support bone health. It is affecting my yoga practice also. I don't have dairy other than the occasional cheese and take D3 daily, recommended by my doctor after blood tests. I have started adding Vit k with 4& 7 in it.
I also have a very dry scalp mainly around the hairline. I am 48 years old and never suffered in the past. It is ok for the first day of washing but the next it starts to flake. What are your suggestions for this? Keep up the fantastic work, I love that you are forever educating us on health and wellbeing from your heart.
Alice: I am extremely allergic to ascorbic acid. My tongue swells and upsets my stomach. Will any of your cleanses ok for me?
– – –
> Click here to listen in iTunes

> Or, click the play button below to listen to this episode now:
Show Notes & Resources:
> Learn more about the Integrative Health Practitioner Certification
> Dr. Cabral's New Book, The Rain Barrel Effect
> Join Our Online Community (Free Q&A Facebook support group!)
> Apply to Dr. Cabral's Private Practice 
Dr. Cabral's Most Popular Lab Tests:
> Hair Tissue Mineral Analysis
> Thyroid + Adrenal + Hormone Test (also known as the "weight loss test")
> Dr. Cabral's "Big 5" Lab Tests
> View all Functional Medicine lab tests
Get Your Question Answered on an Upcoming House Call!

Submit your question at:
https://stephencabral.com/askcabral/
– – –
Listen to Previous Podcasts:

To listen to other episodes of the Cabral Concept, visit:
https://stephencabral.com/podcasts
– – –
Would You Take 30 Seconds to Rate & Review the Cabral Concept?
The best way to help me spread our mission of true natural health is to pass on the good word, and I read and appreciate every review!
1. Click link: https://itunes.apple.com/us/podcast/cabral-concept-by-stephen/id1071469441?mt=2
2. Click "View in iTunes" button
3. Click "Subscribe" button
4. Click "Ratings and Reviews" text
5. Click to rate and leave a short review and you're done!
* Thank you again and every review gets entered in my monthly contest to win great prizes!
– – –