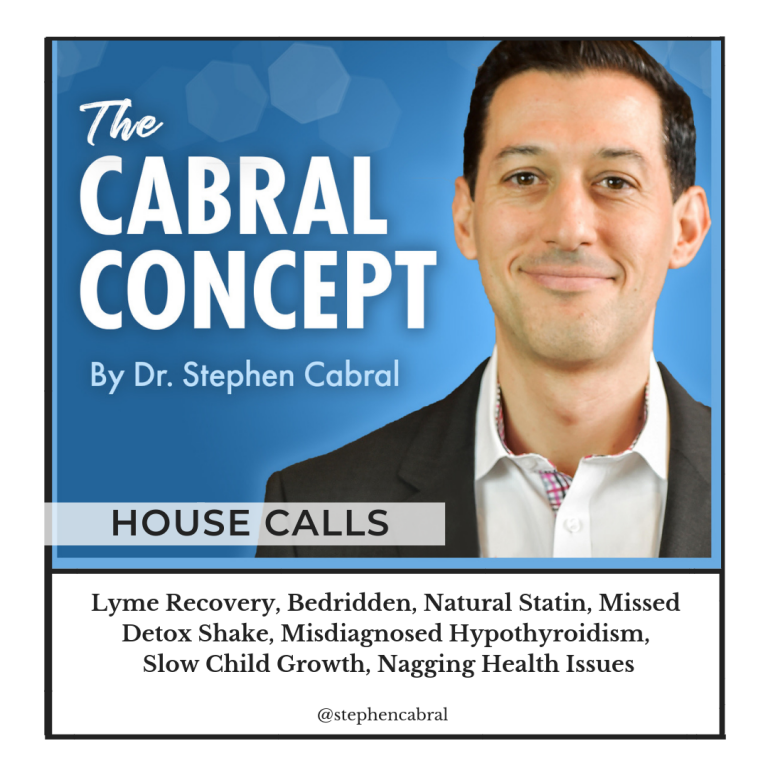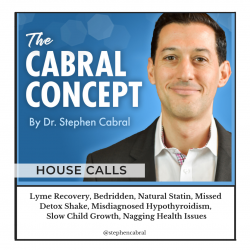 HouseCall: Lyme Recovery, Bedridden, Natural Statin, Missed Detox Shake, Misdiagnosed Hypothyroidism, Slow Child Growth, Nagging Health Issues
Thank you for joining us for our 2nd Cabral HouseCall of the weekend!
I'm looking forward to sharing with you some of our community's questions that have come in over the past few weeks…
Let's get started!
Carter: Hey Stephen! LOVE THE SHOW it's so so helpful! I have had Lyme disease for many years, I'm a 20'year old male and my life is destroyed from Lyme. I have not yet found anything to help me get better.. i know i have had toxic mold exposure, heavy metals and environmental toxins in my body and parasites and a terrible gut. I have tried so many things and both years of antibiotics and functional medicine doctors as well. I'm very concerned with my diet, i eat only grass-fed beef because its all I'm able to tolerate and even that is now causing me bloating. I'm very lost on how to start healing myself.. probiotic? Detox? Immunomodulation? My immune system is attacking itself constantly as well via my mast cells from the years and years of having lyme and antibiotics i believe.. I'm just very lost and it seems no one can figure me out.. any advice you have will help save my life so PLEASE AND THANK YOU to any advice you have.
Shelley: Hi, one of my friend's mom's suffers from chronic illness and can barely leave the bed for longer than a few hours a day. I was listening to a podcast and Dr. Cabral had talked a little about chronic diseases. I'm wondering if there are some naturopathic remedies that could maybe help improve her way of life? She's in constant pain. I don't know the details of what all is wrong, I just know what I've stated above. Thanks!
Corinne: I'd love your insight on "hereditary" high cholesterol. My boyfriend has taken statins since age 24. His father had a heart attack at age 39 (and also was taking statins). I've come across so much information on the ability to reverse diseases by diet and lifestyle, particularly plant-based diet, and am curious if this can be an approach for treating cholesterol that is said to be hereditary and thus requires medication for life. Of course, that offers its own health risks and some argue it may not be effective prevention against cardiovascular disease. To circle back around: is high cholesterol genetic, not just from adapting the lifestyle of your parents? Can it be treated without medication? Thank you! I look forward to your trusted information.
Chelsea: I just started the 7 day cleanse and was wondering if it's okay to miss a shake throughout the day? Not replace it with anything but I am just full from the other 3 that I don't even want the 4th one at dinner
Brynn: Hello! My name is Brynn. I am a 32 yr old woman and I struggle with Hyperthyroidism (hypothyroidism) and I would lovvvve to get of my Rx. I have been working with an endocrinologist for the last 3-4 years. Tired of feeling like I'm not the girl I once was. Always tired, weight gain regardless of being very active and a healthy eater, low libido, amenorrhea, not sleeping well, etc.. Would love to correct the problem (even tho I am told I will be on levothyroxine forever) but not sure where to start. Was hoping we could discuss my situation so I know what tests to buy and send to you..? Thanks so much for your time. Look forward to hearing back. Cheers, Brynn
Jenett: Hello Dr. Cabral My son will be 12 in July. He is not even on the chart for growth and height. He only weighs 55lbs. He is a bit of a picky eater and doesn't care for most meats. Not big on soy or beans. He suffers from allergies as well so I am wondering if it is a gut issue. The doctor says his growth plates are displaying late bloomer syndrome and he is closer to a 10 year than an eleven-year-old. They said that if he doesn't grow, they can give him a shot of testosterone. Do you know how we can boost his growth naturally? Also, I want to get him on a good multi-vitamin with Omega 3's, probiotics and Vitamin D. Could you possibly recommend a brand? Thank you so much for all that you do! Jenett
Heidi: I'm 56 and in generally good shape. Just wondering. ..I have rosacea… any way to get rid of it? Also, suffer from dry eyes and possibly a touch of ocular rosacea and am currently taking immunotherapy for allergies. Is there a certain diet, mineral or supplement that may help with the skin issue and allergies? Also, have lots of anxiety, but try to manage it with exercise and regular sleep. I am taking armour thyroid too. Nothing life-threatening, just life annoying! Ha! I heard you or the first time on the Foodheals podcast and am an avid listener:) My daughter lives in Boston so I may have to see you in person one of these days! Until then, I'd love your opinion/advice:) Thanks so much
Rebecca: Hi Stephen, I heard you on the Skinny Confidential podcast. I've been looking for a great functional doctor and while I can google them and read individual reviews, I wanted to cut through the noise to find out if you had a great recommendation for someone in So Cal (preferably Newport Beach Area). Thank you, Rebecca
– – –
> Click here to listen in iTunes

> Or, click the play button below to listen to this episode now:
Show Notes & Resources:
> Dr. Cabral's New Book, The Rain Barrel Effect
> Join Our Online Community (Free Q&A Facebook support group!)
> Apply to Dr. Cabral's Private Practice 
Dr. Cabral's Most Popular Lab Tests:
> Hair Tissue Mineral Analysis
> Thyroid + Adrenal + Hormone Test (also known as the "weight loss test")
> Dr. Cabral's "Big 5" Lab Tests
> View all Functional Medicine lab tests
Get Your Question Answered on an Upcoming House Call!

Submit your question at:
https://stephencabral.com/askcabral/
– – –
Listen to Previous Podcasts:

To listen to other episodes of the Cabral Concept, visit:
https://stephencabral.com/podcasts
– – –
Would You Take 30 Seconds to Rate & Review the Cabral Concept?
The best way to help me spread our mission of true natural health is to pass on the good word, and I read and appreciate every review!
1. Click link: https://itunes.apple.com/us/podcast/cabral-concept-by-stephen/id1071469441?mt=2
2. Click "View in iTunes" button
3. Click "Subscribe" button
4. Click "Ratings and Reviews" text
5. Click to rate and leave a short review and you're done!
* Thank you again and every review gets entered in my monthly contest to win great prizes!
– – –