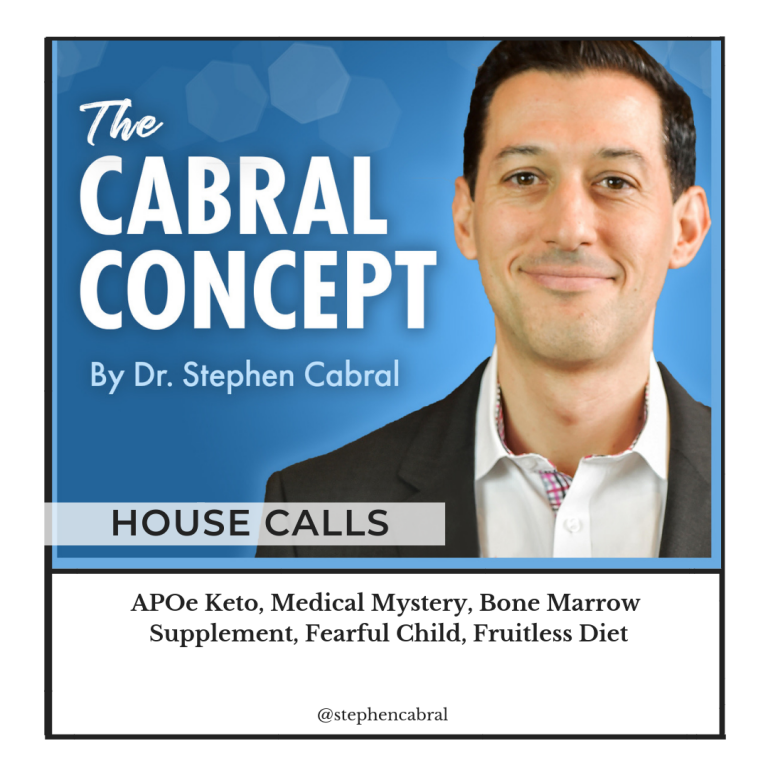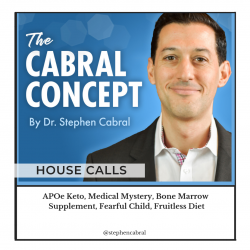 HouseCall: APOe Keto, Medical Mystery, Bone Marrow Supplement, Fearful Child, Fruitless Diet
Thank you for joining us for our 2nd Cabral HouseCall of the weekend!
I'm looking forward to sharing with you some of our community's questions that have come in over the past few weeks…
Let's get started!
Judy: Hi! First off, my deepest gratitude for everything you and your team do! You've mentioned this on the show before but I was hoping you could elaborate. I recently found out I'm homozygous for apoe4. I was following a cyclical keto diet for about 2 years before finding out this information. My cholesterol was high at 253, but my ratios were really good! I'm curious if you think those of us with this allele need to minimize all fats, including monounsaturated sources like olives and avocados or are you only concerned with saturated? Thank you!
Cole: Hi! I would love to hear your opinion on Kratom and whether or not you think it's safe to consume regularly. Thank you!
Rob: Hello Dr. Cabral! First, thanks for all that you do! I discovered your podcast last year, and I am hooked. I bought your book a few weeks ago, and I really enjoyed it! I am not sure if this is the correct spot to send questions for your podcast, so if not, I apologize. I am a 40-year-old male for over a decade I have always been dizzy, suffered from anxiety, and am always tired. About eight years ago I was diagnosed with Epstein Bar Virus, and it was pretty bad. Two years ago, I noticed white spots on me and had been diagnosed with Vitiligo. I suffer from heart palpitations, and just this morning went to the ER for chest pains. All testing came back normal, as it did the handful of other times I went to the ER. A couple of issues were noted in my bloodwork this time- low WBC ( 3.3 – this comes back low on most of my bloodwork), elevated bilirubin (always have this), High MCHC (35.8), and low Monocyte Absolute (0.2). I can not remember a time where I felt good. I exercise, eat well, and have been to numerous doctors and specialists who cannot find anything wrong. I am hoping that maybe you may be able to see something that they don't. Any help is appreciated!
Sandy:  Dear Dr. Cabral, I was diagnosed with a high-risk HPV after my last pap smear, and I really want to help my body expel the virus ASAP. Could you maybe give me some tips about the best way to do this? Thanks so much for your answer – and everything else you do! I always start my day with your podcast, and I know if anyone could help me, it's you! Sandy
Jay: Dr Cabral, what do you think about supplementing with Bone Marrow as an alternative to Bone Broth. I would think that ancient peoples would've eaten bone marrow and so I'm wondering if you have any thoughts. I found a bone marrow supplement that comes from New Zealand-raised cows.
Jamie:  Hello!! I have a question about my 10-year-old son. He has had some bouts of anxiety over the course of the last two years. Nothing super dramatic but somewhat concerning when it occurs. A week or two of being fearful of eating for fear of choking fears about something bad happening to him or his loved ones, fears of getting in trouble at school although he's a great student. A friend of mine mentioned the possibility of pandas syndrome but after reading about it he doesn't have most of the common symptoms (OCD and tics) but I can see where some of his fears overlap with common panda's fears. What would you suggest as a starting point for testing? Some say "all kids go through being fearful" but I can't help but wonder if there's more to this story? Is there something, in particular, you recommend as a starting point for young patients who struggle with anxiety? Thanks for your help!
Mary: Hi there! My name is Mary, I'm 21 years old and have been listening to the podcast for a while now. Ever since I was diagnosed with Chronic Lyme last year, I have been very interested in functional medicine and helping myself to feel better this way. I was on antibiotics for a while and now take Valtrex twice a day along with many other supplements including activated charcoal, probiotics, vitamin c, cod liver oil, and a stamina blend. My doctor also has me on a diet of no dairy, no gluten, no fruit and no sugar. No dairy, gluten, and sugar have been easier to give up but the natural sugars/ fruit has been much harder. I was wondering if this is normal to have this diet? Also, I am almost equal in all ayurvedic doshas and want to help my diet to reflect that, how can I cater to all doshas while following this "Lyme" diet? Thank you for all of your help, I hope to help people as well as you do one day!
– – –
> Click here to listen in iTunes

> Or, click the play button below to listen to this episode now:
Show Notes & Resources:
> Dr. Cabral's New Book, The Rain Barrel Effect
> Join Our Online Community (Free Q&A Facebook support group!)
> Apply to Dr. Cabral's Private Practice 
Dr. Cabral's Most Popular Lab Tests:
> Hair Tissue Mineral Analysis
> Thyroid + Adrenal + Hormone Test (also known as the "weight loss test")
> Dr. Cabral's "Big 5" Lab Tests
> View all Functional Medicine lab tests
Get Your Question Answered on an Upcoming House Call!

Submit your question at:
https://stephencabral.com/askcabral/
– – –
Listen to Previous Podcasts:

To listen to other episodes of the Cabral Concept, visit:
https://stephencabral.com/podcasts
– – –
Would You Take 30 Seconds to Rate & Review the Cabral Concept?
The best way to help me spread our mission of true natural health is to pass on the good word, and I read and appreciate every review!
1. Click link: https://itunes.apple.com/us/podcast/cabral-concept-by-stephen/id1071469441?mt=2
2. Click "View in iTunes" button
3. Click "Subscribe" button
4. Click "Ratings and Reviews" text
5. Click to rate and leave a short review and you're done!
* Thank you again and every review gets entered in my monthly contest to win great prizes!
– – –