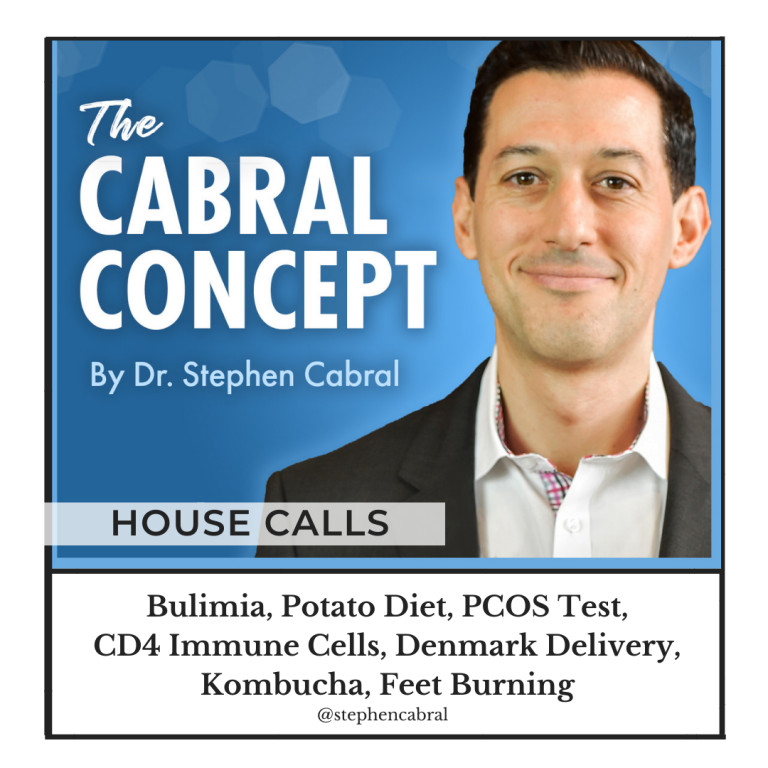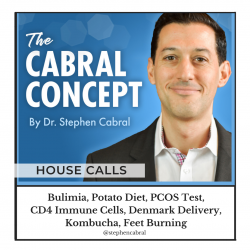 HouseCall: Bulimia, Potato Diet, PCOS Test, CD4 Immune Cells, Denmark Delivery, Kombucha, Feet Burning
Thank you for joining us for our 2nd Cabral HouseCall of the weekend!
I'm looking forward to sharing with you some of our community's questions that have come in over the past few weeks…
Let's get started!
Michelle: Hello Dr. Cabral, I've listened to almost every one of your podcasts and find them excellent. I am a bit of a complex case & am seeking your advice. I am based in Australia. I have been suffering from bulimia for the past decade (binge purge type) & also use laxatives (only at night to normalize bowel movements within the recommends dose). I currently do not binge-purge, the only binge eat at night & have an overwhelming urge every night around 2am to binge mindlessly. I am gaining a lot of weight. I try to eat healthy during the day, and maintain an active lifestyle. I also suffer from gastritis and bloating & constipation. I am currently seeking a psychologist to help with my disordered eating. I am 5'1 and around 103 lbs. my lowest weight hasn't been 90 lbs. I always ate normally when I was younger – 3 meals & was never consumed with food & counting calories. When I was 21, I weighed in at 136lbs and decided to go on a calorie-controlled diet – around 1200 a day & some exercise. After 1 year, I lost 36 lbs and was feeling great. Then, these urges to binge & purge took over – like an animal instinct. Since then, I have been in a binge purge cycle. Now I eat around 3000 calories a day, and 2000 of these are at night within 1 hour. Please help. My eating disorder psychologist cannot pint point any emotional triggers – she explained that it developed as a result of Dieting, and my body weight needs to reach a set point. Currently I feel good at 103 lbs, and I do not want to put on any More weight, but my binges at night (no purge) are killing me. Please help. what can i do to normalise my eating, to not eat at 2am & to maintain this weight. I am now 31.
Mr. Rivera: It would be great if he could do a podcast giving his opinions on the potato diet.
Debbie: Hello doctor Cabral! Being a longtime listener, I trust your opinion very much. I would love to get your advice on the best test to find the underlying cause of PCOS, and what are the best ways to treat it. My doctor just wants to put me on the pill, without any further tests, but I know that's not gonna do anything about the condition, and only treat the symptoms. Thank you in advance, and thanks for all your amazing health advice!
Dan: Hi Stephen! Huge fan of your podcasts and your work. I'm a practitioner from Sydney Aus. In a recent viral-related podcast you mentioned low CD4 helper cells, which one of my challenging patients have (low helper : suppressor ratio). Do you see this often? I'm finding nothing I'm doing is shifting it. I know however the patients zinc and copper levels are still low despite supplementation and am wondering if this could cause low CD4? Would love to get your opinion Cheers!
Christina: Hi there, I live in Denmark and I was just wondering, I am a health coach, just started my up on my own and i want the best for the people i am gonna help, du you sell you product for other people to sell to their clients? I notice that you don't deliver to Denmark, but what if it was for wholesale? I really want good qualities and you are the ONLY ones that I trust so I really hope that you can help me.
Kathryn: I love your podcast, I've been listening to ALL your episodes while I work and everything you say makes sense to me. My naturopathic doctor even says everything you say is spot on. I have a short hopefully simple question. There seems to be a health craze around drinking Kombucha for gut and overall health. I haven't found a lot of research supporting the health claims. What is you're opinion on Kombucha? Is it helpful or harmful to gut health? I love drinking it for the carbonation, I can't drink carbonated water because it hurts my stomach, but Kombucha seems to do just fine. Thank you for all that you do.
Audra: I have been diagnosed with dactylics by an MRI in my feet. This has lead to being diagnosed with seronegative arthritis. I do have a positive ANA and hashimotos. I wanted to know if you have any knowledge of dactylitis in the feet. Everything I research on this leads to Psoriatic arthritis which I clearly do not have. I have a lot of aching in my legs and my feet burn and hurt all over. When I put on shoes my feet start burning. Neuropathy has already been ruled out via nerve test.
Thank you for tuning into this weekend's Cabral HouseCalls and be sure to check back tomorrow for our Mindset & Motivation Monday show to get your week started off right!
– – –
> Click here to listen in iTunes

> Or, click the play button below to listen to this episode now:
Show Notes & Resources:
> Organic Acids Test (find out if you have yeast overgrowth)
> Run a Hair Tissue Mineral Analysis (look for heavy metals)
> Dr. Cabral's New Book, The Rain Barrel Effect
> Join Our Online Community (Free Q&A Facebook support group!)
Dr. Cabral's Most Popular Lab Tests:
> Hair Tissue Mineral Analysis
> Thyroid + Adrenal + Hormone Test (also known as the "weight loss test")
> Dr. Cabral's "Big 5" Lab Tests
> View all Functional Medicine lab tests
Get Your Question Answered on an Upcoming House Call!

Submit your question at:
https://stephencabral.com/askcabral/
– – –
Listen to Previous Podcasts:

To listen to other episodes of the Cabral Concept, visit:
https://stephencabral.com/podcasts
– – –
Would You Take 30 Seconds to Rate & Review the Cabral Concept?
The best way to help me spread our mission of true natural health is to pass on the good word, and I read and appreciate every review!
1. Click link: https://itunes.apple.com/us/podcast/cabral-concept-by-stephen/id1071469441?mt=2
2. Click "View in iTunes" button
3. Click "Subscribe" button
4. Click "Ratings and Reviews" text
5. Click to rate and leave a short review and you're done!
* Thank you again and every review gets entered in my monthly contest to win great prizes!
– – –