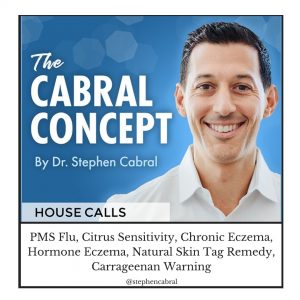 Today's Cabral Concept is here!
HouseCall:
Thank you for joining us for our 2nd Cabral HouseCall of the weekend!
I'm looking forward to sharing with you some of our community's questions that have come in over the past few weeks…
Let's get started!
Deanna: Hello – thank you so much for sharing your knowledge with us all! I always look forward to your daily podcasts. Over the past 6+ months the week prior to my cycle I get flu-like symptoms. My bones ache and I am tired all the time. I'll sometimes even run a low-grade fever. I was tested for COVID several times to rule that out. What else could be causing this? My functional medicine doctor has me running a DUTCH test and also put me on DIM. I'm just curious to get another viewpoint. Thank you again!
Kelly: Good Day Dr. Cabral!!! Hope all is well in your world and sending some Sunshine from down under. 🙂 I recently had a IGg Sensitivity test come back and grapefruit, lemons, limes and most citrus along with many others showed up. With regards to whole food electrolytes, lemons and limes (in water) are out of the equation for now, would you recommend sparkling mineral water (which tends to make me bloat and burp) as an alternative or would you recommend something else. Same with the cirtricidal drops during the CBO protocol, would you leave these out during the protocol or does the benefit outweigh the sensitivity. THANKS A MILLION FOR BEING YOU.. One of a kind and grateful to have a human like you to inspire us .
Kelly: Hello there, Quick moment to stop and say thanks!! ….. Now into my question. I've been working through the process of chronic eczema. bloating and all that jazz. I gone through the CBO Protocol, which saw some success( aside from horrible die off symptoms throughout), however shortly after the Protocol had a server staph infection that persisted for months and went on antibiotics. At present my skin in mostly clear, bloating after ever meal has continued ect. I have one stubborn spot above my upper lip under my nose that doesn't seem to clam down and I was wondering if it could be a sign of something else. Do you give credibility to facial mapping and perhaps is it being a sign of an issue somewhere else in the body, for example the heart/spleen. If so would you recommended diving deeper into healing or testing the function of those organs. Many thanks as always Have a wonderful day ;P I'm trying to complete the OAT test, however logistics, covid and weather have made is hard to get the sample there in time. I will wait for spring and try to send my test again.
Kelly: Hello Dr. Carbal, Hope you a well and happy where you might be at this present moment. My question is about eczema flare up before my period. The week before i begin bleeding my skin tends to worsen, flares up and increased itch. Could it be possible that progesterone levels become to high, causing this flare up and is there a case where female can experience progesterone dominance instead of estragon dominance. Not sure if it works the same way, still learning this in the IHP course. How would one approach high progesterone with regards to lifestyle and supplementation. Of course I do not expect a diagnosis or treatment plan, merely your advice if you were a female in my shoes 😛 Jokes Have a wonderful Day
Anonymous: Hi Dr Cabral. Thank you for taking these questions, the podcast is super helpful and I really appreciate the work you're doing. I have a growing number of skin tags, moles and seborrheic keratosis. Im 37, female and wondered what is going on with this? Iv seen a dermatologist who assured me there's nothing to worry about but I want to understand what the cause is. Thank you
Valeria: I see you have no podcast on kappa carageenan and agar agar, 2 ingredients highly used in the vegan/vegetarian world that's of growing pace. I ask because both ingredients have conflicting answers within the research world. Is it fine for us to cook and eat with?
Thank you for tuning into this weekend's Cabral HouseCalls and be sure to check back tomorrow for our Mindset & Motivation Monday show to get your week started off right!
– – –
Audio Podcast:
Video Podcast:
Show Notes & Resources:
> Learn more about the Integrative Health Practitioner Certification
> Dr. Cabral's New Book, The Rain Barrel Effect
> Join Our Online Community (Free Q&A Facebook support group!)
> Dr. Cabral's Personal Resource Page
> Apply to Dr. Cabral's Private Practice 
Dr. Cabral's Most Popular Lab Tests:
> Complete Minerals & Metals Test
> Complete Candida, Metabolic & Vitamins Test
> Complete Stress, Mood & Metabolism Test
> Complete Stress, Sleep & Hormones Test
> Complete Food Sensitivity Test
> Complete Omega-3 & Inflammation Test
> Complete Gut Bacteria & Parasite Test
> Comprehensive "Big 5" Lab Tests
> View all Functional Medicine lab tests
Get Your Question Answered on an Upcoming House Call!

Submit your question at:
https://stephencabral.com/askcabral/
– – –
Listen to Previous Podcasts:

To Listen to other episodes of the Cabral Concept, visit:
https://stephencabral.com/podcasts
– – –
Would You Take 30 Seconds to Rate & Review the Cabral Concept?
The best way to help me spread our mission of true natural health is to pass on the good word, and I read and appreciate every review!