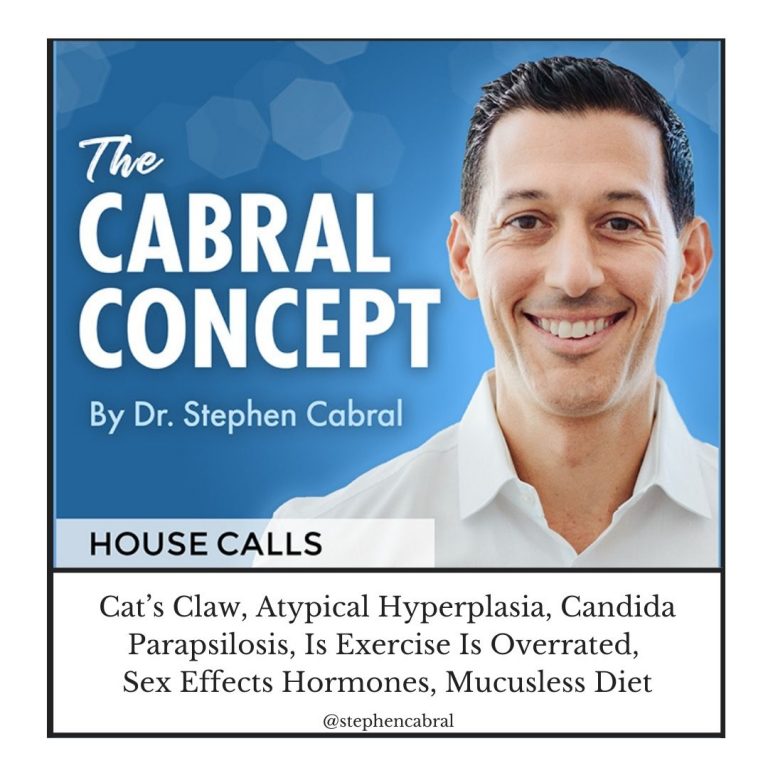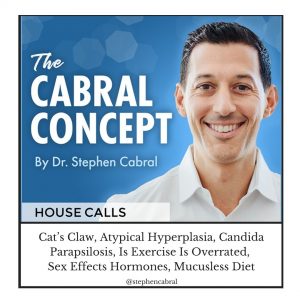 Today's Cabral Concept is here!
HouseCall:
Thank you for joining us for our 2nd Cabral HouseCall of the weekend!
I'm looking forward to sharing with you some of our community's questions that have come in over the past few weeks…
Let's get started!
Monique: Hi Dr. Cabral, I discovered you after listening to a podcast where Melissa Ambrosini interviewed you and it's changed my life so much. So thank you for all that you do! I have a question about a Herb Tea I found in a store called Cat's Claw (Uncaria Tomentosa). On the back of the packet it states:  "Cat's Claw is an immune stimulant, rich in proanthocyandin, a powerful antioxidant and free radical scavenger. This combined with it's white blood cell increasing effect, makes it effective in the treatment of cancer. It cleanses the intestinal tract, assisting with Crohn's disease, arthritis, hemorrhoids, parasites, leaky bowel syndrome, ulcers, gastritis, allergic disorders, diverticulitis and other gastro-in-test I also disorders. Also helpful for chemotherapy recovery." It states to simmer 1 teaspoon in 1 cup of water for 10 minutes , take 3 times a day.  I'm wondering if you have heard of it and if so what your views are? Thanks for your time!
Kelly: Hello Dr. Cabral. I was diagnosed with atypia hyperplasia in one of my breast 8 months ago. I had the area surgical removed and no cancer was detected. I am now taking Tamoxifen (20 mg) daily to reduce the risk of breast cancer. I am working with a Naturopath who works specifically with people who have cancer or who are at risk of cancer. He has me on a protocol that includes 20 mg of Melatonin. I had to work up to that amount over a period of a few weeks but now I am fine with it. My question though is I have noticed my morning blood sugar level is higher than what my levels typically are. I used to wake with a blood glucose level between 75 and 85. Now it is typically between 95 and 105. I eat a mostly paleo diet, exercise 6 days week, and keep myself very hydrated. So my question is, can that much melatonin have an impact on my blood sugar levels?
Laura: Hi Dr. Cabral! I recently took the 3-day stool test. My results came back with a 1+ level of Candida Parapsilosis. Is this treated the same way that other types of Candida are treated? I'd love to hear from you regarding what causes this and how to treat it. Thank you SO much for your time and expertise – we're all getting a little smarter because of you. Laura
Tom: Hi Dr Cabral, first of all, thank you very much for sharing your knowledge with the community! So, everyone knows that they must exercise and that there are a lot of benefits for it. But why SHOULD you exercise? If you're healthy, happy, weight is good, you're fit… why should exercise still be a must?
Christina: Hi doctor Cabral! I hope you're doing great! There's this weird health question that's been on my mind, and I figured that if anyone would know the answer, it would be you. So, I'm a 40 yo female and have been celibate for over 4 years. When I was in a relationship, my periods were normal and regular. After my relationship ended, not so much anymore. One month they are 29 days, the other 42, and so on. Can it be that the fact that I'm not having sex anymore is influencing my hormones and making my periods irregular? I know it's a weird question, but I have a gut feeling that could be it. I'm super curious to hear your thoughts about it. Thanks a million! Christina
Dar: Hi love the show big fan. Have a two part question. Do you know anyone that's gone on a mucusless diet based on Arnold Ehret's results and if so how did they feel? The guy ate leafy greens and fruits exclusively and was able to hike up mountains while fasting, walk 56 hours consecutively and bike I believe something like 1000 kilometers at one time which for a non athlete is mind blowing. Also how long do you think it would take the average person to clean their bowels on a juice fast I'm on day 8 and surprisingly had a bowel movement. Ate the sad diet up until the last few years. Now going more plant based. Thanks!
Thank you for tuning into this weekend's Cabral HouseCalls and be sure to check back tomorrow for our Mindset & Motivation Monday show to get your week started off right!
– – –
Audio Podcast:
Video Podcast:
Show Notes & Resources:
> Learn more about the Integrative Health Practitioner Certification
> Dr. Cabral's New Book, The Rain Barrel Effect
> Join Our Online Community (Free Q&A Facebook support group!)
> Dr. Cabral's Personal Resource Page
> Apply to Dr. Cabral's Private Practice 
Dr. Cabral's Most Popular Lab Tests:
> Complete Minerals & Metals Test
> Complete Candida, Metabolic & Vitamins Test
> Complete Stress, Mood & Metabolism Test
> Complete Stress, Sleep & Hormones Test
> Complete Food Sensitivity Test
> Complete Omega-3 & Inflammation Test
> Complete Gut Bacteria & Parasite Test
> Comprehensive "Big 5" Lab Tests
> View all Functional Medicine lab tests
Get Your Question Answered on an Upcoming House Call!

Submit your question at:
https://stephencabral.com/askcabral/
– – –
Listen to Previous Podcasts:

To Listen to other episodes of the Cabral Concept, visit:
https://stephencabral.com/podcasts
– – –
Would You Take 30 Seconds to Rate & Review the Cabral Concept?
The best way to help me spread our mission of true natural health is to pass on the good word, and I read and appreciate every review!