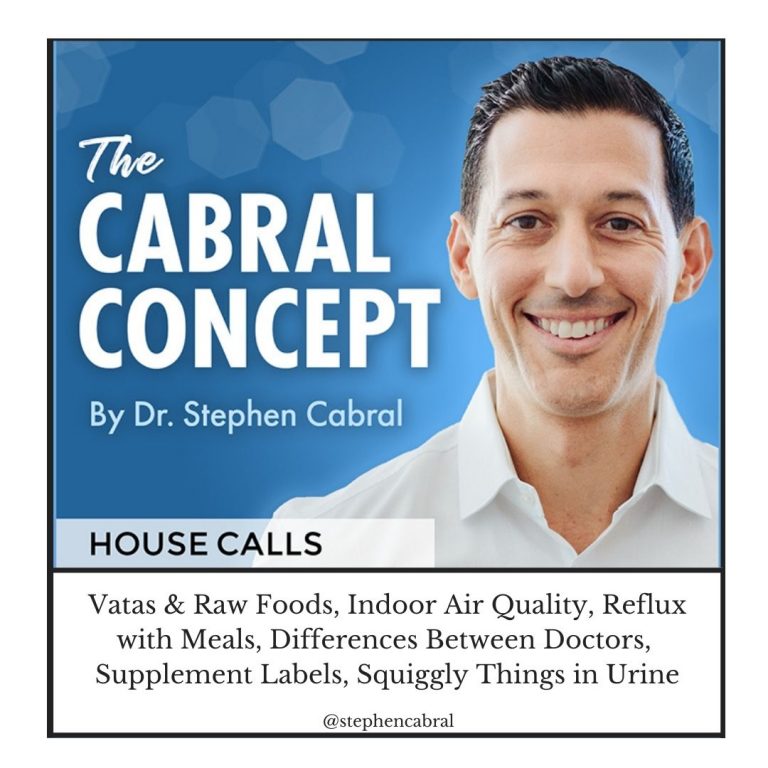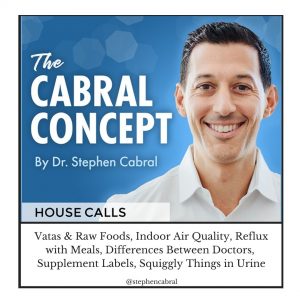 Today's Cabral Concept is here!
HouseCall:
Welcome back to our weekend Cabral HouseCall shows!
This is where we answer our community's wellness, weight loss, and anti-aging questions to help people get back on track!
Check out today's questions:
Lynn: If I am a Vata should I be limiting my raw food, for instance salads (my favorite food) and eat mostly cooked foods?
Simon: Hi Dr Cabral, I have a question on internal air quality. The floor of my office building is about to be refurbished including new carpets, paint and furniture. Being a multi-storey office building without openable windows, I was already concerned about the indoor air quality, however this will no doubt make things much worse. Apart from spending as little time indoors as possible, is there any thing else I can do to minimise the health impacts (such as supplements or practices)? Many thanks!
Sarah: Dear Dr. Cabral, After my stool test showed bacterial overgrowth, I am on week 3 of the CBO with the citricidal drops, and started having heart burn for the first time. I never had this before – my main symptoms before were severe bloating and gas, but not heart burn. Now, for the last two weeks I've had this reflux either before a meal or after. I've been following the CBO protocol diet strictly, with the enzymes. Can you help me understand why this new symptom has developed – is it normal for this to happen on the CBO, is it die-off, or is it related to stomach acid? Will it get better after more weeks or do you recommend I do anything specific to address it? Thank you for all your help.
Bob: Hello Dr. Cabral, I have been listening to you for about a year and enjoy the daily information that you have been given. I look forward to listening each day and appreciate your passion to help bring us the truth and best for us and our families I live in Vietnam currently (an American working as an ex-pat) I want to find someone over here I can work with. I have looked up Functional medicine doctors and Aryvaic Doctors and Doctors of naturopathy but I still get a little confused on the difference and which one is the best to work with. I don't have any big issues that I am aware of and my overall health is ok but needs to lose a little weight. My goal is to improve my health and live longer and be able to live life to the fullest with plenty of energy and loof and feel great. Based on listing to you would recommend starting with some tests and agree but what type of doctor or doctors should I be reaching out to help in my goals
Afra: Hi Dr. Cabral, Listen to you regularly and I hear you all the time say there is no pressure to you the equil.LIfe brands but you if you don't we should be looking out or making sure that what we purchase has no something or make sure it has plenty of something else in that brand. Do you have this information relating to this all in one place that I can use as a reference when deciding to purchase as I live overseas and and hard to get in-country and I want to check locally but ensure it is doing the job. I do understand that your products are better and as I make trips to the US I can try to stock up as well.
Anonymous: Hi Dr Cabral, I wrote in earlier this year about having squiggly things in my urine and you answered it for a male related to the prostate but I am actually a 30 year old female and so curious what these are a reflection of. Given the unusual nature of them It is difficult to try and research when I don't know what it even is. Can you give any insight as to why I would be getting white squiggle things in my urine that look more structured than just discharge as they are very clearly little squiggles. Thanks!
Thank you for tuning into today's Cabral HouseCall and be sure to check back tomorrow where we answer more of our community's questions!
– – –
Audio Podcast:
Video Podcast:
Show Notes & Resources:
> Learn more about the Integrative Health Practitioner Certification
> Dr. Cabral's New Book, The Rain Barrel Effect
> Join Our Online Community (Free Q&A Facebook support group!)
> Dr. Cabral's Personal Resource Page
> Apply to Dr. Cabral's Private Practice 
Dr. Cabral's Most Popular Lab Tests:
> Complete Minerals & Metals Test
> Complete Candida, Metabolic & Vitamins Test
> Complete Stress, Mood & Metabolism Test
> Complete Stress, Sleep & Hormones Test
> Complete Food Sensitivity Test
> Complete Omega-3 & Inflammation Test
> Complete Gut Bacteria & Parasite Test
> Comprehensive "Big 5" Lab Tests
> View all Functional Medicine lab tests
Get Your Question Answered on an Upcoming House Call!

Submit your question at:
https://stephencabral.com/askcabral/
– – –
Listen to Previous Podcasts:

To Listen to other episodes of the Cabral Concept, visit: