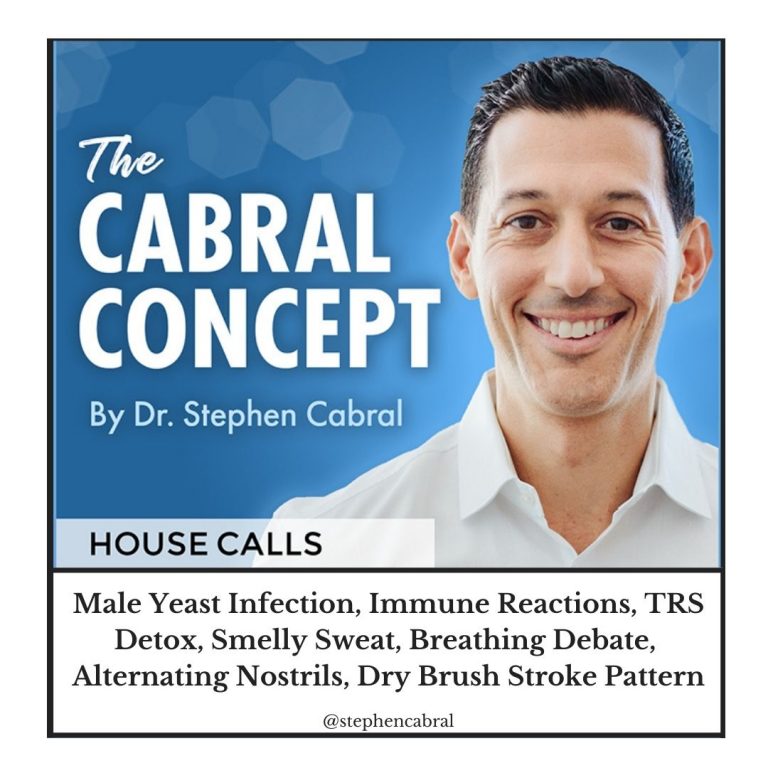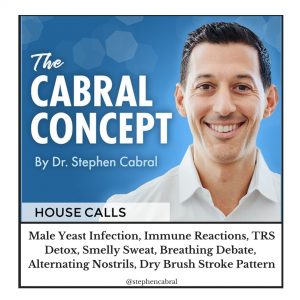 Today's Cabral Concept is here!
HouseCall:
Thank you for joining us for our 2nd Cabral HouseCall of the weekend!
I'm looking forward to sharing with you some of our community's questions that have come in over the past few weeks…
Let's get started!
Anonymous: Hi Dr. Cabral!  I've been following you for many years (nice seeing you on YouTube now!). Appreciate your heart in doing what you can to help others heal…Since Nov. 2020 our 12 yo son has had burning issues when he pees (and more recently he has had some mild cramping in his bladder area). UTI tests have come back negative.  Our DO tested for yeast on the end of his penis so we have been treating that with Sovereign Silver Gel (that has shown some improvement).  Yeast was detected in his urine (though we later realized it might have been cross contaminated). We put him on Dyflucan for 20 days (the first med he's been on in 10 years) as his DO said herbals wouldn't be effective in that area. He eats VERY healthy (SF/DF/GF/organic/etc. + 24-32oz water).   Unfortunately, not a whole lot has changed with the burning/cramping.  His OAT test a few years ago showed that he had yeast overgrowth and high oxalates….We did do the kids CBO protocol at the time but unfortunately weren't able to finish with the sealer or find the right probiotic for him (he had a reaction).  Any thoughts? Have you seen any similar cases? Is there a factor that I possibly haven't even considered? Appreciate any insight you may have from your years of experience! THANK YOU!
Josie: Hi Dr Cabral. I got the Covid vaccine a little over a month ago and have been struggling with dizziness, weakness in my legs and arms, to tingling sensation as well as burning feeling in my back and muscle spasms. I am really scared that the vaccine has triggered an autoimmune reaction. I have Hashimotos and had been pretty stable before due to diet and working with a naturopath to find underlying cause. I did not get the second vaccine, and don't plan to. Is there anything I can do to recover from this? Im really scared that I did permanente damage. Thanks so much for any guidance.
Georgina: Hi Dr Cabral! I have been listening to your podcast every day, read your book and am going to enrol in IHP soon. Thank you for everything you do, you are truly amazing and a gift from God! You are the only opinion I trust so I would like to know your thoughts on TRS if you have heard of it. If not what are your thoughts on water based nano zeolites or zeolite in general for removing heavy metals.  All the best, Georgina
Emily: Hi Dr Cabral.  I really admire and appreciate you sharing your rich knowledge. You have taught me so much and as a result, my life and the members of my family lives have dramatically improved and for that I am truly grateful.  I am wondering if you have an idea of why my 3 year old daughter smells like craft glue after she sleeps? She does sweat alot while she sleeps and I believe it is her sweat that is smelling that way. She does complain of stomach pains after eating gluten. She also got eczema during the summer holidays after getting out of our eating routine and having alot more icey poles and baby chinos (cows milk) more regularly. We are now getting back into our regular routine again and getting my daughters eating habits back in order (cutting down on dairy, sugar). I am thinking she is sensitive to gluten because she chooses not to eat much of it and when she does she complains of a sore stomach, around the small intestines.  She has suffered from thrush in the past.  I would really appreciate any suggestions on how to improve my daughter's health in regards to this unusual smell. Thank you kindly!  Kind regards. Emily
Darren: Good day Dr. Cabral. I appreciate the info you and your guests bring to us. However, I don't know if somewhere along the way I got confused but with regard to the topic of breathing, it seems like the specialists Dr. Belisa, Patrick McKeown, Brian MacKenzie & James Nestor all have different views on topic. If that's the case and I'm not actually confused, I get that's normal. I would just like to know, aside the breathing exercises they recommend, what exactly is the ideal way to breathe in your everyday, normal life. I believe you recommend exhales longer than inhales and nasal breaths. But should it be deep or shallow as some recommend or is there ever need for mouth exhalations outside of heavy activity etc? Hope my question isn't all over place. Thank you.
Darren: Hey, Dr. Cabral. Darren again. On the same topic of breathing, I read the reason many are always breathing more heavily from one nostril than the other is natural part of our "nasal cycle", so that each nostril operates effectively. In order to open one side of your nose and close the other, your body inflates tissue with blood in the same way that a man gets an erection, except, in your nose. Increased blood flow causes congestion in one nostril for about 3 to 6 hours before switching to the other side. The process also gives each side of your nose a break, since a constant stream of heavily flowing air can dry it out and kill off the small hairs that protect you from foreign contaminants. Is there any truth to this at all? Thank you
Darren: Dr. Cabral. Final question. You listed the importance of dry brushing in your book. I'm a tad embarrassed to say I find the diagram a bit confusing. And there's conflicting views on techniques where some say brush toward heart, others say toward lymph nodes & extremities. To quell all that, is it possible for you to do a video demonstrating exactly how drybrushing should be performed? I think I will put doing it on hold out of fear I may be doing more harm than good. As always, thank you.
Thank you for tuning into this weekend's Cabral HouseCalls and be sure to check back tomorrow for our Mindset & Motivation Monday show to get your week started off right!
– – –
Audio Podcast:
Video Podcast:
Show Notes & Resources:
> Learn more about the Integrative Health Practitioner Certification
> Dr. Cabral's New Book, The Rain Barrel Effect
> Join Our Online Community (Free Q&A Facebook support group!)
> Dr. Cabral's Personal Resource Page
> Apply to Dr. Cabral's Private Practice 
Dr. Cabral's Most Popular Lab Tests:
> Complete Minerals & Metals Test
> Complete Candida, Metabolic & Vitamins Test
> Complete Stress, Mood & Metabolism Test
> Complete Stress, Sleep & Hormones Test
> Complete Food Sensitivity Test
> Complete Omega-3 & Inflammation Test
> Complete Gut Bacteria & Parasite Test
> Comprehensive "Big 5" Lab Tests
> View all Functional Medicine lab tests
Get Your Question Answered on an Upcoming House Call!

Submit your question at:
https://stephencabral.com/askcabral/
– – –
Listen to Previous Podcasts:

To Listen to other episodes of the Cabral Concept, visit:
https://stephencabral.com/podcasts
– – –
Would You Take 30 Seconds to Rate & Review the Cabral Concept?
The best way to help me spread our mission of true natural health is to pass on the good word, and I read and appreciate every review!