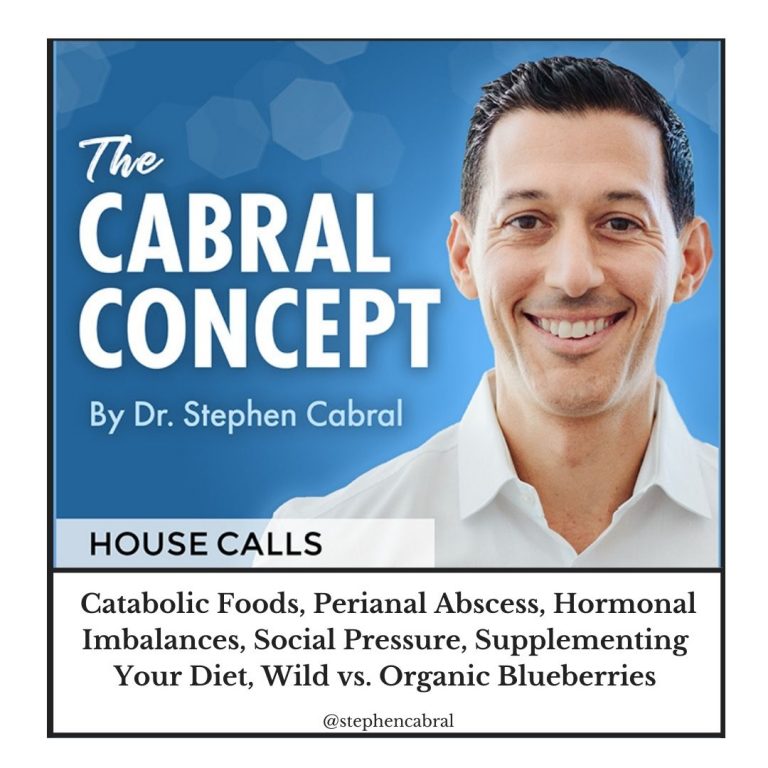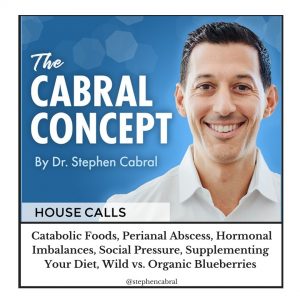 Today's Cabral Concept is here!
HouseCall:
Welcome back to our weekend Cabral HouseCall shows!
This is where we answer our community's wellness, weight loss, and anti-aging questions to help people get back on track!
Check out today's questions:
Erica: Hi Dr. Cabral! Quick question — you always mention how on a vegan based diet, some people become too catabolic. What exactly does that mean? And how would someone know when that is that case? And lastly, is that unhealthy? Thank you!
Shruti: My son is suffering from Crohn's with perianal abscess. It triggered after food poisoning during our visit to India . I want to know which tests to order and what can he do to improve his gut health and being his flare in remission.
Anonymous: Dr Cabral – thank you for helping us take control of our health. Just want to understand something – I am a 51 year old woman (Australian). in 2016 I did labs and recorded a high testosterone (288.0* H pmol/l) again in 2020 I recorded a high measure for testosterone (51 pg/ml). Due to other medical issues taking priority it has never really be disclosed to me why I record such high testosterone. Ive googled – which suggests PCOS – however I don't have any of the systems of PCOS. My voice is huskier, get possibly 5 chin hairs, and I do think my face structure is more masculine. I experienced early menopause 42 (y.o). Prior to that I had off the charts high libido, now I have very low. I eat a good diet, exercise frequently, practise mindfulness, but did go through a period with high stress, fatigue, smoked and abused Ventolin (2015-2019). Just want to understand. 1. why I record high testosterone, is it of concern?  2. do I need to rebalance hormones?  3. how do I get my libido back?  Equilibrium Labs 2020 hormones- Estrodial 0.6pg/ml – Progestrone 21pg/ml- PG/E2 35L – DHEAS 5.5 ng/ml
Leyla: Hi Dr Cabral! How would you go about navigating social situations and maintaining friendships while on your health journey? It can be so hard to change what you eat when you still want to be social so it would be interesting to see your perspective.
Deborah: Hi Stephen I am new to listening to you this January 2021 and you are amazing. I feel I am pretty heathy. I eat eat heathy foods mostly veggies and some fish and chicken sometimes red meat I also take some supplement however I feel if I listen to enough podcasts I would be taking a a ton of supplements what do you recommend to do.
Ryan: If you had to choose between conventional wild blueberries, and non-wild organic blueberries, which would you choose?
Thank you for tuning into today's Cabral HouseCall and be sure to check back tomorrow where we answer more of our community's questions!
– – –
Audio Podcast:
Video Podcast:
Show Notes & Resources:
> Learn more about the Integrative Health Practitioner Certification
> Dr. Cabral's New Book, The Rain Barrel Effect
> Join Our Online Community (Free Q&A Facebook support group!)
> Dr. Cabral's Personal Resource Page
> Apply to Dr. Cabral's Private Practice 
Dr. Cabral's Most Popular Lab Tests:
> Complete Minerals & Metals Test
> Complete Candida, Metabolic & Vitamins Test
> Complete Stress, Mood & Metabolism Test
> Complete Stress, Sleep & Hormones Test
> Complete Food Sensitivity Test
> Complete Omega-3 & Inflammation Test
> Complete Gut Bacteria & Parasite Test
> Comprehensive "Big 5" Lab Tests
> View all Functional Medicine lab tests
Get Your Question Answered on an Upcoming House Call!

Submit your question at:
https://stephencabral.com/askcabral/
– – –
Listen to Previous Podcasts:

To Listen to other episodes of the Cabral Concept, visit: