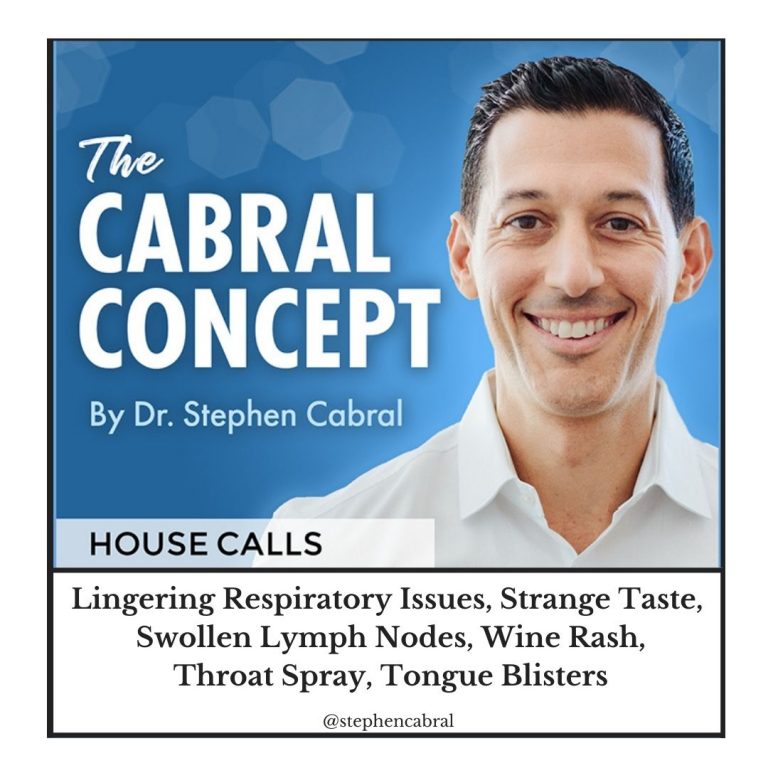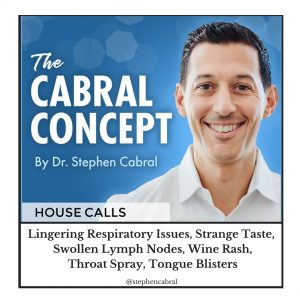 HouseCall:
Thank you for joining us for our 2nd Cabral HouseCall of the weekend!
I'm looking forward to sharing with you some of our community's questions that have come in over the past few weeks…
Let's get started!
Cindy: I am recovering from covid . It's been about 6 wks. I am have lingering respiratory issues. Trouble getting my energy back. Would you have any suggestions . I take vit D zincImmune boosters. Protein shakes. I've read that Covid can leave information in the body what's your thoughts?
Christine: Hi Dr. Cabral. For the past month or two, I have been occasionally tasting a strange taste in my mouth. The best way I can describe it is almost like baking soda. It's not overwhelming and it comes and goes. Water could taste strange but everything else tastes normal. I take some daily supplements (magnesium glycinate, mega food blood builder, evening primrose, vitamin d, and a vegan omega 3). I am a 38 yo plant based vegan who works out 4 days a week. I haven't had Bloodwork done in over a year but last work up showed low iron and d. I do suffer from health anxiety so something like this could cause me into a spiral of self diagnosis. Any insight would be so appreciated!
Jenna: I have had a swollen or shotty lymph node on the side of my neck since I was a child (so about the last 20 years). I developed another one on my neck about 4 years ago that also hasn't gone back to its normal size. I can feel them under my finger and they move around if I push on them. My PCP says this is completely normal & nothing to worry about. Can you tell me why a lymph node would stay enlarged like this for 20 years? Is there anything specific I should be doing to get this to go away or do you think it's permanent?
Meghan: Hi Dr Cabral, I have tried searching but couldn't find any shows previously on this topic, I have a friend who when he drinks too much he gets a severe skin rash on his face, throat and then body and becomes quite unwell. It seems to be exasperated with wines/champagne. Do you think it is likely that it is a preservative in alcohol that causes this and is it an indication of something else going on in the body or just an allergic reaction to this preservative? Is there anything he can do to minimize the reaction if he does want to drink at social events? Many thanks
Megan: Hi Dr Cabral, My 14 month old (who is here today thanks to your protocols!!) is having a hard time since starting day care. He is suffering with respiratory issues including multiple bouts of tonsillitis which were really severe we (much to my heartache) had to put him on antibiotics twice to get him better but obviously you know first hand the impacts of antibiotics in the longer term and on gut health. I currently have him on your children's immune protocol at a reduced dosage as per his body weight (20 pounds), investigating mould in our house, removed gluten & dairy, have him on a probiotic and omega 3, I had tried to book in to see one of your health coaches for an immunity call but they said they weren't able to assist because of his age. I understand and respect you cannot give recommendations specifically over a podcast but I don't want to just wait until next time and face antibiotics again so my question is if this was one of your girls what would you do to support them to get to the root of why its happening while he is so little and in the mean time treat it naturally if it reappears? Is there a throat spray/protocol for a child this young? I would really love some support and don't know where to turn. Thank you so much in advance would love to hear your thoughts.
Megan: Hi Dr Cabral, I know you have done a tongue analysis episode but It wasn't quite enough information for what I was looking for. I have scalloping of the tongue and little blister like bubbles at the back of my tongue. From what I can understand the scalloping represents malabsorption, I am currently taking a digestive enzyme with my meals and taking a Healthy Gut Support substitute and probiotic. What else can I do to help support my body? In regards to the little blisters i think that represents the intestines, I did do the intestinal cleanse protocol which well and truly cleaned me out but the bumps are still there and wondering what else I can do because my body is obviously inflamed and showing this through my tongue. Thanks so much
Thank you for tuning into this weekend's Cabral HouseCalls and be sure to check back tomorrow for our Mindset & Motivation Monday show to get your week started off right!
– – –
Audio Podcast:
Video Podcast:
Show Notes & Resources:
> Learn more about the Integrative Health Practitioner Certification
> Dr. Cabral's New Book, The Rain Barrel Effect
> Join Our Online Community (Free Q&A Facebook support group!)
> Dr. Cabral's Personal Resource Page
> Apply to Dr. Cabral's Private Practice 
Dr. Cabral's Most Popular Lab Tests:
> Complete Minerals & Metals Test
> Complete Candida, Metabolic & Vitamins Test
> Complete Stress, Mood & Metabolism Test
> Complete Stress, Sleep & Hormones Test
> Complete Food Sensitivity Test
> Complete Omega-3 & Inflammation Test
> Complete Gut Bacteria & Parasite Test
> Comprehensive "Big 5" Lab Tests
> View all Functional Medicine lab tests
Get Your Question Answered on an Upcoming House Call!

Submit your question at:
https://stephencabral.com/askcabral/
– – –
Listen to Previous Podcasts:

To listen to other episodes of the Cabral Concept, visit:
https://stephencabral.com/podcasts
– – –
Would You Take 30 Seconds to Rate & Review the Cabral Concept?
The best way to help me spread our mission of true natural health is to pass on the good word, and I read and appreciate every review!