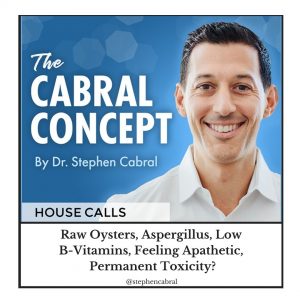 HouseCall:
Welcome back to our weekend Cabral HouseCall shows!
This is where we answer our community's wellness, weight loss, and anti-aging questions to help people get back on track!
Check out today's questions:
Michelle: Dear Dr. Cabral, I would love to ask your help in solving my mystery. This summer I completed the CBO protocol with citricidal and then 3 months of the finisher. I ended in July and was feeling amazing, with very healthy stool every day. Then in August I went on a camping trip and on the last night I had significant diarrhea that lasted almost 3 days. I could not trace back to what could have caused it, except we did eat a batch of raw oysters the day before. Ever since those 3 days, my stool has been hard and pebbled and constipated for the last couple months (sorry for the TMI – I miss my healthy stools!). I don't have any other symptoms, but after all the hard work of the CBO, I'm wondering if maybe I got parasites or bacteria from the oysters. I cannot afford a stool test right now, but would you suggest I do the parasite protocol, and if so, should I take citricidal with it just in case? And is there any harm in doing this after all the gut healing work from the CBO/finisher? Thank you SO much. You have been my life and health saver and I'm so grateful for you! -Michelle
Nicole: Please do another podcast on mold! There is so much to know. I have listened to all your previous podcast. How does our body rid itself of mold, whats the process going on, She is waiting to do the mold protocol because she is currently on the CBO. I think we found and removed the source but her symptoms are getting worse now that we are home and inside all the time with the pandemic. Will she show these symptoms until the mold protocol is completed because her body can't rid of it? She had high levels of aspergillus and aspergilus. Does the mold just continue to add up in her system? Shouldn't we see improvement if we removed the source? I truly appreciate your genius knowledge insight and all you do for others!
Mike: Hi Dr Cabral, can mold toxicity or heavy metal toxicity cause a deficiency in B vitamins? I took a organic acids test and I was low on pretty much all my B vitamins. I had no overgrowth of candida or SIBO. I took a mold toxicity test and Chaetoglobosin A was at 107 so I'm currently on the mold toxicity protocol. Do you believe by doing the mold toxicity protocol I should be able to introduce the vitamins again? When I try to take the b vitamins I get anxiety and shortness of breath.
Jessica: Hi, Dr. Cabral. Years back you inspired me to truly heal and set on the journey of assisting others to heal as well. I was full of passion and had a dream that I was working towards everyday- to become a health practitioner that has a thriving business helping others. Since the virus hit, I can't help but to struggle with navigating where I should go from here… where WE should go from here. I feel rather apathetic and often wonder what's the point of moving forward with my dreams at all when nothing makes sense anymore. I know none of us have the answer, but what advice do you have to move forward in this world that has completely shifted from what it once was? Thank you and blessings, Jess
Anonymous: Hi Dr. Cabral, I want to know are the symptoms from mold toxicity or heavy metals toxicity permanent? Or can they disappear by taking care of the root cause?
Thank you for tuning into today's Cabral HouseCall and be sure to check back tomorrow where we answer more of our community's questions!
– – –
Audio Podcast:
Video Podcast:
Show Notes & Resources:
> Learn more about the Integrative Health Practitioner Certification
> Dr. Cabral's New Book, The Rain Barrel Effect
> Join Our Online Community (Free Q&A Facebook support group!)
> Dr. Cabral's Personal Resource Page
> Apply to Dr. Cabral's Private Practice 
Dr. Cabral's Most Popular Lab Tests:
> Complete Minerals & Metals Test
> Complete Candida, Metabolic & Vitamins Test
> Complete Stress, Mood & Metabolism Test
> Complete Stress, Sleep & Hormones Test
> Complete Food Sensitivity Test
> Complete Omega-3 & Inflammation Test
> Complete Gut Bacteria & Parasite Test
> Comprehensive "Big 5" Lab Tests
> View all Functional Medicine lab tests
Get Your Question Answered on an Upcoming House Call!

Submit your question at:
https://stephencabral.com/askcabral/
– – –
Listen to Previous Podcasts:

To listen to other episodes of the Cabral Concept, visit:
https://stephencabral.com/podcasts
– – –
Would You Take 30 Seconds to Rate & Review the Cabral Concept?
The best way to help me spread our mission of true natural health is to pass on the good word, and I read and appreciate every review!