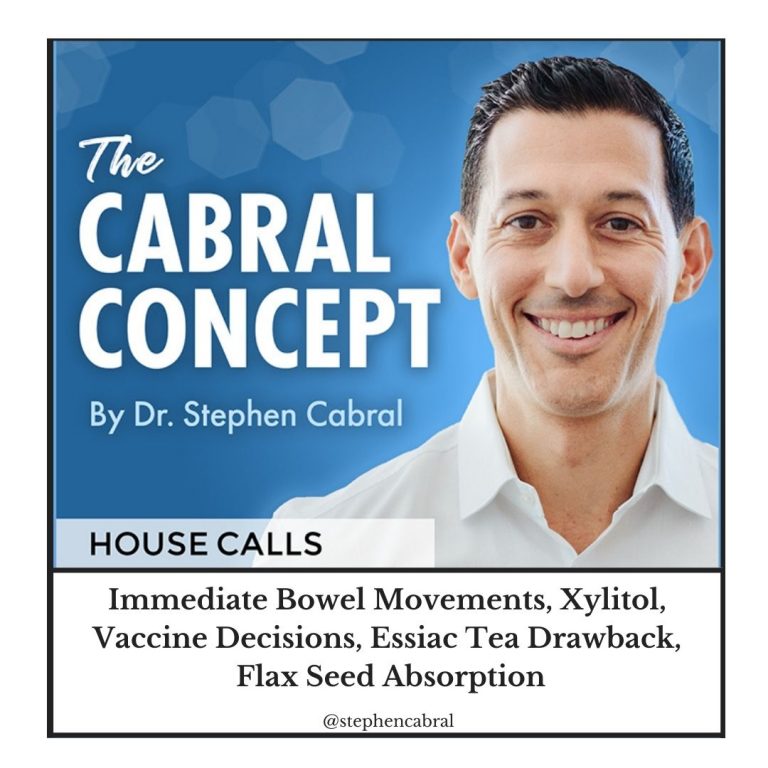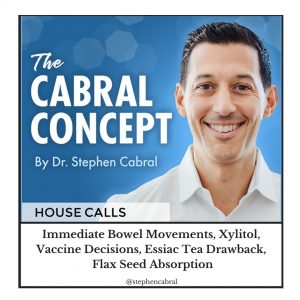 HouseCall:
Welcome back to our weekend Cabral HouseCall shows!
This is where we answer our community's wellness, weight loss, and anti-aging questions to help people get back on track!
Check out today's questions:
Susan: Hi Dr. Cabral- thanks so much for sharing your natural health expertise with all of us. I especially appreciate your focus on the important things in life-family, helping others, health, vitality and purpose. My 80-year-old mother has been slowing losing weight. After eating she needs to have a bowel movement right away. This has made her not want to eat as much and she is avoiding socializing more and more. She does have a few alcoholic drinks each day. Could this be the cause or something else? Thank you.
Ryan: thoughts on xylitol to benefit the oral bacterial environment and overall oral health?
Kirstin: Hi Dr. CabralI work in health care and have the option to receive the mRNA vaccination from Pfizer that is finishing trials now (likely before January 1). My masters is in public health so I am torn about receiving a vaccination that has No peer reviewed literature and is still technically "exploratory". I believe in vaccinations but this one is so rushed, has no peer review, has a relatively small sample on a global scale, and an MRNA vaccination has never been approved by the FDA (not that I really even trust the FDA).  I was hoping you could help me decide to get the vaccination or not it should be available to me through my work in the next few weeks. Any input would be hugely helpful.Ps- I just finished my IHPL1 (yay) and working on L2You are awesome and I trust your expertise over anyone's.  Thanks a million, happy holidays Kirstin
Patricia: Hi, just listened to podcast 1764. In reference to Essiac tea, I had read in healthline, to avoid using if you had breast cancer. May stimulate growth of breast cancer cells. Is this true? Thank you
Diane: Hi Dr Cabral Ive been listening to your podcast for about 2 years and have read the Rain Barrel Effect. Your podcast are the highlight of my day and your book has been life changing.My question is about consuming Flax seed. I am in my 60's and have lived my life constipated and rarely having a bowel movement. 7 years ago i started consuming 2-3 heaping (utensil) teaspoons of freshly ground organic flaxseed right before i consume my meals. Even before my DNS shake. This has changed my life. I have regular bowel movements, NOT diarrhea. I cant believe how good i feel and realize how awful i felt. My question is would taking this amount of flax with meals and supplements prevent my body from absorbing nutrients from food and supplements.  I praying the answer Is I can continue as I do, I dont think I can live without my Flax..and I'm so proud of my BM's LOL. thanks
Thank you for tuning into today's Cabral HouseCall and be sure to check back tomorrow where we answer more of our community's questions!
– – –
Audio Podcast:
Video Podcast:
Show Notes & Resources:
> Learn more about the Integrative Health Practitioner Certification
> Dr. Cabral's New Book, The Rain Barrel Effect
> Join Our Online Community (Free Q&A Facebook support group!)
> Dr. Cabral's Personal Resource Page
> Apply to Dr. Cabral's Private Practice 
Dr. Cabral's Most Popular Lab Tests:
> Complete Minerals & Metals Test
> Complete Candida, Metabolic & Vitamins Test
> Complete Stress, Mood & Metabolism Test
> Complete Stress, Sleep & Hormones Test
> Complete Food Sensitivity Test
> Complete Omega-3 & Inflammation Test
> Complete Gut Bacteria & Parasite Test
> Comprehensive "Big 5" Lab Tests
> View all Functional Medicine lab tests
Get Your Question Answered on an Upcoming House Call!

Submit your question at:
https://stephencabral.com/askcabral/
– – –
Listen to Previous Podcasts:

To listen to other episodes of the Cabral Concept, visit:
https://stephencabral.com/podcasts
– – –
Would You Take 30 Seconds to Rate & Review the Cabral Concept?
The best way to help me spread our mission of true natural health is to pass on the good word, and I read and appreciate every review!