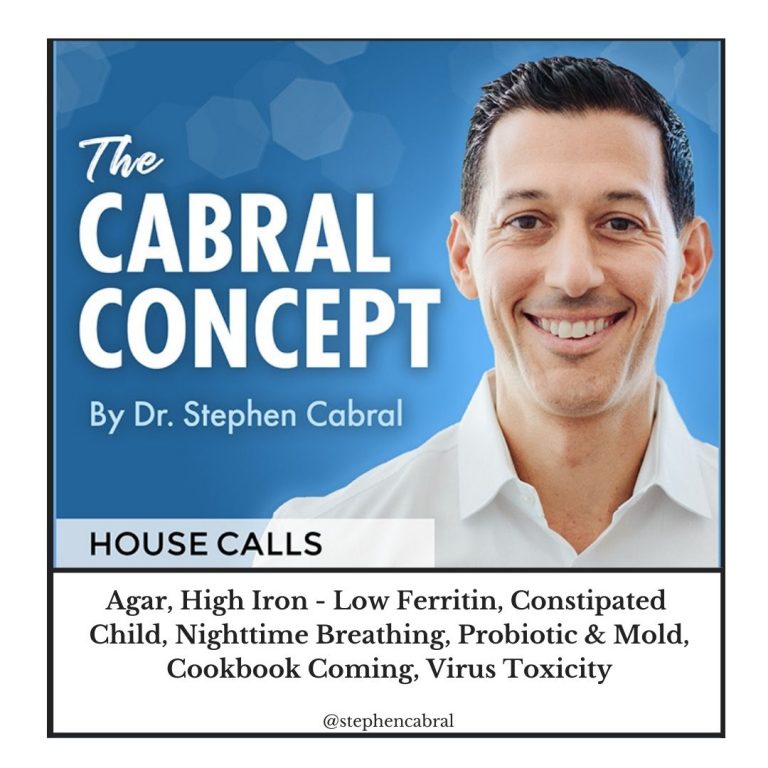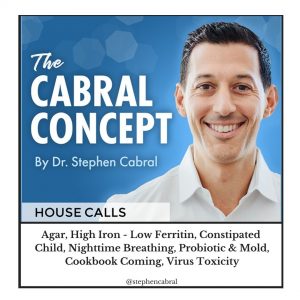 HouseCall:
Welcome back to our weekend Cabral HouseCall shows!
This is where we answer our community's wellness, weight loss, and anti-aging questions to help people get back on track!
Check out today's questions:
Heydie: Hi Dr. Cabral!!!You are such a blessing. No other podcast comes close to the comprehensive education you provide. Thank you for your dedication, selflessness and diligence you provide to transform our lives!! YOU ARE THE GOAT INDEED!!!I would like your feedback on following items:*Is agar safe as an additive? I purchased an organic cococut yogurt that has this ingredient.*I have Ferritan level of 30, hair is falling out over 4 years, I have run TIBC, iron level is high as I genetically am prone to storing iron (Hemochromotosis). I just started Innate iron from your site but fear this will increae iron level which would increase oxidative stress.I walk daily 10,000 plus steps, do yoga, eat organic, have cold-water fish 3-4 x weekly, eat losts of veggies, and my starches include brown rice or japanese/purple potatoes.I am 5'6, small frame, weight 120 lbs.After 12-13 hours overnight fast, I take following products formulated by Equil.life: DNS shake am, magnesium, thyroid mineral supplements, fish oil, cal-mag.Appreciate suggestions of next steps to increase Ferritan level without increasing my iron level.THANKS FOR YOUR INSIGHT!!!
Melissa: I hope this message finds you and your family well. I am writing in again about my toddler, Bob. The kid with seemingly determined eczema/gut/food issues. After running Big5+stool (praise be!) we've got a lot to work on! I have a few questions though. We are working on balancing deficiencies first, so we've got some time to wait for your teachings. 1) We use a very diluted topical steroid on him every day. Besides taking it slow when we start the protocols – when he flares/detoxes through his skin, do we increase the topicals? Or would that be counter-productive? Would you stay the course with them, start to wean at some point, or just cold turkey throw them out? I have a lot of fear here, his skin was unlivable before, even with elimination diet. 2) What are your feelings on occasional miralax? He leans towards constipation very easily, and this works best with least dermal reaction. 3) I'm wondering if it is common to be reactive to even just supplements? We haven't even started a protocol yet and he's already inflamed. Not enough to increase topicals though because we just keep backing off them and slowly going back up. At what point do we go ahead and just jump into a protocol? Thank you!!! For the protocols and the hope.
Sarah: Hi Dr Cabral. Thanks so much for all you do. If your daughters regularly woke up in the middle of the night struggling with breathing issues, is there any natural remedies (that are effective)that you would use before reaching for the inhaler and dialling 911?Also are breathing issues/asthma a sign of a vitamin or mineral deficiency?Thank you, I would really appreciate your thoughts!Sarah
Mike: Hi Dr Cabral, I wanted to know if it's a good idea to take probiotics if you have mold toxicity? I remember you saying to stay away from fermented food when having mold issues.
Nicole: Can you please make a cookbook!!!! I am doing the CBO with my 6 yr old and it is very stressful and overwhelming! I do not consider her a picky eater and we have been eating healthy for years now but the 1st 21 days is difficult having to pack breakfast and lunch for school. I think your wife would be a good resource and would love to hear more about things she makes for your kids . I never had facebook but joined just to get recipes from your support group but there is not alot for kids and not so much on the 1st 21 days. I really enjoy reading a cookbook with my kids and looking at pictures instead of looking at my phone or the internet for recipes. You could incorporate recipes with your veggie blend, DNS powder and have an adult and kid section with different protocol chapters:) I will be the first buyer of your book! Thank you for your knowledge you so graciously share everyday!
Andrew: Hey Dr. Cabral! I am a newly graduated chiropractor in New York City and I have been looking to practice natural medicine here. You're podcast is my favorite! And I will probably take your IHP training soon!The news showed me that New York and other states may have mandatory covid-19 vaccines for all citizens without exemptions. I see no way out of it if this happens and I was wondering what natural protocols you recommend or any advice if People have to get it no matter what. All I can think of is Glutathione.
Thank you for tuning into today's Cabral HouseCall and be sure to check back tomorrow where we answer more of our community's questions!
– – –
Audio Podcast:
Video Podcast:
Show Notes & Resources:
> Learn more about the Integrative Health Practitioner Certification
> Dr. Cabral's New Book, The Rain Barrel Effect
> Join Our Online Community (Free Q&A Facebook support group!)
> Dr. Cabral's Personal Resource Page
> Apply to Dr. Cabral's Private Practice 
Dr. Cabral's Most Popular Lab Tests:
> Complete Minerals & Metals Test
> Complete Candida, Metabolic & Vitamins Test
> Complete Stress, Mood & Metabolism Test
> Complete Stress, Sleep & Hormones Test
> Complete Food Sensitivity Test
> Complete Omega-3 & Inflammation Test
> Complete Gut Bacteria & Parasite Test
> Comprehensive "Big 5" Lab Tests
> View all Functional Medicine lab tests
Get Your Question Answered on an Upcoming House Call!

Submit your question at:
https://stephencabral.com/askcabral/
– – –
Listen to Previous Podcasts:

To listen to other episodes of the Cabral Concept, visit:
https://stephencabral.com/podcasts
– – –
Would You Take 30 Seconds to Rate & Review the Cabral Concept?
The best way to help me spread our mission of true natural health is to pass on the good word, and I read and appreciate every review!
1. Click link: https://itunes.apple.com/us/podcast/cabral-concept-by-stephen/id1071469441?mt=2
2. Click "View in iTunes" button
3. Click "Subscribe" button
4. Click "Ratings and Reviews" text
5. Click to rate and leave a short review and you're done!
* Thank you again and every review gets entered in my monthly contest to win great prizes!