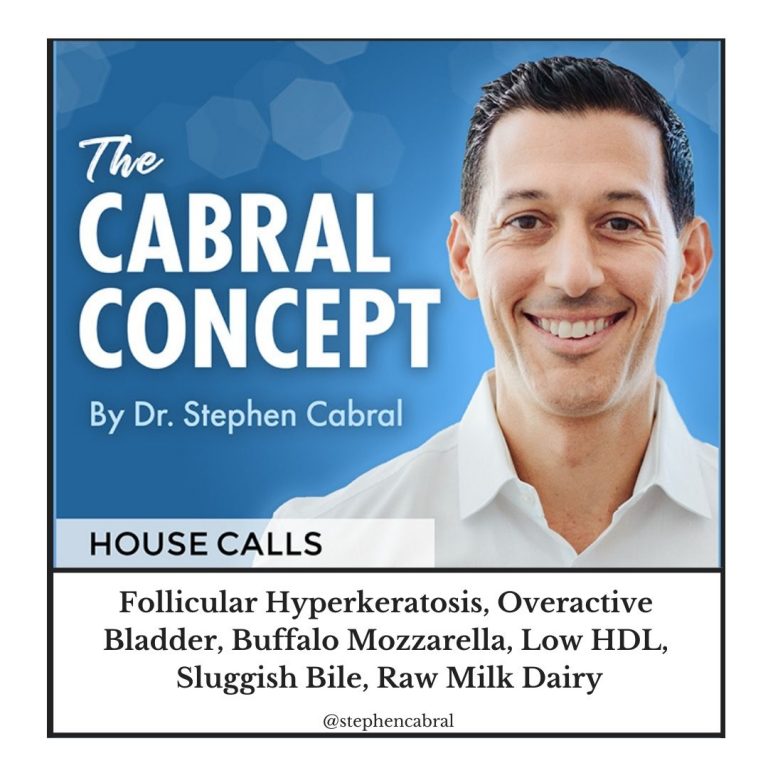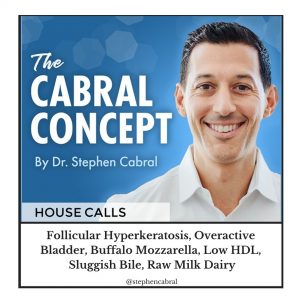 HouseCall:
Thank you for joining us for our 2nd Cabral HouseCall of the weekend!
I'm looking forward to sharing with you some of our community's questions that have come in over the past few weeks…
Let's get started!
Noah: Hey doc! Love all your videos, super grateful to learn from a great doctor! My question is, for maybe 10-12 years, I have had rough red pimples you can say on my arms,chest,back and legs. I think it's called follicular hyperkeratosis? What can I do that for that? No doctor even my functional medicine doctor doesn't know how to treat it(effectively get rid of it). I currently don't eat wheat,diary,eggs,soy and fish except salmon. I do deal with a lot of food allergies and allergies in general. Thanks!
Gail: Hi, for years I've been waking up at night many times – between 3 on good days and sometimes 5 or 6 on bad days – to go to the bathroom.I used to wake up many times during the night thinking that I needed to pee, but most of the time my bladder was far from being full…I started to take a Medication for overactive bladder a few weeks ago, and since then I still wake up many times during the night, but now my bladder is always full, which means I really need to pee 3 to 5 times per night.I've tried to limit any fluid intake after 5 pm but it did not change anything…I take a sleep supplementation as well as Magnesium; I meditate, do yoga and am otherwise healthy and fit…Do you have any clue what could help me? I haven't had a straight night of sleep for years now and of course, when I wake up at 4 or 5 am, it's getting harder and harder to go back to sleep…Thank you SO MUCH in advance for any help you could provide! Gail.
Paula: Hi Dr Cabral, thank you so much for giving us the opportunity to ask you questions! I was wondering if you consider dairy products from the animal buffalo as harmful as those from the cow? I know that if even someone doesn't show a sensitivity to cow's milk on an igG food sensitivity test, you still don't recommend it for many other reasons. Does this apply to buffalo mozzarella as well for example?
Anonymous: What would cause a decrease in HDL levels? Last year my HDL was 48, I was hoping to increase this and started taking your Omega supplements in February. I eat pretty healthy, but have room for improvement: fish once a week, flax, chia, olive oil and nuts. I had my cholesterol tested recently and my HDL is now 38! It's gone in the opposite direction. My HDL/LDL ratio is good, I am just curious why my HDL would decrease and suggestions on how to increase it.Thanks!
Judy: I was told I have sluggish bile causing poor breakdown of fats. What are some things I can do to support my gall bladder?
Kirsty: Hi Stephen, I know you have spoken about the ill effects of consuming dairy products, but I was wondering what your view is on raw milk dairy? I don't consume milk myself but I have been reading that it's a good source of enzymes (lipase) and also Butyrate which is necessary for cell rebuilding in the colon? I follow your protocols and love all your nutritional information so thought I'd get your thoughts on this. 🙂 So much thanks!
Thank you for tuning into this weekend's Cabral HouseCalls and be sure to check back tomorrow for our Mindset & Motivation Monday show to get your week started off right!
– – –
Audio Podcast:
Video Podcast:
Show Notes & Resources:
> Learn more about the Integrative Health Practitioner Certification
> Dr. Cabral's New Book, The Rain Barrel Effect
> Join Our Online Community (Free Q&A Facebook support group!)
> Dr. Cabral's Personal Resource Page
> Apply to Dr. Cabral's Private Practice 
Dr. Cabral's Most Popular Lab Tests:
> Complete Minerals & Metals Test
> Complete Candida, Metabolic & Vitamins Test
> Complete Stress, Mood & Metabolism Test
> Complete Stress, Sleep & Hormones Test
> Complete Food Sensitivity Test
> Complete Omega-3 & Inflammation Test
> Complete Gut Bacteria & Parasite Test
> Comprehensive "Big 5" Lab Tests
> View all Functional Medicine lab tests
Get Your Question Answered on an Upcoming House Call!

Submit your question at:
https://stephencabral.com/askcabral/
– – –
Listen to Previous Podcasts:

To listen to other episodes of the Cabral Concept, visit:
https://stephencabral.com/podcasts
– – –
Would You Take 30 Seconds to Rate & Review the Cabral Concept?
The best way to help me spread our mission of true natural health is to pass on the good word, and I read and appreciate every review!
1. Click link: https://itunes.apple.com/us/podcast/cabral-concept-by-stephen/id1071469441?mt=2
2. Click "View in iTunes" button
3. Click "Subscribe" button
4. Click "Ratings and Reviews" text
5. Click to rate and leave a short review and you're done!
* Thank you again and every review gets entered in my monthly contest to win great prizes!