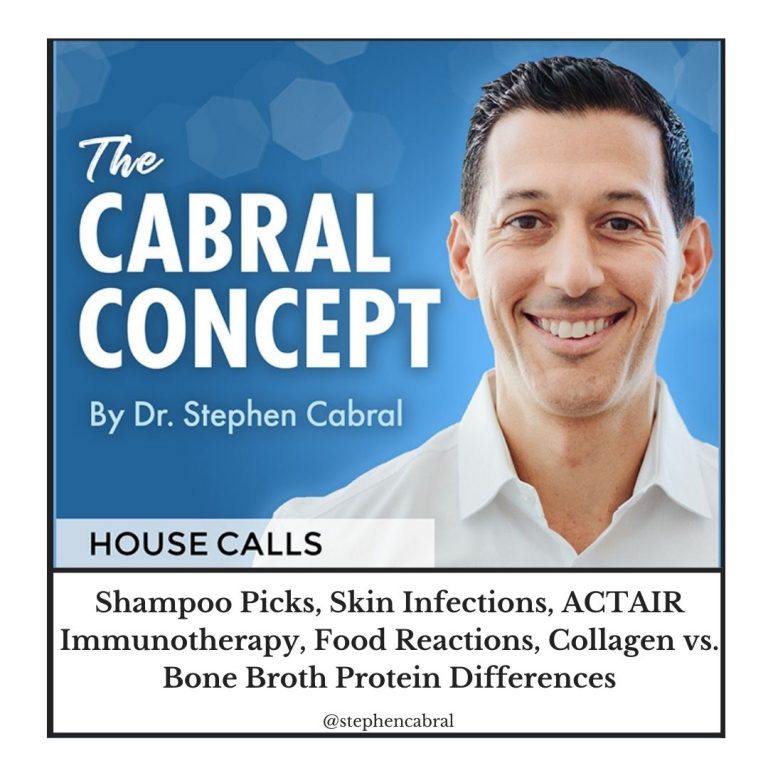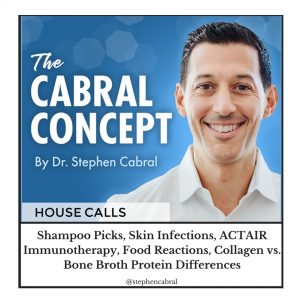 HouseCall:
Welcome back to our weekend Cabral HouseCall shows!
This is where we answer our community's wellness, weight loss, and anti-aging questions to help people get back on track!
Check out today's questions:
Brandon: What are your favorite men's soaps and shampoos? Looking for recommendations on regular shampoo and dandruff shampoo.
Anonymous: Hi Dr Cabral- thx for all the work you do! I'm about 10 years in on my health journey. I found you 1.5 years ago and now I'm making some progress. I'm currently working with a level 2 IHP, have done the food sensitivity lab, the spit test lab, a 14 day detox, the CBO plus the finisher, and the mold protocol. I'm still getting yeast infections (I've already listened to all your past yeast infection podcasts) and they come at the same time in my cycle and it seems hormone related. The other issue I'm still fighting is bacterial infections on the tip of my nose and sometimes inside my nose. I've had maybe 20-30 over the past 4 years. They clear up w neosporin. So far, every doc that I've asked can't figure either of these 2 issues out, for long term success. I'm on all your supplements and the DNS daily. I'm healthy, active and great besides these two annoying reoccurring issues. The nose infections are definitely linked to sinus stuff that I've worked on through the years- All linked to Candida and sinus infections etc. thx for the help!
Kazz: Hi Dr Cabral, thank you for all the difference you are making in the natural health field, sharing your knowledge and being accessible to everyone who has a question, I appreciate it so much as so many do! My question today is regarding chronic eczema and supposed extreme allergy to dust mite and the treatment of ACTAIR immunotherapy. My daughter's bf who is 25yo has spent his life suffering with extreme allergic reactions; rhinitis, eczema and the occasional bouts of asthma. He has had plenty of courses of antibiotics over the years, but in recent years not so much, however recently he has had such a bad case of eczema that the scratching extended to staph. His dr prescribed antibiotics and when one course wasn't it enough, 2, 3… now onto his 4 consecutive course of antibiotics. He has had an allergy test, tested positive to dust mites and has been in consultation with specialist to possibly begin ACTAIR immunotherapy for dust mite allergy which is a 3 year desensitising process, and does come with side affects. I'm wondering if you know much about this therapy. I feel he could get great results using EquiLife products, a hair mineral analysis etc. He is concerned that there is no proof that would work. Would love to hear your comments :)) thank you so much.
Kelly: i Dr Cabral, my 8 year old son completed the children's cbo this summer. He did have an anaphylactic reaction to a scallop in the middle of it where we had to stop for a few days, but for the most part we followed it well. I had been sharing my cbo finisher with him, although not religiously. He seemed to have been doing better. Belly aches, head aches seemed better, acid reflux is gone, arm pit eczema gone. But, the last 5 days he has been getting random hives all over his body, and itching throughout the day, all over, but especially at night when he's trying to fall asleep. The only way he's been able to fall asleep is with a little bit of Benedryl and wet wraps. He also has blotchy red spots around his mouth area. He had terrible eczema when he was 3mo-3 years, but it has mostly been gone since then. Now, it seems like it's coming back. We did the food sensitivity test as well as scratch testing, and try to stay away from those. He hasn't been eating anything "new" that I'm aware of, so I don't understand what's happening. He is very sensitive to gluten, dairy, sugar, and many foods and did have a lot of dairy at a friends house just before this started. Any ideas on what's happening and how to help him heal would be greatly appreciated. Thank you!!
Michael: Hi Dr Cabral, what is the difference between collagen protein and bone broth protein?
Thank you for tuning into today's Cabral HouseCall and be sure to check back tomorrow where we answer more of our community's questions!
– – –
Audio Podcast:
Video Podcast:
Show Notes & Resources:
> Learn more about the Integrative Health Practitioner Certification
> Dr. Cabral's New Book, The Rain Barrel Effect
> Join Our Online Community (Free Q&A Facebook support group!)
> Dr. Cabral's Personal Resource Page
> Apply to Dr. Cabral's Private Practice 
Dr. Cabral's Most Popular Lab Tests:
> Complete Minerals & Metals Test
> Complete Candida, Metabolic & Vitamins Test
> Complete Stress, Mood & Metabolism Test
> Complete Stress, Sleep & Hormones Test
> Complete Food Sensitivity Test
> Complete Omega-3 & Inflammation Test
> Complete Gut Bacteria & Parasite Test
> Comprehensive "Big 5" Lab Tests
> View all Functional Medicine lab tests
Get Your Question Answered on an Upcoming House Call!

Submit your question at:
https://stephencabral.com/askcabral/
– – –
Listen to Previous Podcasts:

To listen to other episodes of the Cabral Concept, visit:
https://stephencabral.com/podcasts
– – –
Would You Take 30 Seconds to Rate & Review the Cabral Concept?
The best way to help me spread our mission of true natural health is to pass on the good word, and I read and appreciate every review!
1. Click link: https://itunes.apple.com/us/podcast/cabral-concept-by-stephen/id1071469441?mt=2
2. Click "View in iTunes" button
3. Click "Subscribe" button
4. Click "Ratings and Reviews" text
5. Click to rate and leave a short review and you're done!
* Thank you again and every review gets entered in my monthly contest to win great prizes!