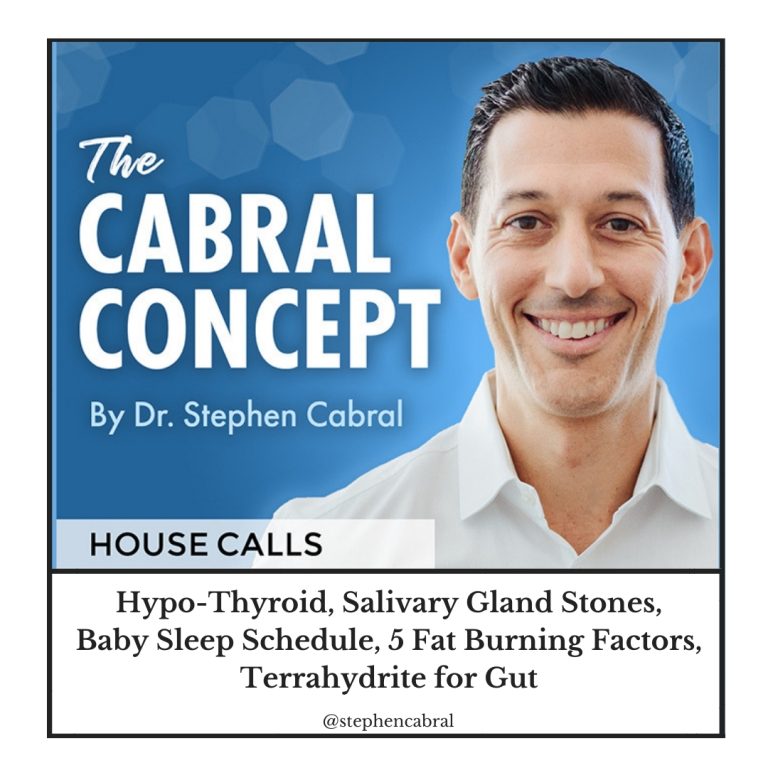 HouseCall:
Welcome back to our weekend Cabral HouseCall shows!
This is where we answer our community's wellness, weight loss, and anti-aging questions to help people get back on track!
Check out today's questions:
Ryan: Hello Dr. Cabral, really enjoying the new Thursday guest podcasts! Thanks for all that you do! My question is in regards to people with graves disease who have had radioactive iodine ablation. (Thanks to you I understand the workings of the HPA and HPT axis, and triggers/solutions for autoimmune conditions within the framework of our lifestyle habits and epi-genetics)My question is simply this, in your clinical experience have had clients regain normal thyroid function after having their thyroid ablated without needing thyroid medication? When I had this procedure a few years ago I was told I would be on thyroid medication forever since the ablation apparently induces a permanent hypo-thyroid state. I have been on nature throid for a while and am doing well, but wanted to see if a protocol (12-16 weeks?) with the daily thyroid support and potentially an additional thyroid glandular could help heal my thyroid and allow me to wean of nature throid? I understand that this could work for typical hypo-thyroid or hashimotos clients but could this work for those who had radio-active iodine ablation? My goal is to eventually be off thyroid medication for good, and use supplements as the stressors of life see fit! Thanks!
Rie: Hi. Thank you so much for all you do to help people. I have completed all the tests except for the food sensitivity test and have completed all the protocols as indicated by my health coaches. I follow your daily regimens as well. For the past three years, I have been getting salivary gland infections. My MD prescribes antibiotics each year and these take care of it after the ten days of treatment. I do not go to the doctor until they are so bad that I cry whenever I try to eat. These salivary gland stones/infections are very painful and I hate to have to take antibiotics. I ha e noticed that they occur in either August or September. This year I made it until October. I take the alkalizing vitamin C and the Hist Pro, but I did miss some days on the Hist Pro. I figure they are allergy related since they occur at the same time of year generally. My doctor isn't very familiar with them and thinks I should see an ENT for possible surgery. I have searched all the podcasts and only found information on tonsil stones. Mine seem to be in the glands under my tongue, but the lymph gland on the left side of my neck enlarges first each time. Please help me!
Inga: Dear Dr.CabralI have another question about my baby .. he's currently 16 months old and has never slept through the night. He wakes up 5-10 times a night! My pediatrician just said that's what happens with breast fed babies . I find that hard to believe. He wakes up crying and wants to be fed he won't take a bottle or pacifier. He co sleeps with my husband and I .. I have tried a sound machines, diffusing lavender, foods high in magnesium, and taking out gluten/ dairy from his diet. We tried getting him to sleep in his own crib hoping that would help and he cried hard for 5 nights each night in his crib .. I really don't know what to do .. thank for any advice you can give me I really appreciate you and value your opinion. Inga
Daise: You talked about the importance of hormonal balance to burn fat as one of the 5 factors to burn fat. But you did not explain how to do that. Could you please explain the solution to this problem. How to balance your hormones? Are you saying fatlosity is the answer to this problem?
Meghan: Hello Dr Cabral, I have had incredible transformations through your protocols, now have an Integrative Health Baby, am an IHP 1 and currently enrolled in IHP 2 and will be one of your supporters for life.My question is regarding the product called Ion Gut Health which was created by Dr Zach Bush. The main ingredient is Terrahydrite® Tests showed it restores cellular tight cell junction integrity. ION*Gut Health supports the body's production of beneficial enzymes through redox signaling (cellular communication) and promoting lysine production. Are you aware of this product and in terms of healing leaky gut and what are your thoughts about it? I know you are supportive of the ingredients within the healthy gut support product but keen to hear whether you have come across Terrahydrite in your research. Many thanks in advance
Thank you for tuning into today's Cabral HouseCall and be sure to check back tomorrow where we answer more of our community's questions!
– – –
Audio Podcast:
Video Podcast:
Show Notes & Resources:
> Learn more about the Integrative Health Practitioner Certification
> Dr. Cabral's New Book, The Rain Barrel Effect
> Join Our Online Community (Free Q&A Facebook support group!)
> Dr. Cabral's Personal Resource Page
> Apply to Dr. Cabral's Private Practice 
Dr. Cabral's Most Popular Lab Tests:
> Complete Minerals & Metals Test
> Complete Candida, Metabolic & Vitamins Test
> Complete Stress, Mood & Metabolism Test
> Complete Stress, Sleep & Hormones Test
> Complete Food Sensitivity Test
> Complete Omega-3 & Inflammation Test
> Complete Gut Bacteria & Parasite Test
> Comprehensive "Big 5" Lab Tests
> View all Functional Medicine lab tests
Get Your Question Answered on an Upcoming House Call!

Submit your question at:
https://stephencabral.com/askcabral/
– – –
Listen to Previous Podcasts:

To listen to other episodes of the Cabral Concept, visit:
https://stephencabral.com/podcasts
– – –
Would You Take 30 Seconds to Rate & Review the Cabral Concept?
The best way to help me spread our mission of true natural health is to pass on the good word, and I read and appreciate every review!
1. Click link: https://itunes.apple.com/us/podcast/cabral-concept-by-stephen/id1071469441?mt=2
2. Click "View in iTunes" button
3. Click "Subscribe" button
4. Click "Ratings and Reviews" text
5. Click to rate and leave a short review and you're done!
* Thank you again and every review gets entered in my monthly contest to win great prizes!