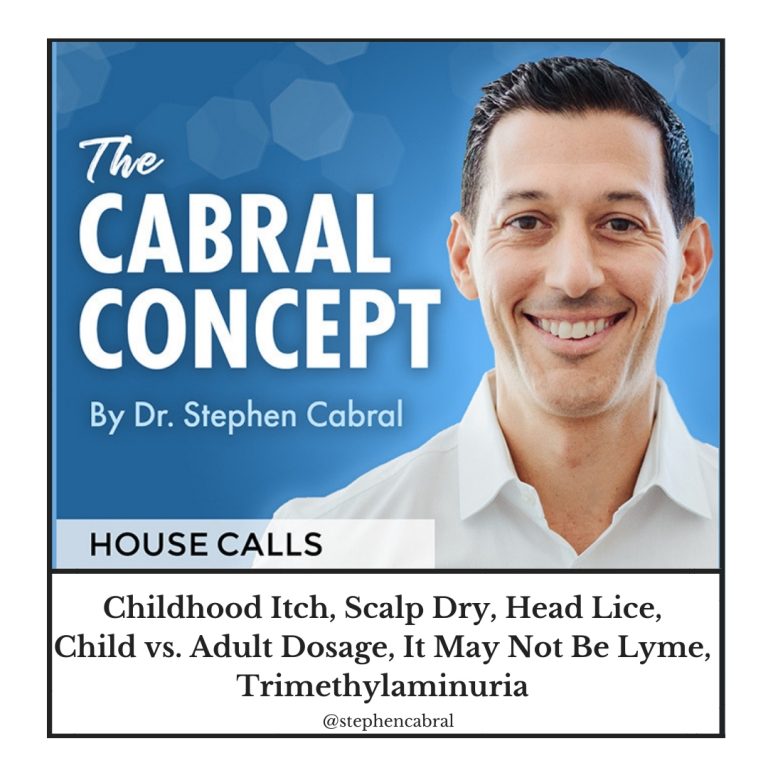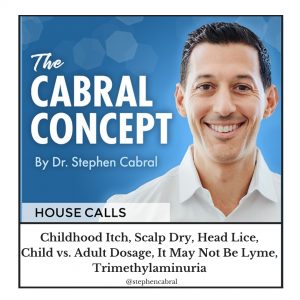 HouseCall:
Welcome back to our weekend Cabral HouseCall shows!
This is where we answer our community's wellness, weight loss, and anti-aging questions to help people get back on track!
Check out today's questions:
Carrie- Ann: Hello,You are a true inspiration. Thank you for changing this world one person at a time.I've been a wellness Chiropractor for almost 20 years now and I listen to your podcasts daily. I'm going to start your IHP program in 2021.My question is about my 9 year old daughter. She has been suffering from an itchy vagina for almost 12 months now and 2 months ago started also having an itchy anus too. She's seen a very thorough naturopath who worked on healing her gut, parasites, homeopathic and more. None of this helped. We've changed to organic cotton underwear, use all natural laundry detergents and soaps, she has a very clean, organic diet with almost no dairy, gluten or soy. She takes probiotics, multivitamin and vitamin D and C daily. We've also tried some conventional treatments like canesten cream and over the counter worming tablets.A very quick history is my daughter was born with a congenital diaphragmatic hernia and had surgery on day one of life. She was tube fed for 4 months (breastmilk) and on many drugs. After the age of 4 months she has never had another drug in her body and has never taken any antibiotics.Thank you so much for you knowledge and help. It's so appreciated.
Marc: Hi is there a test you can perform to see what may be causing my scalp to be dry and having excessive hair fall?
Mo: Hope you're doing well! My question today is about head lice. My daughter is 3 and her preschool told me that a child in her class has had head lice 2X now in the past 30 days. They stay away from school and come back when it's gone but it keeps reoccurring. I'm concerned it'll spread to my daughter and I want to prepare myself in case anything happens. What would you recommend for kids if this happens? Thank you as always!
Lorena: Hey Dr Cabral! Thank you so much for all of the knowledge that you share with all of us! My son is 12 and started doing the CBO for children. However, when I read the instructions it said that it's recommended for children under 100lbs. He's actually 110lbs (50kg) (his BMI is healthy). He's very fit, eats very healthy, does a lot of sports, etc. Just wondering if maybe I made the wrong decision and he should have gone for the adult CBO? Thanks!
Bryan: Hey doc! Love the videos, I want to ask your opinion on Lyme disease. My doctors told me I have fibromyalgia but I didn't really believe it since I'm a 18 year old male who has had chronic migraines, stomach pains and fatigue for years and now so many symptoms one being crazy dizziness. So I went to see a functional medicine doctor and he told me he thinks it's Lyme disease. He's currently treating me with only herbs since he think antibiotics will do harm than good for me. What's your approach to healing Lyme? Do I need to take antibiotics to fully recover? Thanks!
Samantha: Hi Dr Cabral,If the activated B complex causes body odor unlike I have ever experienced and I'm absolutely sure it's this vitamin after lots of trial and error….would you recommend continuing to take it as this could be a sign of it doing its job detoxing the body? I read Choline has been associated with a fishy body odor, but only in individuals with a rare metabolic disorder known as trimethylaminuria. I wouldn't call the body odor smell fishy though. Just more pungent than ever before. :/Thank you oh so much! I tried to find the answer myself but feeling a little confused and wanted to ask the expert! 🙂
Thank you for tuning into today's Cabral HouseCall and be sure to check back tomorrow where we answer more of our community's questions!
– – –
Audio Podcast:
Video Podcast:
Show Notes & Resources:
> Learn more about the Integrative Health Practitioner Certification
> Dr. Cabral's New Book, The Rain Barrel Effect
> Join Our Online Community (Free Q&A Facebook support group!)
> Dr. Cabral's Personal Resource Page
> Apply to Dr. Cabral's Private Practice 
Dr. Cabral's Most Popular Lab Tests:
> Complete Minerals & Metals Test
> Complete Candida, Metabolic & Vitamins Test
> Complete Stress, Mood & Metabolism Test
> Complete Stress, Sleep & Hormones Test
> Complete Food Sensitivity Test
> Complete Omega-3 & Inflammation Test
> Complete Gut Bacteria & Parasite Test
> Comprehensive "Big 5" Lab Tests
> View all Functional Medicine lab tests
Get Your Question Answered on an Upcoming House Call!

Submit your question at:
https://stephencabral.com/askcabral/
– – –
Listen to Previous Podcasts:

To listen to other episodes of the Cabral Concept, visit:
https://stephencabral.com/podcasts
– – –
Would You Take 30 Seconds to Rate & Review the Cabral Concept?
The best way to help me spread our mission of true natural health is to pass on the good word, and I read and appreciate every review!
1. Click link: https://itunes.apple.com/us/podcast/cabral-concept-by-stephen/id1071469441?mt=2
2. Click "View in iTunes" button
3. Click "Subscribe" button
4. Click "Ratings and Reviews" text
5. Click to rate and leave a short review and you're done!
* Thank you again and every review gets entered in my monthly contest to win great prizes!