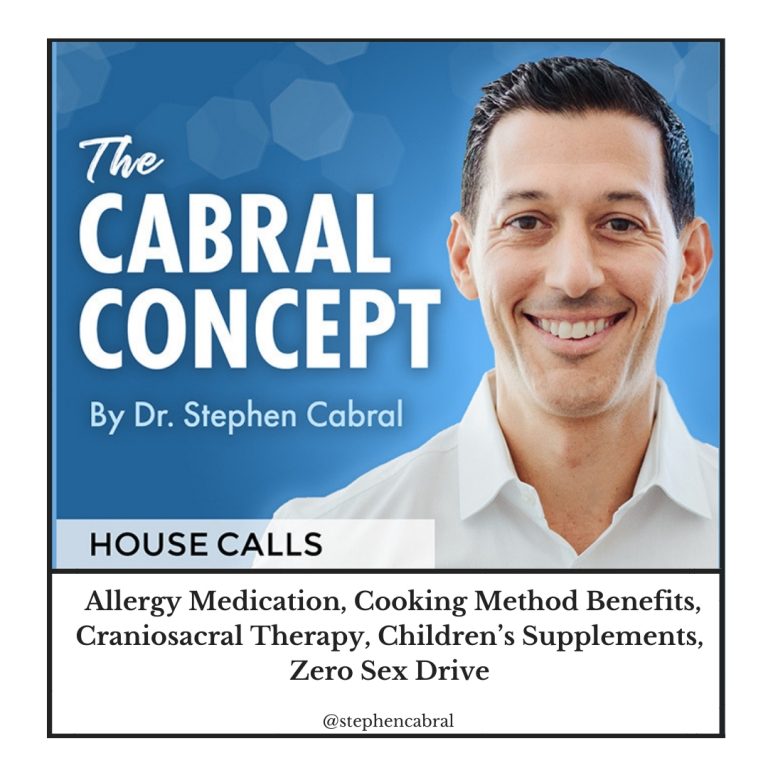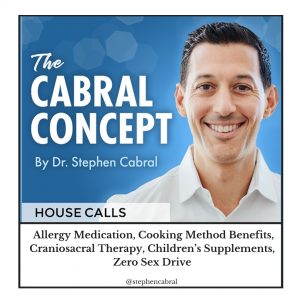 HouseCall:
Thank you for joining us for our 2nd Cabral HouseCall of the weekend!
I'm looking forward to sharing with you some of our community's questions that have come in over the past few weeks…
Let's get started!
Mat: Hello Dr. Cabral,Thank you for all the information you make available for free! For the past decade I have had dry patches of skin on my eyelids or arms during the winter. Usually this clears up by spring. This year it did not and only got worse during the summer, leading to a general allergies diagnosis and then an eczema diagnosis. After two rounds of topical and oral steroids I decided to try and find a root cause / actual cure rather than just treating symptoms. I tried Whole30 as a rudimentary food elimination diet, but didn't see any improvement, actually just further outbreak. A friend referred me to your podcast and I just completed the Parasite Protocol and I am in day 5 of the CBO Protocol now. I've cut out all histamine foods on the list as well after listening to one of your other podcast episodes on skin issues. I have been taking Claritin for the past 7 years due to being allergic to our dog and dust and dander. We no longer have our pup, but I've continued to take Claritin. I've listened to the 3 podcasts you have that mention Claritin, but I did not hear anything specific to Claritin itself. If you were in my shoes would you stop taking the Claritin? I'm reading through the Rain Barrel Effect and wondering if this is contributing to my rain barrel. Thank you!
Meghan: Hi Dr Cabral,I wanted to say thank you for all that you do, you are such an inspiring mentor and creating real change and giving us all hope which is invaluable. My question today is around grains and inflammation. I understand that grains can be inflammatory however I would like to better understand why. When I eat grains in consecutive days I get an arthritic pain in my right shoulder and within a few days of going off grains it goes away. I have recently finished the CBO Protocol and currently on the heal and seal protocol but would like to know how can I get my body to a point to tolerate grains without inflammation? Why does this happen? Thank you
Anton: Hi Dr Cabral!I'm a long time listener and follower of yours.I have listened to all of your podcast, I'm a IHP student, and I also used the search page on your website, but I couldn't find the answer.Does in which way you cook your food affect nutrition values and digestion? Take an potato as an example, what's the different between a steamed, grilled in oven or cooked in water potato?Keep up the great work, you are the GOAT!I hope you know what that means, it's a compliment ;-)!
Anton: Hi again Dr Cabral.Last question for today!I have a history of concussions and for me Craniosacral Therapy work by an Osteopath has been terrific for changing my fight and flight into calmness and peacefulness.I couldn't find that you have talked about it before, I would love to hear your opinion about it.I will continue doing it no matter what you have to say about it though ;-)!Thanks again, you are the GOAT ;-)!
Mo: Hi Dr. Cabral, its Mo again! Today I am reaching out in regards to my daughter. She is 3 years old and I wanted some advice on a children's multivitamin, probiotics and Omega 3. I usually give her MetaKids Multi Soft Chew by Metagenics, and a small amount of the Omega 3 supplement from EQ and I also give her the Genestra Brands children's Probiotics. Are these okay for her? Please recommend anything you think she should take, brands, supplements, anything. I wish EQ had more children products (hopefully soon?).As always, thank you for your time, efforts, advice, knowledge, and everything you do for the world.ps. some mornings she sits with me watches your new videos! Cheers Mo
Anonymous: Hi Dr Cabral. I'm a male in the middle 20's. I know I have gut issues and candida overgrowth, I have ordered the CBO protocol and the CBO finisher, and I will soon start it. I don't diagnose myself, it's not allowed on the Cabral concept, but I have literally zero sex drive. My scrotum is literally hanging down to the floor and it feels like my body is 100 years old in that area. Could candida overgrowth affect this situation or are there other things I should rebalance in my body? This has been hard emotionally for me because I had this issue many years. It's not that fun to have no interest in dating when you are in your 20's but I try to stay positive, one day it will get better. Thanks Stephen you are my hero.
Thank you for tuning into this weekend's Cabral HouseCalls and be sure to check back tomorrow for our Mindset & Motivation Monday show to get your week started off right!
– – –
Audio Podcast:
Video Podcast:
Show Notes & Resources:
> Learn more about the Integrative Health Practitioner Certification
> Dr. Cabral's New Book, The Rain Barrel Effect
> Join Our Online Community (Free Q&A Facebook support group!)
> Dr. Cabral's Personal Resource Page
> Apply to Dr. Cabral's Private Practice 
Dr. Cabral's Most Popular Lab Tests:
> Complete Minerals & Metals Test
> Complete Candida, Metabolic & Vitamins Test
> Complete Stress, Mood & Metabolism Test
> Complete Stress, Sleep & Hormones Test
> Complete Food Sensitivity Test
> Complete Omega-3 & Inflammation Test
> Complete Gut Bacteria & Parasite Test
> Comprehensive "Big 5" Lab Tests
> View all Functional Medicine lab tests
Get Your Question Answered on an Upcoming House Call!

Submit your question at:
https://stephencabral.com/askcabral/
– – –
Listen to Previous Podcasts:

To listen to other episodes of the Cabral Concept, visit:
https://stephencabral.com/podcasts
– – –
Would You Take 30 Seconds to Rate & Review the Cabral Concept?
The best way to help me spread our mission of true natural health is to pass on the good word, and I read and appreciate every review!
1. Click link: https://itunes.apple.com/us/podcast/cabral-concept-by-stephen/id1071469441?mt=2
2. Click "View in iTunes" button
3. Click "Subscribe" button
4. Click "Ratings and Reviews" text
5. Click to rate and leave a short review and you're done!
* Thank you again and every review gets entered in my monthly contest to win great prizes!