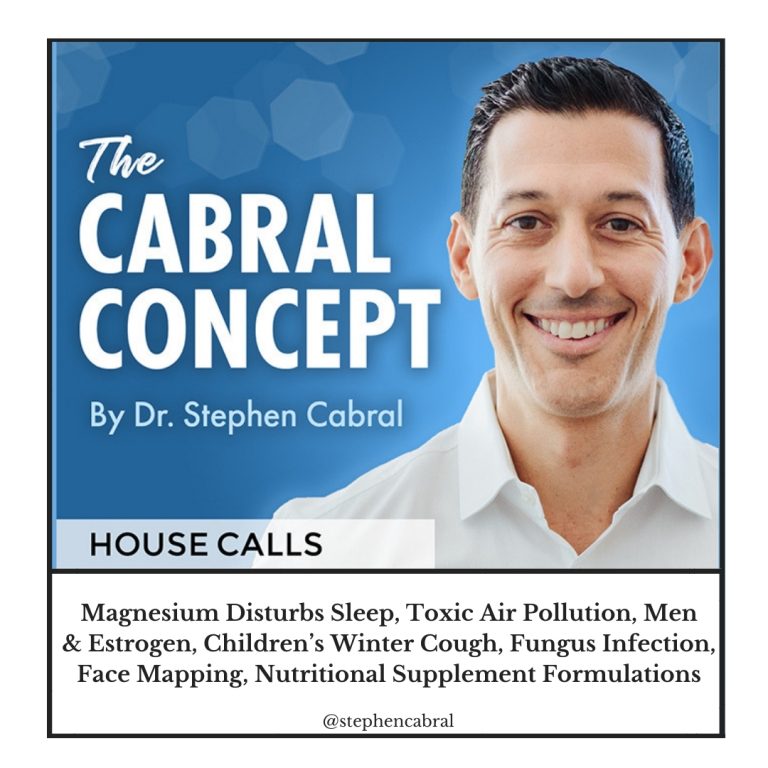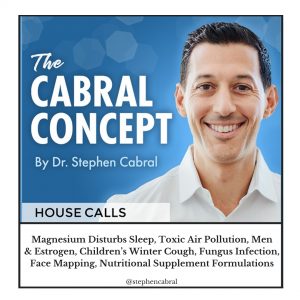 HouseCall:
Thank you for joining us for our 2nd Cabral HouseCall of the weekend!
I'm looking forward to sharing with you some of our community's questions that have come in over the past few weeks…
Let's get started!
Joey: Hello Dr.Cabral, I have a question about magnesium supplementation. I have never had any signs of magnesium deficiency (cramps, high BP, high sugar, headaches) and my daily magnesium intake according to Cronometer is about 600mg.Yet, hearing the positive effects of magnesium left & right, I tried to supplement daily with about 200mg on top of my dietary intake. I've tried Mg citrate, Mg glycinate as well as your full spectrum Mg. Every time, regardless of magnesium form, after several days, I've always developed sleeping troubles (waking in the middle of the night, not being able to go back to deep sleep). After discontinuing the Mg supplement, my sleep would always return to normal. How come magnesium supplements (only 200mg daily) has the opposite effect on me regarding sleep, than what is suppose to have? Did you experience that with any of your patients?
Kari: Hi Dr. Cabral,I live in the Central Valley of CA. We have been called the bread-basket of the world but are also known at the #1 worst region for particle pollution in the United States, according to the American Lung Association. I know you won't read this question for at least another 6 weeks, but my home is currently surrounded by the Creek Fire.My family is under an evacuation warning and this wildfire has burned 250,000 acres of our backyard. It is raining ash and the air quality is horrible. I was wondering what you could recommend to stay healthy during these difficult times. The air quality is usually bad here, but now it's on another level and is bothering people without underlying respiratory issues. My husband is a first responder and works 16-hour shifts outdoors. Is there anything he can do to protect himself and his lungs while working in such a toxic environment?Some of my families symptoms include burning eyes, congestion, shortness of breath, headache, and general fatigue. Thank you for any information or products you may recommend!!! The only recommendations we've received is to "stay inside". We could use all the help we can get to stay healthy living here in the valley.Thank you for being you!-Kari
Mo: Hey Dr Cabral!It's Mo again lol, my question today is about the estrogen balance product you have.Do you ever recommend that for men to use and if so, on what occasions?As always thank you so much for your time and knowledge! Greatly appreciate it!
Sarah: Hi Dr Cabral,Thank you for taking the time to answer my question. I really really appreciate all you do and you have helped me to learn so much.Both my daughters suffer with croup every year during the winter here in the Uk. Their breathing gets so bad that we have to call for an ambulance and then they are normally given dexamethasone.They take a multivitamin, dha and probiotic daily. Should I increase vitamin c or other vitamin during periods of illness and if so what dosages do you recommend for a 2 and 5 year old? Also does dexamethosone have any side effects or do my children need to take any extra vitamins/probiotics after having it?Thank you so much Sarah
Ron: Hi I have been chronicly ii for 30 years,I am 59 year old male have been to clinics all over and different treatments. I have come to the conclusion I have a deep fungus infection in blood and organs,I have heard there is no cure for that only management,I would like not to believe that and would like your opinion if you are looking for a challenging case it has just arrived.
Lara: Hi, dr. Cabral:)I'm wondering what you think about face mapping – do the "spots" or redness (sometimes even something resembling a rash?) depending on where on the face it always shows really tell you what is most wrong with you inside? Like, which organs are having the most trouble working properly etc.? I've seen it on social media several times now and I'm wondering if there's any significance there..Thank you and lots of love to you, your family and all your listeners.. happy healing everyone! 🙂
Paula: Hi Dr Cabral. I am a level 2 IHP student and am absolutely loving it. I love how it's not only 'teaching' but you also share a lot of personal things and it gives the course so much "life". I'm not sure that makes a lot of sense but hopefully it does haha! Anyways, I was wondering if you could share a little bit of your experience formulating products for Equilibrium. I am interested in doing something very similar and would love if you could shed some light on this topic. Given your background in biochemistry, I'm sure you already had good knowledge in terms of what ingredients to use but what about the specific amounts of each vitamin/herb/mineral? Is this something you did by yourself or did you get help from a chemist? I want to learn from the BEST so this is why I'm asking you. I just want something that will help me get started. Thank you so much!
Thank you for tuning into this weekend's Cabral HouseCalls and be sure to check back tomorrow for our Mindset & Motivation Monday show to get your week started off right!
– – –
Audio Podcast:
Video Podcast:
Show Notes & Resources:
> Learn more about the Integrative Health Practitioner Certification
> Dr. Cabral's New Book, The Rain Barrel Effect
> Join Our Online Community (Free Q&A Facebook support group!)
> Apply to Dr. Cabral's Private Practice 
Dr. Cabral's Most Popular Lab Tests:
> Complete Minerals & Metals Test
> Complete Candida, Metabolic & Vitamins Test
> Complete Stress, Mood & Metabolism Test
> Complete Stress, Sleep & Hormones Test
> Complete Food Sensitivity Test
> Complete Omega-3 & Inflammation Test
> Complete Gut Bacteria & Parasite Test
> Comprehensive "Big 5" Lab Tests
> View all Functional Medicine lab tests
Get Your Question Answered on an Upcoming House Call!

Submit your question at:
https://stephencabral.com/askcabral/
– – –
Listen to Previous Podcasts:

To listen to other episodes of the Cabral Concept, visit:
https://stephencabral.com/podcasts
– – –
Would You Take 30 Seconds to Rate & Review the Cabral Concept?
The best way to help me spread our mission of true natural health is to pass on the good word, and I read and appreciate every review!
1. Click link: https://itunes.apple.com/us/podcast/cabral-concept-by-stephen/id1071469441?mt=2
2. Click "View in iTunes" button
3. Click "Subscribe" button
4. Click "Ratings and Reviews" text
5. Click to rate and leave a short review and you're done!
* Thank you again and every review gets entered in my monthly contest to win great prizes!