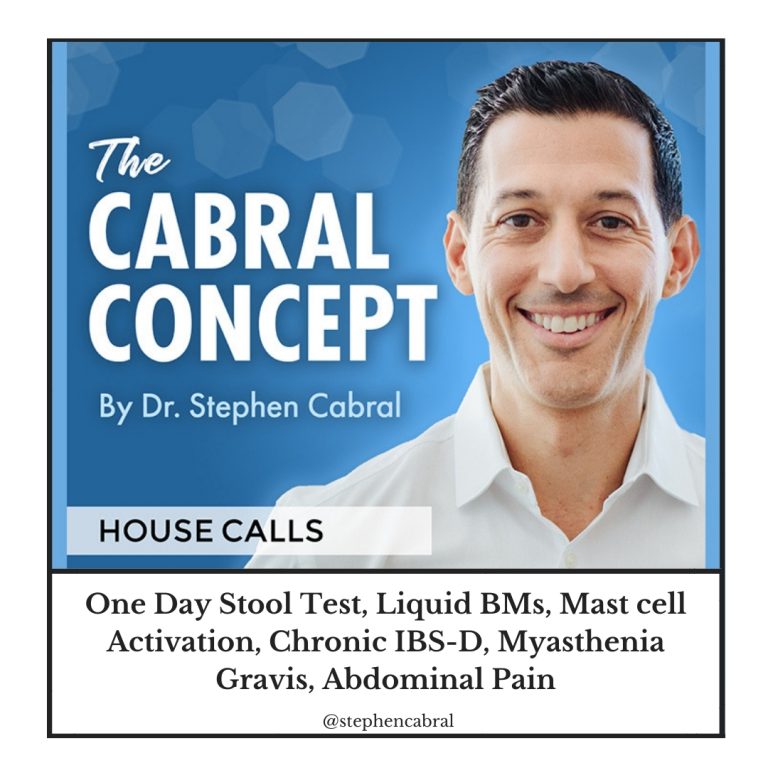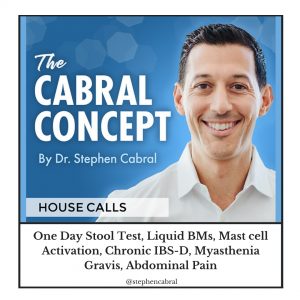 HouseCall:
Welcome back to our weekend Cabral HouseCall shows!
This is where we answer our community's wellness, weight loss, and anti-aging questions to help people get back on track!
Check out today's questions:
Haley: This is my favorite podcast and love starting my days learning from you, thank you! For your product review, I would love your thoughts on the BiomeFX lab. My doctor wants me to do this lab, and I would love a second opinion. I had a parasitic infection a few years ago and most recently, candida overgrowth (but no detected parasites one year ago). I haven't done any labs in a year, and I think I may still have candida overgrowth and would like to know if I also have parasites/mold toxicity. Thank you for your input since you're truly an expert!Link to lab recommended by naturopath: https://microbiomelabs.com/home/products/biomefx/?gclid=CjwKCAjw4rf6BRAvEiwAn2Q76rUMGdGLWsVkKLG-3UMEZsumpfbOOposiy48CVX3I–OQcvucYHFkhoCEGMQAvD_BwE
Mo: Hey Dr Cabral, Mo here again! My question today has to do with bowel movements. I did the 21 day detox, the parasite protocol and the intestinal cleanse. Doing the CBO as well with GSE drops. I've been noticing that the past couple weeks instead of my normal 2-3 bowel movements which were all solid and formed properly, I'm getting only one bowel movement (first one) that is formed and normal. The other 1-2 after are either liquid or very small bits. I haven't changed anything in my meals. I literally eat the same meals everyday, breakfast lunch and dinner everyday is the same. Smoothie (purple crush), Mediterranean lunch and dinner. Any ideas what this might be for? I don't ever bloat, no pains, no cravings (I force myself to do cheat meals lol).Thank you as always for what you do, greatly appreciate your time and assistance!-biggest fan Mo
Josh: Hi dr Cabral. Thank you for all your wisdom. After my tick bite (rmsf) in 2015 I still find myself having symptoms. I took a genetic test and it said I have mthfr with mast cell activation and my body is poor at getting rid of histamine. How can I calm mast cells down and keep histamine at bay. Thank you
Simon: Hello Dr Cabral! I have been following the protocols of the Rain Barrel Effect for 6+ months now and am finally starting to see some improvement in my chronic IBS-D and overall health. One thing that I have really been struggling with however is finishing dinner a few hours before bed, due to work hours, family schedules, social norms, and trying to go to bed earlier. I typically finish 1.5hr before bed and try not to eat too much (which is difficult for me) or eat hard to digest foods (often out of my control). I was wondering if there were any protocols to 'increase digestion' speed or mitigate the negative effects of eating close to bedtime? Some which occurred to me were digestive enzymes (or natural substitutes like ginger or bitters) or apple cider vinegar before the meal. What would you suggest? Thank you once again!
Kristin: do you have any details on Myasthenia Gravis conditions
Jasmine: Hello Dr. Cabral, I first want to say thank you so much for all of the knowledge you share via your podcast and in The RBE. I am reaching out to ask about which type of test would you recommend in diagnosing a gut based issue. I am unsure if I should get a colonoscopy, ultrasound, or something else.Since the summer of 2018, I have been dealing with on and off again constipation, diarrhea, bloating and abdominal pain. It gets in the way of everyday normal activities, like teaching and being out somewhere (concert, gym, etc). I have gone to several doctors, including GI specialists, who in most part have ignored my issues. Recently, I have been having severe constipation and will not have a bowel movement for 3-4 days, and will only have one after I drink senna tea. Besides this issue, I am a healthy 29 year old female who works out four times a week, is within an optimal BMI range, sleeps 7-8 hours a night (some nights are more difficult than others to stay asleep), drinks almond milk, and eats organic/ grass-fed when I can. After receiving a diagnosis, I would like to work one-on-one with you to solve this issue and become healthy again. 
Thank you for tuning into today's Cabral HouseCall and be sure to check back tomorrow where we answer more of our community's questions!
– – –
Audio Podcast:
Video Podcast:
Show Notes & Resources:
> Learn more about the Integrative Health Practitioner Certification
> Dr. Cabral's New Book, The Rain Barrel Effect
> Join Our Online Community (Free Q&A Facebook support group!)
> Apply to Dr. Cabral's Private Practice 
Dr. Cabral's Most Popular Lab Tests:
> Complete Minerals & Metals Test
> Complete Candida, Metabolic & Vitamins Test
> Complete Stress, Mood & Metabolism Test
> Complete Stress, Sleep & Hormones Test
> Complete Food Sensitivity Test
> Complete Omega-3 & Inflammation Test
> Complete Gut Bacteria & Parasite Test
> Comprehensive "Big 5" Lab Tests
> View all Functional Medicine lab tests
Get Your Question Answered on an Upcoming House Call!

Submit your question at:
https://stephencabral.com/askcabral/
– – –
Listen to Previous Podcasts:

To listen to other episodes of the Cabral Concept, visit:
https://stephencabral.com/podcasts
– – –
Would You Take 30 Seconds to Rate & Review the Cabral Concept?
The best way to help me spread our mission of true natural health is to pass on the good word, and I read and appreciate every review!
1. Click link: https://itunes.apple.com/us/podcast/cabral-concept-by-stephen/id1071469441?mt=2
2. Click "View in iTunes" button
3. Click "Subscribe" button
4. Click "Ratings and Reviews" text
5. Click to rate and leave a short review and you're done!
* Thank you again and every review gets entered in my monthly contest to win great prizes!