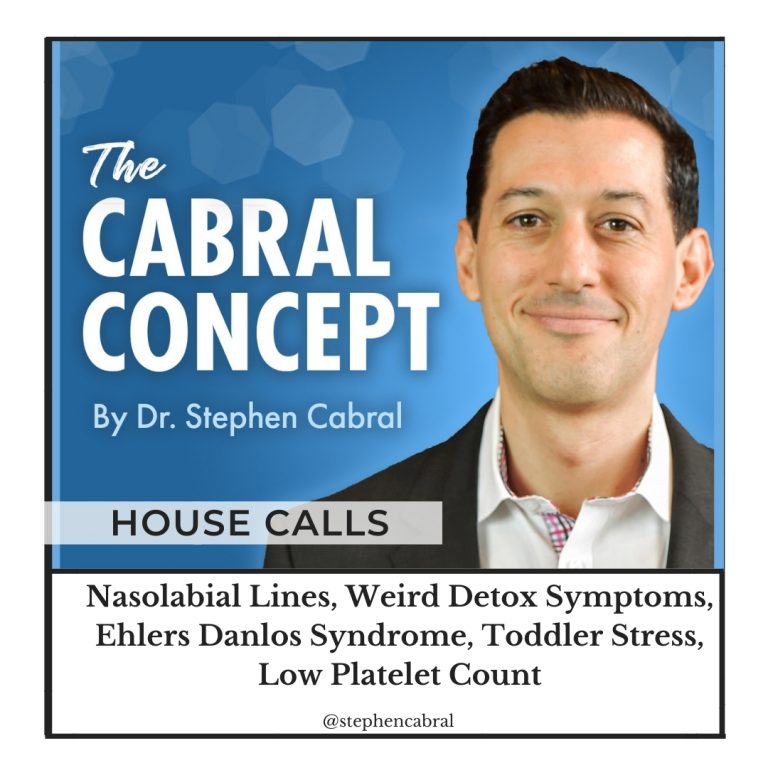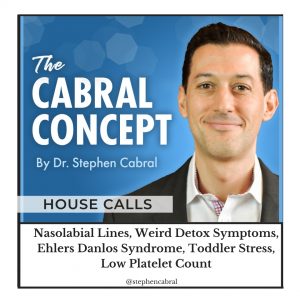 HouseCall:
Welcome back to our weekend Cabral HouseCall shows!
This is where we answer our community's wellness, weight loss, and anti-aging questions to help people get back on track!
Check out today's questions:
Darra: Hey good day Dr. Cabral. Hope all is well with you and your family. I read the rain barrel effect and listen to this podcast regularly and live a healthy life. However, I have hyperpigmentation at nasolabial (laugh lines), chin and between eyebrows. Dunno if it's due to sun exposure or what (I live in Caribbean) or something. Anyway, tried various recommendations from supplements to massages and an esthician and skincare expert recommended ambi cream (2% hydroquinone) on the affected areas to remove them. I am usually vs these products but I hate how they look. Do the benefits outweigh the potential risks (if any) using these products? Oh, also what are your thoughts on the (UN)WELL series on Netflix, provided you've seen it. Thank you. Have a blessed on
Darren: Good day Dr. Cabral. Hope all is well with you. Is it normal to have diarrhea or water stool on third day of 3 day fast/detox? I used the AM/FM detox but not the Daily Nutrional Support. Consumed no protein but took vitamin b, c, d, alpha lipoic acid, NAC, zinc, dandelion root, black walnut, spirulina, pau d' arco, ginger tea, nettle from the supplements I already have. Some from you, others from other naturopath suppliers. Just want to know if this is normal, body removing waste or a cause for concern. Thank you and keep up good work
Dawn: Hi,My 25 year old daughter was diagnosed with Ehlers Danlos Syndrome 3 years again. Do you have any experience with this Symdrome?Thank you,Dawn
Melissa: Hello again Doctor Cabral! If you recall, I wrote in recently about my toddler, Bob. GI and eczema issues since birth – lots of testing (functional and conventional) but still no real answers. It was SO exciting to hear you talk of him! It restored my hope! Thank you again for your ongoing investment – you are truly an angel walking among us.We are saving up for the labs you recommended, and should have enough by the semi-annual sale in October! It can't come soon enough.In the meantime, I know the WHY/HOW doesn't necessarily matter..but it's a topic that has always weighed on my mind a lot. I truly believe that stress is what took my Bob's health from him. While I was pregnant I was under tremendous, unchecked, rampant stress. You always hear that pregnant ladies need to take it easy and not get worked up..I didn't think it mattered. I did nothing to ease my stress. Just pushed through – constantly stressed and angry. It's what keeps coming back to me when I ponder his "why". You talk of stress as a very real cause of health problems, and it's reduction as essential to healing.How though..? How do you reduce the stress of a toddler? How do you discipline without stressing? Tiptoeing around trying not to upset him isn't the answer either, right? Thank you!!
Mars: Hi Dr. Stephen Cabral,Your programs have been always informative and fun to listen to. Thank you for the knowledge you share. They are truly helpful.I have three questions here. They are:(1) Will autophagy induce platelet or red blood cell reduction?(2) Will nutrient deficiency or constant caloric deficit induce platelet or red blood cell reduction?(3) Is it fine to do IF (16:8) every day as long as the caloric intake is sufficient?I've been doing IF for around a year. By the end of last year, I happen to learn that my platelet count drops below normal range (at around 80000.) Fortunately, after a clinic visit, the doctor told me that the related blood index are all fine. And I don't have bleeding symptom. Since then, I changed my IF protocol to 16:8, which should be less intense I think. But in the recent health check, my platelet count remains the same. So I'm wondering if it is because I exclude rice (contains folate & iron) from my food plan and remain a 200-caloric deficit at the same time? Or it's simply not good to do IF every day because autophagy has such kind of negative effect?Thank you for reviewing my long questions above. Hopefully I may hear your response on your show.All the best,Mars
Thank you for tuning into today's Cabral HouseCall and be sure to check back tomorrow where we answer more of our community's questions!
– – –
> Click here to listen in iTunes

Audio Podcast:
Video Podcast:
Show Notes & Resources:
> Learn more about the Integrative Health Practitioner Certification
> Dr. Cabral's New Book, The Rain Barrel Effect
> Join Our Online Community (Free Q&A Facebook support group!)
> Apply to Dr. Cabral's Private Practice 
Dr. Cabral's Most Popular Lab Tests:
> Complete Minerals & Metals Test
> Complete Candida, Metabolic & Vitamins Test
> Complete Stress, Mood & Metabolism Test
> Complete Stress, Sleep & Hormones Test
> Complete Food Sensitivity Test
> Complete Omega-3 & Inflammation Test
> Complete Gut Bacteria & Parasite Test
> Comprehensive "Big 5" Lab Tests
> View all Functional Medicine lab tests
Get Your Question Answered on an Upcoming House Call!

Submit your question at:
https://stephencabral.com/askcabral/
– – –
Listen to Previous Podcasts:

To listen to other episodes of the Cabral Concept, visit:
https://stephencabral.com/podcasts
– – –
Would You Take 30 Seconds to Rate & Review the Cabral Concept?
The best way to help me spread our mission of true natural health is to pass on the good word, and I read and appreciate every review!
1. Click link: https://itunes.apple.com/us/podcast/cabral-concept-by-stephen/id1071469441?mt=2
2. Click "View in iTunes" button
3. Click "Subscribe" button
4. Click "Ratings and Reviews" text
5. Click to rate and leave a short review and you're done!
* Thank you again and every review gets entered in my monthly contest to win great prizes!