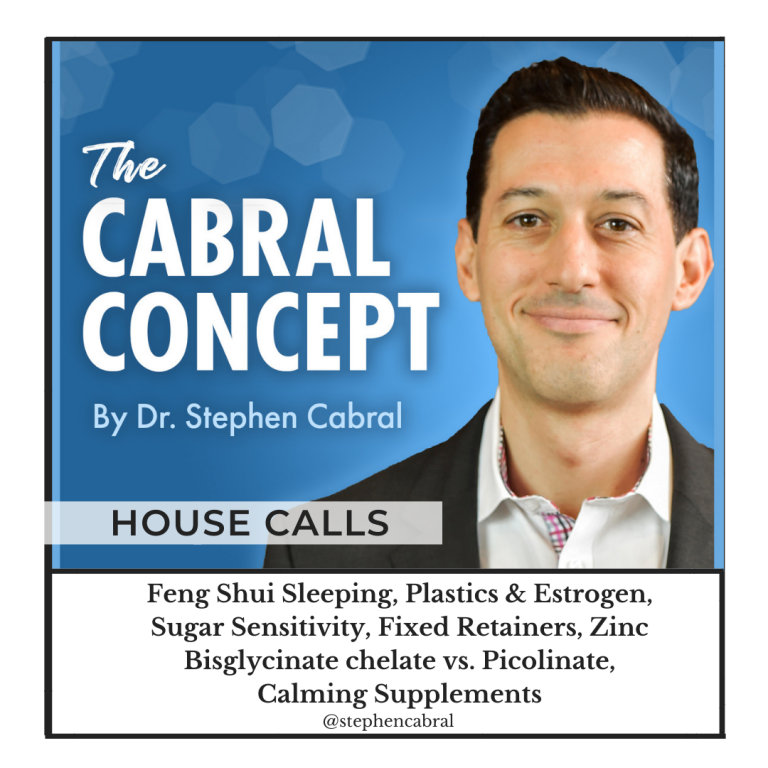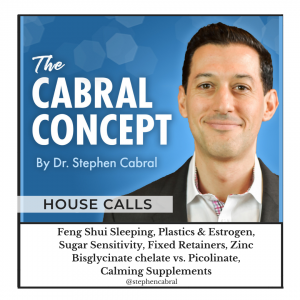 HouseCall: Feng Shui Sleeping, Plastics & Estrogen, Sugar Sensitivity, Fixed Retainers, Zinc Bisglycinate chelate vs. Picolinate, Calming Supplements
Thank you for joining us for our 2nd Cabral HouseCall of the weekend!
I'm looking forward to sharing with you some of our community's questions that have come in over the past few weeks…
Let's get started!
Darrel: Hey Dr. Cabral. Pleasant day. I came across an Indian yogi and later found what he said supported by Feng Shui with regard to sleeping directions. They say if we live in Northern Hemisphere (it's opposite if you live in Southern hemisphere) and sleep facing North, the magnetic pull of the direction attracts iron, which gets accumulated in the brain. This is the reason why many people complain of getting a headache when they wake up. Sleeping with your head pointing North can also disrupt your blood circulation and lead to disturbed sleep. It can also increase disorders such as insomnia etc. Any truth to this in ayurveda or any of the teachings you've come across?
Steven: What are your thoughts on sea moss? I feel like its becoming mainstream now!
Farah: Hi Dr Cabral, I'm a level 1 IHP student and in the supplement protocol module, you showed us the little zip bags to carry supplements on the go. However, I assume these are made out of plastic right? Wouldn't that be an issue for women because of the potential hormonal issues that plastic can cause?
Judy: Hi Dr. Cabral,I hope this message finds you healthy and well. My question is in regards to blood sugar regulation. I have listened to your podcast regarding glucose monitors and optimal blood sugar levels. I have been tracking my glucose for quite some time and I am never optimal. I eat a whole foods diet with an once a week sweet treat made with natural sweeteners like honey or maple syrup. Any healthy carb like whole fruits, Japanese yams, brown rice, etc. spike my blood sugar very high and never allows it to go below 80 unless I severely restrict these carbs. I am a lean athletic build and have worked with your team in the past for adrenal resistance, hormone and thyroid issues. What steps do you recommend to address this issue?
Paual: Hi Dr Cabral. I used braces for 2 years and after that they put fixed retainers on my bottom teeth to prevent further movement. I went to a holistic dentist in London to remove this after learning about heavy metal toxicity during IHP Level 1 but they told me that it wasn't made out of mercury and it was just stainless steel. They said that there are no issues with that and if I removed them there was a high risk of my teeth moving again. I'm not sure what to do now… do you think stainless steel is an issue? Thank you so much for your time!
Steven: Hey Dr Cabral! Love your podcast. Tuning in every single morning 🙂 My question is: Why does the gut support powder contain zinc bisglycinate chelate and not picolinate? Is one better than the other or are both great for the intestinal mucosa? Thank you!
Simon: Hello and thank you Dr Cabral,I am giving a short presentation at a conference in November and don't want to be a stuttering, forgetful mess. Apart from general good health, deep breathing and presentation techniques, I am wondering what supplements you might recommend to increase mental clarity whilst maintaining calm. I'm concerned some nootropics may achieve mental performance at the expense of calm and calming supplements may dampen my mental sharpness. Any thoughts? Many of my contemporaries swear by beta-blockers in these situations; would these be ok for limited use?
Thank you for tuning into this weekend's Cabral HouseCalls and be sure to check back tomorrow for our Mindset & Motivation Monday show to get your week started off right!
– – –
> Click here to listen in iTunes

> Or, click the play button below to listen to this episode now:
Show Notes & Resources:
> Learn more about the Integrative Health Practitioner Certification
> Dr. Cabral's New Book, The Rain Barrel Effect
> Join Our Online Community (Free Q&A Facebook support group!)
> Apply to Dr. Cabral's Private Practice 
Dr. Cabral's Most Popular Lab Tests:
> Complete Minerals & Metals Test
> Complete Candida, Metabolic & Vitamins Test
> Complete Stress, Mood & Metabolism Test
> Complete Stress, Sleep & Hormones Test
> Complete Food Sensitivity Test
> Complete Omega-3 & Inflammation Test
> Complete Gut Bacteria & Parasite Test
> Comprehensive "Big 5" Lab Tests
> View all Functional Medicine lab tests
Get Your Question Answered on an Upcoming House Call!

Submit your question at:
https://stephencabral.com/askcabral/
– – –
Listen to Previous Podcasts:

To listen to other episodes of the Cabral Concept, visit:
https://stephencabral.com/podcasts
– – –
Would You Take 30 Seconds to Rate & Review the Cabral Concept?
The best way to help me spread our mission of true natural health is to pass on the good word, and I read and appreciate every review!
1. Click link: https://itunes.apple.com/us/podcast/cabral-concept-by-stephen/id1071469441?mt=2
2. Click "View in iTunes" button
3. Click "Subscribe" button
4. Click "Ratings and Reviews" text
5. Click to rate and leave a short review and you're done!
* Thank you again and every review gets entered in my monthly contest to win great prizes!