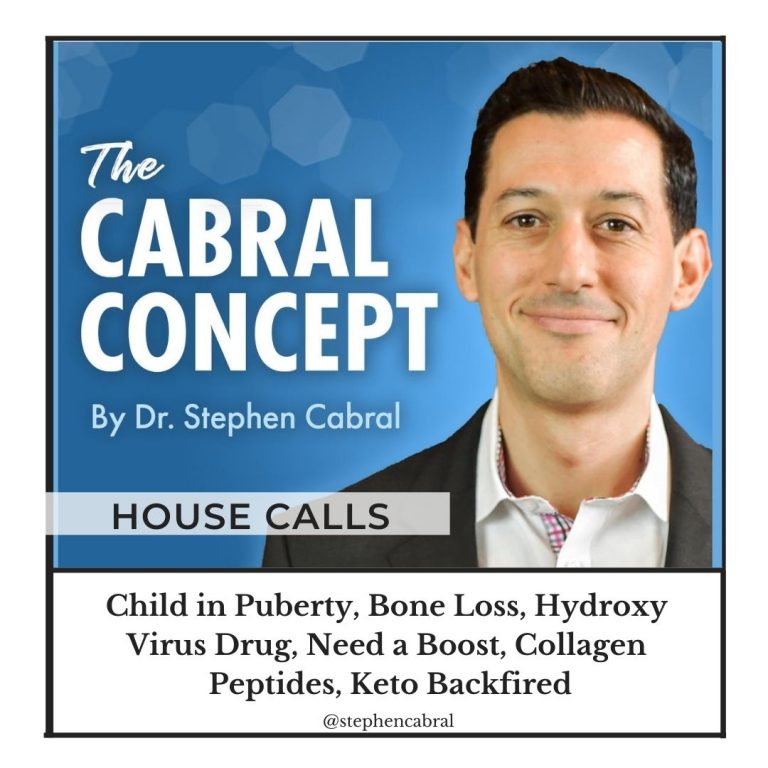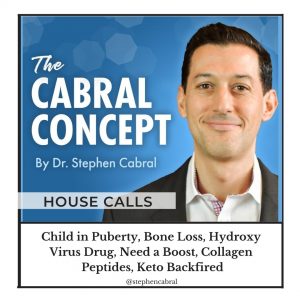 HouseCall: Child in Puberty, Bone Loss, Hydroxy Virus Drug, Need a Boost, Collagen Peptides, Keto Backfired
Welcome back to our weekend Cabral HouseCall shows!
This is where we answer our community's wellness, weight loss, and anti-aging questions to help people get back on track!
Check out today's questions:
Lauren: Dr Cabral,Please help! My 4 & 1/2 year old daughter has just recently developed body odour, some darker hairgrowth on her top lip & legs, a random long hair in the middle of her forehead, and she now has perioral eczema. I am concerned the hair growth may be signs of early hormonal changes, although I should mention she is half maltese, so unsure how much genetics plays a part in the hair growth.Before all this she had a rough chicken skin since a baby, and almost constant bloating, both of which have cleared up since completing the childrens parasite protocol, CBO with mastic gum and is almost finished the heal and seal. Now this eczema on her face makes me think I may need to do some testing on her gut.Previous to these protocols she tested high IgG for egg and moderately to another 16 foods. I have not retested these as yet. She eats very well, lots of wholefoods, almost completely organic, gluten free and the only dairy we have is butter.I am looking for advice on where to go from here, as I am very worried about what is going on in her little body. I am an IHP and student naturopath, but never imagined I'd be practicing on my own children already, and this makes me nervous as they are such precious little souls! Would love your thoughts.
Paula: Hi Dr Cabral. Thank you so much for what you do and I love listening to the Cabral Concept first thing when I wake up. I don't miss one episode! My dad is 73 and has recently done a scan which showed a significant loss in bone density. He cannot walk more than 20m because he feels a lot of pain. I hate seeing him like this and the doctor said that there's nothing he can do but take very strong painkillers. I know that there isn't really anything he can do because the bone mass is gone but is there anything that he can at least to reduce the pain?
Natalie: What exactly is hydroxychloroquine and is it safe? If it is effective at preventing the virus, what are the possible downsides? Will it be an effective solution to the pandemic long-term?
Patrick: Hi Dr. Cabral hope all is well. I'm 46 and feel like I'm in the best shape and best health since finding your podcast a few years ago. My question is about speed and endurance I play competitive hockey 2 days a week but feel like I'm losing that extra boost of speed and energy when I need it . I do go to the gym 3 days a week for about 30 min of strength training upper and lower body so I don't feel it's a strength issue. I'm hoping to keep playing sports and be competitive for a long time . Thank you for all you do
Ken: Hey Dr. Stephen Cabral. What are your thoughts on frozen collagen peptides? Being a supplement junkie I recently purchased frozen collagen peptides having an amount of 9000 mg each pill with 3000 mg L-Glutathione, also. I know collagen are great for the body as well as glutathione but what are your thoughts particularly on collagen peptides and L-glutathione forms? Thank you for all the value you provide.
Dan: Hi Dr. Cabral. About two years ago I started a very strict regiment where I was doing a ketogenic diet, daily intermittent fasting and daily steady state cardio. This initially had me feeling the best I've ever felt in my life both mentally and physically. Unfortunately the results were short lived and after about a 8 months I started experiencing significant digestive issues, loss of sex drive, as well as depression and anxiety. This coupled with some stressful life events had me feeling like I just didn't have any gas in the tank. I had my testosterone level checked and it was very low at 198. I began seeing a functional medicine doctor who found I was in phase 3 HPA axis dysfunction with very low DHEA levels, I had SIBO, and a magnesium and potassium deficiencies. I've heard you say that this is a very predictable way in which the body breaks down on a ketogenic diet. After following my doctors supplementation regiment for about 5 months, going back to a normal diet and reducing exercise I feel so much better and my symptoms have for the most part resolved. What I can't get back to is the feeling of vitality I initially felt on the ketogenic diet. Do you have any insight into why this made me feel so good and how I can get that feeling back. Thanks -Dan
Thank you for tuning into today's Cabral HouseCall and be sure to check back tomorrow where we answer more of our community's questions!
– – –
> Click here to listen in iTunes

> Or, click the play button below to listen to this episode now:
Show Notes & Resources:
> Learn more about the Integrative Health Practitioner Certification
> Dr. Cabral's New Book, The Rain Barrel Effect
> Join Our Online Community (Free Q&A Facebook support group!)
> Apply to Dr. Cabral's Private Practice 
Dr. Cabral's Most Popular Lab Tests:
> Complete Minerals & Metals Test
> Complete Candida, Metabolic & Vitamins Test
> Complete Stress, Mood & Metabolism Test
> Complete Stress, Sleep & Hormones Test
> Complete Food Sensitivity Test
> Complete Omega-3 & Inflammation Test
> Complete Gut Bacteria & Parasite Test
> Comprehensive "Big 5" Lab Tests
> View all Functional Medicine lab tests
Get Your Question Answered on an Upcoming House Call!

Submit your question at:
https://stephencabral.com/askcabral/
– – –
Listen to Previous Podcasts:

To listen to other episodes of the Cabral Concept, visit:
https://stephencabral.com/podcasts
– – –
Would You Take 30 Seconds to Rate & Review the Cabral Concept?
The best way to help me spread our mission of true natural health is to pass on the good word, and I read and appreciate every review!
1. Click link: https://itunes.apple.com/us/podcast/cabral-concept-by-stephen/id1071469441?mt=2
2. Click "View in iTunes" button
3. Click "Subscribe" button
4. Click "Ratings and Reviews" text
5. Click to rate and leave a short review and you're done!
* Thank you again and every review gets entered in my monthly contest to win great prizes!