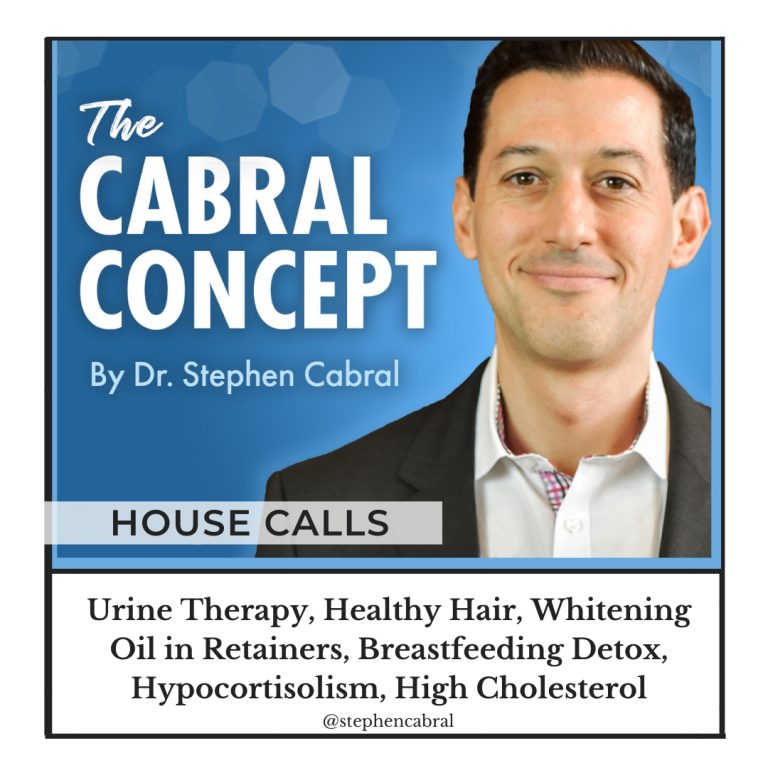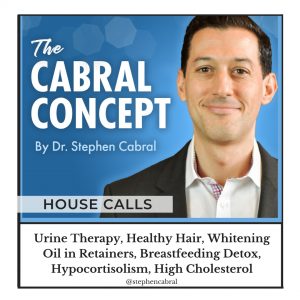 HouseCall: Urine Therapy, Healthy Hair, Whitening Oil in Retainers, Breastfeeding Detox, Hypocortisolism, High Cholesterol
Thank you for joining us for our 2nd Cabral HouseCall of the weekend!
I'm looking forward to sharing with you some of our community's questions that have come in over the past few weeks…
Let's get started!
illian: Hi Dr. Cabral, love your show and LOVE!! your archive, I've been able to find a podcast on nearly every health question I've had. One subject I couldn't find anything on, however, is the practice of urine therapy (AKA shivambu). Since urine therapy has its origins in ayrurveda, I was wondering if you studied it in your travels. A friend of mine (cardiac nurse turned natural health advocate) healed herself of kidney cancer and believes urine therapy played a role in her recovery. She mentioned that urine's primary ingredient, urea, is also used synthetically in skin creams, that urokinase is used in medicine as an anticoagulant, and that urine contains all sorts of nutrients and even trace amounts of DMT. Out of curiosity, I watched a documentary called Urine Aid and even attended a small urine therapy conference. Unfortunately, it's been difficult for me to find a balanced view on the subject. People seem to either regard urine as a panacea or be too disgusted by the practice even consider its potential. Personally, I've only been brave enough to use my urine as a leave-in conditioner on my hair after washing it (with great results, by the way!). Thanks so much for addressing this taboo and potentially "woo-woo" topic! – Jillian
Desiree: Hello, What food are best for growing strong healthy hair?Hair is made of protein so would increasing protein intake by 10g be helpful for hair growth? Eggs have a lot of vitamins that are good for hair. Is it possible to develop a food sensitivity to a eggs by eating them 4-5 times per week? I have no current sensitivity and no leaky gut.
Dan: Hi, thanks for all you do! You've recommended oil pulling with coconut oil to help whiten teeth. I wear retainers at night and I'm wondering if I can put coconut oil in them to whiten my teeth overnight. Have you heard of this? Can you think of any negative consequences of doing this?Thanks in advance,Dan
Nicole: Hi,I'm really keen to do a detox/ start a new nutrition plan but I'm breastfeeding atm so I'm not sure what is the best approach or if I need to make any changes to the generic detox plans on your website. What do you recommend? Thanks!
Tim: Hi Dr Cabral! I am a devout listener of yours and admire the work that you do. I have heard many times over podcasts about your own health history. I am in the same boat as you regarding Addison's, POTS, hypocortisolism, etc. I have tried searching through the search bars to see if I can find out how you were able to reverse your POTS and get off of hydrocortisone? My dr has be on florinef for low aldosterone and low blood pressure and just started me on 5mg of HC. I dont like the idea of steroids. I have tried your adrenal energy 2 in the morning and 1 in the afternoon. I have done a adrenal saliva test but I feel as though it barely gets me through the day. My POTS symptoms have recently come back. I hate to increase florinef because I am already on .2 (most ppl are on .1mg). I have done a heavy metals test, organic acids, mycotoxins, and the saliva labs; is there anything else I am missing? The fatigue and pots symptoms Are becoming almost debilitating. Thank you so much! Hopefully by the time you answer this, I would have found a solution, but I would still love to hear what you have done! Thank you and God Bless!
Michelle: Hi Dr. Cabral! I listen to all of your amazing podcasts, in addition to my IHP training, and I don't fully understand the underlying causes of high cholesterol. After doing the big 5 labs tests, completing the CBO protocol and finisher, following the diet and supplements (including thyroid support and omega-3) for almost a year now, I feel the best I've ever felt in my life – and I thank you for all of that! But my latest blood work still shows high cholesterol, same as the year before (actually the total went up slightly, the HDL went down slightly) and I just can't figure this mystery out. The irony is that with your teachings, I have been helping so many people get well and feel amazing and transform their health, and yet I find many people of all ages also have high cholesterol. I feel so bad having it myself and not knowing how to dig deeper into understanding why they have it too. You mentioned you've seen people's numbers change, and I was wondering if you can do a course or podcast series on the root causes of this, as it is so common. I appreciate you so much – you are the best teacher I have every had and I would love your help in solving this. Thank you, Michelle.

Thank you for tuning into this weekend's Cabral HouseCalls and be sure to check back tomorrow for our Mindset & Motivation Monday show to get your week started off right!
– – –
> Click here to listen in iTunes

> Or, click the play button below to listen to this episode now:
Show Notes & Resources:
> Learn more about the Integrative Health Practitioner Certification
> Dr. Cabral's New Book, The Rain Barrel Effect
> Join Our Online Community (Free Q&A Facebook support group!)
> Apply to Dr. Cabral's Private Practice 
Dr. Cabral's Most Popular Lab Tests:
> Hair Tissue Mineral Analysis
> Thyroid + Adrenal + Hormone Test (also known as the "weight loss test")
> Dr. Cabral's "Big 5" Lab Tests
> View all Functional Medicine lab tests
Get Your Question Answered on an Upcoming House Call!

Submit your question at:
https://stephencabral.com/askcabral/
– – –
Listen to Previous Podcasts:

To listen to other episodes of the Cabral Concept, visit:
https://stephencabral.com/podcasts
– – –
Would You Take 30 Seconds to Rate & Review the Cabral Concept?
The best way to help me spread our mission of true natural health is to pass on the good word, and I read and appreciate every review!
1. Click link: https://itunes.apple.com/us/podcast/cabral-concept-by-stephen/id1071469441?mt=2
2. Click "View in iTunes" button
3. Click "Subscribe" button
4. Click "Ratings and Reviews" text
5. Click to rate and leave a short review and you're done!
* Thank you again and every review gets entered in my monthly contest to win great prizes!