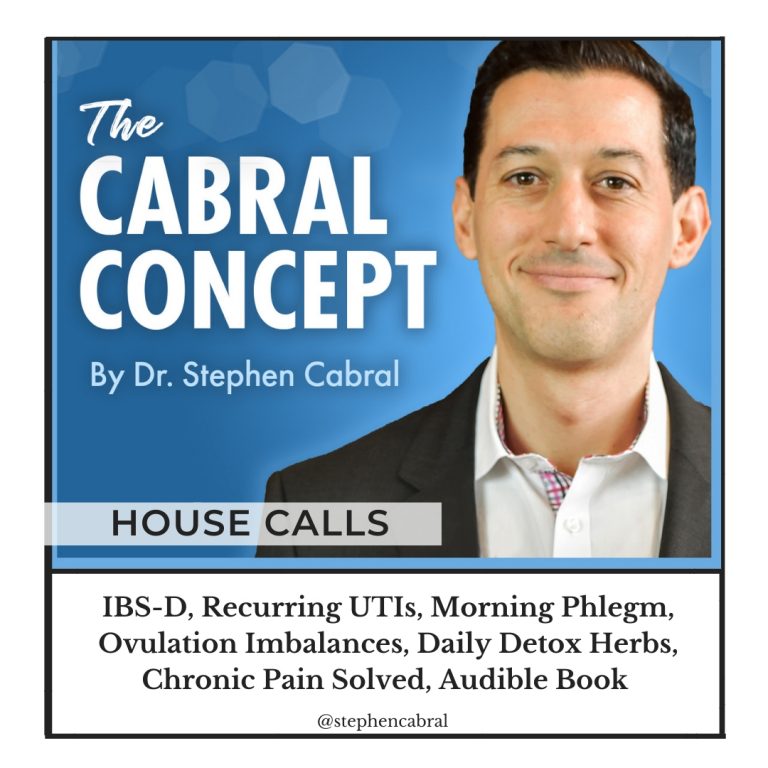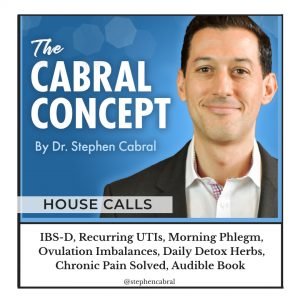 HouseCall: IBS-D, Recurring UTIs, Morning Phlegm, Ovulation Imbalances, Daily Detox Herbs, Chronic Pain Solved, Audible Book
Thank you for joining us for our 2nd Cabral HouseCall of the weekend!
I'm looking forward to sharing with you some of our community's questions that have come in over the past few weeks…
Let's get started!
Simon: *Hi and thanks again Dr Cabral! I am wondering how to best avoid contracting a gut parasite/virus/bacteria whilst travelling. I have a history of IBS-D and parasite infections (multiple blasto infections, giardia) and will have just finished a parasite, intestinal, CBO and finisher protocols before travelling to Bali in June. I am desperate not to reverse all my hard work and healing, and also to stop my family catching something. What are all the things I should take before/during/after my trip to protect my gut and avoid contracting something? I am willing to go the extra mile and would love a detailed protocol. Ayubowan! -Simon
Kirsty: Hi Stephen, thank you for everything, you a wealth of knowledge and I continually look to your podcasts for advice! Just a question about recurring UTI's – I've had success with your uTI protocol in the past and manged to avoid antibiotic use. I don't have any digestive issues and no other symptoms. I'm repeating the OATS test to see if any changes from last year. Can UTI's recur though because of biofilm in your bladder? I'm just wondering if so, what's the best way to remove these? Would this show up in the OATs? Much thanks. 🙂
Erin: I know you have had both your tonsils and adenoids out I believe, and while I have managed my phlegm significantly I still end up spitting up small chunky bits of phlegm occasionally. They do happen more often in the morning, and less chronic. I am a Level 2 IHP, and have done all your protocols, and they have helped tremendously especially my gut and skin issues which is why I did your IHP course. I wonder if because I don't have my tonsils or adenoids that this is just how my body is going take care of it. I don't eat the major foods that cause phlegm, especially the common food sensitivity or allergen foods especially dairy, gluten, peanuts, and mindful of the other ones like soy when I need to be flexible for travel or going out with friends. What is your professional opinion on this?
Meg: Wondering if there is a specific Podcast educating on natural ways to balance hormones after ovulation. PMDD with major depression, mental illness after ovulation until period.
Erin: Hello, love your show and thank you for all that you do! I was wondering if it's safe to take milk thistle and/or liver detoxing herbs and teas daily such as dandelion and burdock to support the liver and detoxification? Thanks!
Lori: Is the rain barrel book available by podcast at all?
Sue: Hi Dr Cabral I wrote in awhile ago about chronic hip pain and you suggested I see a Chiropractor regarding impingement in the vertebrae in my spine. Podcast 1478. She sent me for x rays, 3 Region spine/pelvis, and she will be able to fix most of it but there is degenerative change in the joints. Osteopenic and spondylitic changes . I am going to do the 21 day functional detox but is there a supplement I can take to heal the bone. Thankyou so much for suggesting I see a Chiropractor. I never would have thought to do that. Her treatments are amazing. Appreciate you. You're incredible with your knowledge Regards Sue
Isabel: Wondering if any word yet on Dr Cabral's book,The Rain Barrel Effect being available on audio format. I would love to give it as audible gifts for those friends who never seem to have time to read but they will listen as they multitask.. Please, please it's too good a book to not have it on Audible
Thank you for tuning into this weekend's Cabral HouseCalls and be sure to check back tomorrow for our Mindset & Motivation Monday show to get your week started off right!
– – –
> Click here to listen in iTunes

> Or, click the play button below to listen to this episode now:
Show Notes & Resources:
> Learn more about the Integrative Health Practitioner Certification
> Dr. Cabral's New Book, The Rain Barrel Effect
> Join Our Online Community (Free Q&A Facebook support group!)
> Apply to Dr. Cabral's Private Practice 
Dr. Cabral's Most Popular Lab Tests:
> Hair Tissue Mineral Analysis
> Thyroid + Adrenal + Hormone Test (also known as the "weight loss test")
> Dr. Cabral's "Big 5" Lab Tests
> View all Functional Medicine lab tests
Get Your Question Answered on an Upcoming House Call!

Submit your question at:
https://stephencabral.com/askcabral/
– – –
Listen to Previous Podcasts:

To listen to other episodes of the Cabral Concept, visit:
https://stephencabral.com/podcasts
– – –
Would You Take 30 Seconds to Rate & Review the Cabral Concept?
The best way to help me spread our mission of true natural health is to pass on the good word, and I read and appreciate every review!
1. Click link: https://itunes.apple.com/us/podcast/cabral-concept-by-stephen/id1071469441?mt=2
2. Click "View in iTunes" button
3. Click "Subscribe" button
4. Click "Ratings and Reviews" text
5. Click to rate and leave a short review and you're done!
* Thank you again and every review gets entered in my monthly contest to win great prizes!