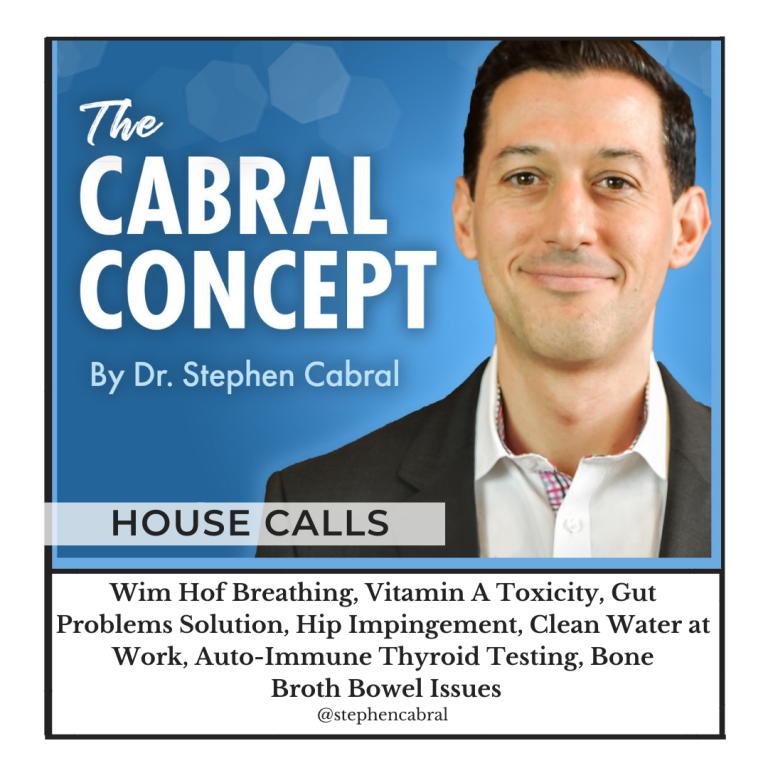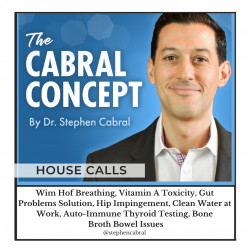 HouseCall: Wim Hof Breathing, Vitamin A Toxicity, Gut Problems Solution, Hip Impingement, Clean Water at Work, Auto-Immune Thyroid Testing, Bone Broth Bowel Issues
Thank you for joining us for our 2nd Cabral HouseCall of the weekend!
I'm looking forward to sharing with you some of our community's questions that have come in over the past few weeks…
Let's get started!
Toniy: What are your thoughts on Wim Hof breathing? Wim Hof climbed Mt. Everet in shorts, ran marathons in Arctic Cricles / Sahara Desert, and did 2 hours in a full ice bath. The craziest part is, he's not an anomaly he's trained people around the world to do the same with some simple breathwork. While I know you don't like spiking sympathetic nervous system for vata prone people, there are reports of autoimmune conditions being suppressed or reversed through breath work and controlling their RESPONSE to cold exposure and their nervous system. If I'm vata, but can be super present with ice baths and the like, can Wim Hof Breathing & Cold be good for me?
Allison: What are your thoughts on those who've had exposure to vitamin A toxicity from synthetic retinoids i.e. Accutane, and are now possibly more susceptible to vitamin A causing issues in the future? Some propose to NEVER take vitamin A again from any supplement.
Lisbeth: Hi. We're from Norway. We have a daughter 23 years who has been ill from SIBO and Candida for three years. We are totally worn out. We have tried so many things. We don't know the real root cause. My daughter has sibo test which shows 13 in methane. Zero in hydrogen. She has chronic candida in the vagina. White blister in mouth. Chronic constipation. Extreme bloating after every meal. Joint pain and headache. she also has to pee all the time. Fatigue. Panic attack. We have tried lowfoodmap, lowcarb diet, fecal transplant, soilbased probiotic etc. Nothing helps And I'm so exhausted from trying to understand all this diet I read on the internet. They are difficult to follow because all are in English and many thing is explained so different from the Norwegian food / recipe / wight We have thousands of supplements here at home. We spent $ 30,000 last 3 years trying to treat our daughters gut. How can you help us? My greatest wish in the world had been to come somewhere where someone showed us how to eat. How to cook. What supplements to take. And I wish we could stay in a place / hospital for a month until we had learned what we needed. As a mother, I am totally worn out. Best regards Lisbeth 
Casey: What are some ways to heal hip impingement?
Taylor: Hi Dr Cabral! I was wondering if you ever reviewed any on the go water filters such as Gopro or life straw ? I am constantly refilling my water bottle at work with our water filter here; however, I don't think it is very good and often I have to remind our facilities to get maintenance on it. I am worried I am drinking contaminated water. I recently got OAT test results back and it shows alot of mold markers elevated as well as bacteria/cdif so I am trying to investigate if I am being exposed to any mold whether home/work. I also did HTMA and had some elevated plastic so I really want to avoid plastic water bottles. If you could let me know if you had any recommendations to make sure work water is safe that would be great!! Thanks
Dave: Hello, love your podcast. My niece has thyroid problems and autoimmune hemolytic anemia. Traditional medicine is not working. Can you recommend any lab tests to get started with your program? Thank You! Dave
Karen: Hiya, Thank you for all that you do. I have recently started my son on the Children's CBO protocol. I have noticed on the days where I made a bone broth and added it to soups it affected his digestion. For example there would be floating oil on top of the water the next day, however his stools still sink, however they are sometimes more mustard in colour. It took me a while to realize this but it is definitely the bone broth. This is deeply concerning to me. My partner believes my son had this reaction because we rarely eat meat and even then, never meat fat and he is unaccustomed to digesting it.I rather, am worried it is something more sinister like issues with this bile and / or liver. Would you please be able to shed some light on issues digesting fat? Or once the candida is gone, will he be able to process fats better? I am unsure of the connection between candida and fats if there are any. Thank you so much for your response in advance. 🙂
Thank you for tuning into this weekend's Cabral HouseCalls and be sure to check back tomorrow for our Mindset & Motivation Monday show to get your week started off right!
– – –
> Click here to listen in iTunes

> Or, click the play button below to listen to this episode now:
Show Notes & Resources:
> Learn more about the Integrative Health Practitioner Certification
> Dr. Cabral's New Book, The Rain Barrel Effect
> Join Our Online Community (Free Q&A Facebook support group!)
> Apply to Dr. Cabral's Private Practice 
Dr. Cabral's Most Popular Lab Tests:
> Hair Tissue Mineral Analysis
> Thyroid + Adrenal + Hormone Test (also known as the "weight loss test")
> Dr. Cabral's "Big 5" Lab Tests
> View all Functional Medicine lab tests
Get Your Question Answered on an Upcoming House Call!

Submit your question at:
https://stephencabral.com/askcabral/
– – –
Listen to Previous Podcasts:

To listen to other episodes of the Cabral Concept, visit:
https://stephencabral.com/podcasts
– – –
Would You Take 30 Seconds to Rate & Review the Cabral Concept?
The best way to help me spread our mission of true natural health is to pass on the good word, and I read and appreciate every review!
1. Click link: https://itunes.apple.com/us/podcast/cabral-concept-by-stephen/id1071469441?mt=2
2. Click "View in iTunes" button
3. Click "Subscribe" button
4. Click "Ratings and Reviews" text
5. Click to rate and leave a short review and you're done!
* Thank you again and every review gets entered in my monthly contest to win great prizes!
– – –