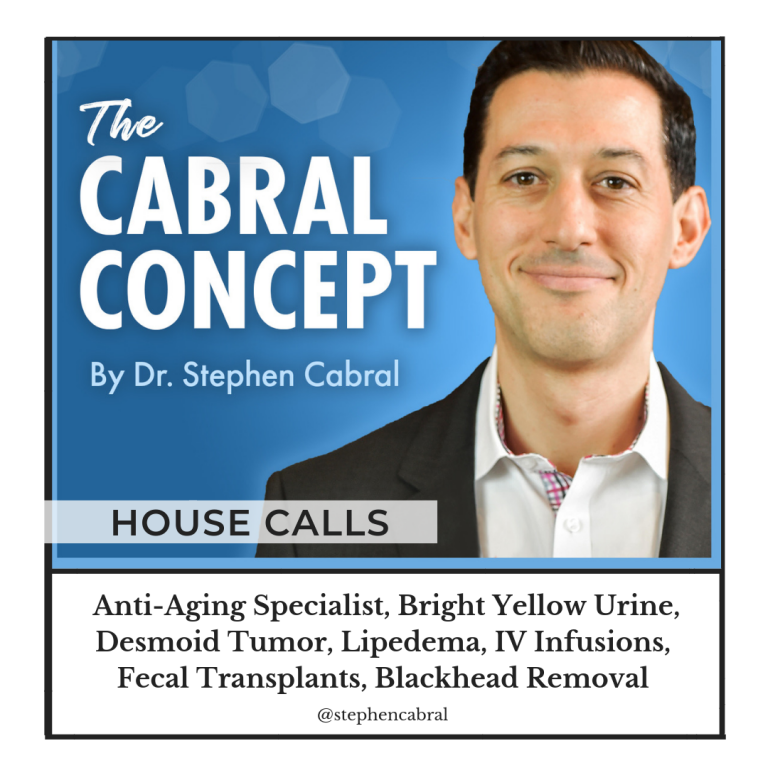 HouseCall: Anti-Aging Specialist, Bright Yellow Urine, Desmoid Tumor, Lipedema, IV Infusions, Fecal Transplants, Blackhead Removal
Thank you for joining us for our 2nd Cabral HouseCall of the weekend!
I'm looking forward to sharing with you some of our community's questions that have come in over the past few weeks…
Let's get started!
Darren: Hey Dr. Cabral. Great show as always. I listened Joe Rogan's podcast interview with Dr. David Sinclair and anti-aging specialist. He says he uses NMN, Resveratol, NAD, fasting, Metformin, Sauna, cryotherapy, running, avoids meat protein. I know you espouse similar ideals with some of those recommendations, however, with regard to Metformin, would you say it's safe to use while adopting the lifestyle you recommend in the Rain Barrel Effect and on your show? Are their any major drawbacks? As always keep up great work.
Dani: Hi Dr. Cabral. I am a recent listener of your show. My Elder brother put me on to it. I learnt so much and have adopted some of your recommendations. I have a concern and wonder if it's normal. I know I shouldn't, but my on go lifestyle has me drinking alkalinised bottled water. My urine is sometimes a bright yellow or bright green colour. Even on days I don't take vitamin B. If I consume other water, it's normal clear or light yellow tinge. I'm wondering if the Alkaline water has a negative effect or is it a serious cause for concern. Aside that I'm a female, vata body type, fit, exercise regularly in mid 20's, drink 6-8 glasses of water daily. Keep up great work.
Sarah: This has never been addressed. I had a desmoid tumor removed last year from my right abdominal rectus muscle. I exercise twice a day but can't seem to lose the tummy tire, where before I always had a totally flat stomach. I eat very healthy.
Kelly: Hello Dr. Cabral, Could you please talk about lipedema? I have had a disproportionately larger lower half since puberty which has caused me to cycle through extreme diets and eating disorders in an attempt to get rid of this weight. I have corrected estrogen dominance and been on a long term targeted insulin resistance diet but have not experienced weight loss (despite moderate caloric restriction and whole food clean eating). Now I am beginning to suspect that I have lipedema and feel rather hopeless. What interventions would you recommend in people with lipedema? Beside dry brushing, rebounding, and drinking lots of water, what are other important factors in a healthy lymph system? Thank you!
Anonymous: Hi Dr. Cabral! What are your thoughts on NAD iv treatments (for overall Anti Aging, Anxiety, Depression, Alzheimer's, Parkinson's, etc) And what are your thoughts on just iv vitamin therapy in general? There are many places popping up that offer various vitamin packages through iv (ie. "Meyer's Cocktail," Glutathione, B Vitamins, Vitamin C, etc). How do you feel they compare to just taking good quality supplements orally? I would think that for people who are super depleted with serious gut issues, iV therapy could be helpful short term while also going through a gut healing program. Are there any contraindications you think people should watch out for? Any time my husband gets Glutathione in his iV for example, he feels super horrible and run down. It's so bad that he has to go home and stay in bed for the rest of the day. I also have concerns that the customer may not always be aware of what form is being administered (ie. is it a Methylated form of Folate and not Folic Acid). Thanks so much for all you do!
Amanda: Hi Dr Cabral, I was wondering what you think of fecal transplants to treat gut dysbiosis? Thanks, Amanda
Amanda: Hi Dr. Cabral, Do you know of any ways to get rid of blackheads? I don't really struggle with acne any more, but I have had blackheads on my nose for as long as I can remember. I have tried many charcoal/clay masks and nothing seems to work. Thanks! Amanda
Thank you for tuning into this weekend's Cabral HouseCalls and be sure to check back tomorrow for our Mindset & Motivation Monday show to get your week started off right!
– – –
> Click here to listen in iTunes

> Or, click the play button below to listen to this episode now:
Show Notes & Resources:
> Learn more about the Integrative Health Practitioner Certification
> Dr. Cabral's New Book, The Rain Barrel Effect
> Join Our Online Community (Free Q&A Facebook support group!)
> Apply to Dr. Cabral's Private Practice 
Dr. Cabral's Most Popular Lab Tests:
> Hair Tissue Mineral Analysis
> Thyroid + Adrenal + Hormone Test (also known as the "weight loss test")
> Dr. Cabral's "Big 5" Lab Tests
> View all Functional Medicine lab tests
Get Your Question Answered on an Upcoming House Call!

Submit your question at:
https://stephencabral.com/askcabral/
– – –
Listen to Previous Podcasts:

To listen to other episodes of the Cabral Concept, visit:
https://stephencabral.com/podcasts
– – –
Would You Take 30 Seconds to Rate & Review the Cabral Concept?
The best way to help me spread our mission of true natural health is to pass on the good word, and I read and appreciate every review!
1. Click link: https://itunes.apple.com/us/podcast/cabral-concept-by-stephen/id1071469441?mt=2
2. Click "View in iTunes" button
3. Click "Subscribe" button
4. Click "Ratings and Reviews" text
5. Click to rate and leave a short review and you're done!
* Thank you again and every review gets entered in my monthly contest to win great prizes!
– – –