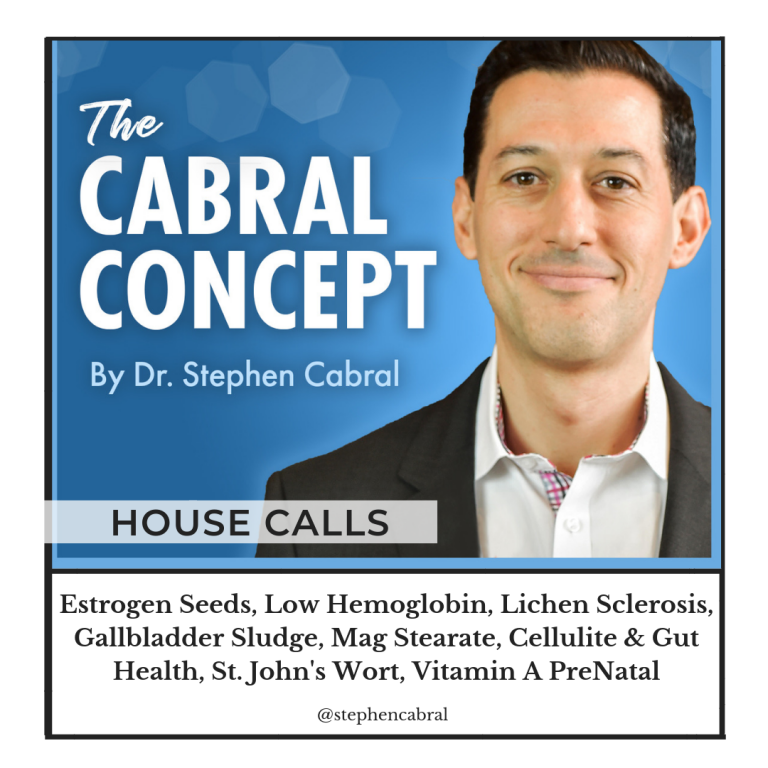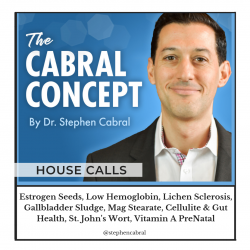 HouseCall: Estrogen Seeds, Low Hemoglobin, Lichen Sclerosis, Gallbladder Sludge, Mag Stearate, Cellulite & Gut Health, St. John's Wort, Vitamin A PreNatal
Thank you for joining us for our 2nd Cabral HouseCall of the weekend!
I'm looking forward to sharing with you some of our community's questions that have come in over the past few weeks…
Let's get started!
Shikha: Hi Dr. Cabral, I have listened to your podcast on seed cycling. I wanted to know if seed cycling helps for low estrogen levels? I did my hormonal test recently and my progesterone levels,estrogen, cortisol and androgen levels were either low or lower end of the range. Is there a natural way to balance this. I get regular menstrual cycle. I have hasimotos with hypothyroidism and I am currently on levothyroxine. I also have parasites, Sibo, candida and heavy metals, therefore I have started your 21 days detox, after which I will do parasite protocol, CBO protocol and heavy metal detox. Majority of my diet includes organic plant based food. Any recommendation on hormonal balance will be helpful.
Darrell: Hey! Good day Dr. Cabral. Hope all is well with you and your family. I am writing with regard to your response to my previous question on episode 1212 where I said I'm a regular voluntary blood donor but recently my blood count has been hovering around 13.5 which the nurse say is lower than normal for males. You believed it was the RDW (red cell distribution width) I was referring to when it was actually the hemoglobin (Hgb) level I was talking about. I am not sure if they're the same thing or not, nevertheless what can cause it to be at that rate in a an active 34 year old male weighing around 155, 5'6 height, vata pitta body type, fit, no known issues. Is there anything that can be causing the low count? Is it really a cause for concern? A random nurse recommended taking liquid chlorophyll. Do you agree with using it or any other product or lifestyle tip? Anyway, keep up great work as always.
Brandy: Hello Doc- first if all thank you for all the information you share! I'm a 35 year old female, fairly overweight (can't lose weight), had a terrible diet for most of my life, and have had a whole lot of symptoms that have brought me to the doctor the last couple years… I was otherwise healthy before having my too children. One problem I'm mostly concerned with is my diagnosis of Lichen Sclerosis. I want to find the root cause but do not know where to start. I do not have any other autoimmune conditions but I do have anxiety and lots and lots of random symptoms that are telling me my body isn't happy. But medical doctors say I'm otherwise healthy. Would you have any knowledge on this condition? What would your advice be for me to get to the root?
Niki: I have gallbladder pain for a month and they want me to get surgery any way to get sludge out naturally and not get the surgery? What are the risks of declining the surgery
Julia: Hello! Dr. Cabral, you are amazing! I love your podcasts and use some of your supplements like candida and clean gut protocols. Why do you still use the fillers in your supplements, like magnesium stearate? Brands like Pure discontinued it a long time ago. Thanks!
Jen: Hi Dr. Cabral,  I had written in a while back asking how to get rid of cellulite on the front/back of my legs and gluts and you said that it was a toxicity issue. I had since been working on eradicating this issue. I have done the 21 day detox twice and I just finished the candida cleanse. Ive also been working out a lot and eating right and I still cant see the difference. I feel so frustrated with trying to figure out what the toxins are that are causing this issue. I recently also bought your intestinal cleanse and have used that a few times. Is there anything I can do to figure this out? Thanks so much!  Jen
Kayla: What are your thoughts on St. John's wort?
Catherine: Hi, I was looking at purchasing the prenatal vitamin that you have on your site. I noticed that it has Vitamin A. Is that safe during pregnancy? Thank you, Catherine
Thank you for tuning into this weekend's Cabral HouseCalls and be sure to check back tomorrow for our Mindset & Motivation Monday show to get your week started off right!
– – –
> Click here to listen in iTunes

> Or, click the play button below to listen to this episode now:
Show Notes & Resources:
> Learn more about the Integrative Health Practitioner Certification
> Dr. Cabral's New Book, The Rain Barrel Effect
> Join Our Online Community (Free Q&A Facebook support group!)
> Apply to Dr. Cabral's Private Practice 
Dr. Cabral's Most Popular Lab Tests:
> Hair Tissue Mineral Analysis
> Thyroid + Adrenal + Hormone Test (also known as the "weight loss test")
> Dr. Cabral's "Big 5" Lab Tests
> View all Functional Medicine lab tests
Get Your Question Answered on an Upcoming House Call!

Submit your question at:
https://stephencabral.com/askcabral/
– – –
Listen to Previous Podcasts:

To listen to other episodes of the Cabral Concept, visit:
https://stephencabral.com/podcasts
– – –
Would You Take 30 Seconds to Rate & Review the Cabral Concept?
The best way to help me spread our mission of true natural health is to pass on the good word, and I read and appreciate every review!
1. Click link: https://itunes.apple.com/us/podcast/cabral-concept-by-stephen/id1071469441?mt=2
2. Click "View in iTunes" button
3. Click "Subscribe" button
4. Click "Ratings and Reviews" text
5. Click to rate and leave a short review and you're done!
* Thank you again and every review gets entered in my monthly contest to win great prizes!
– – –