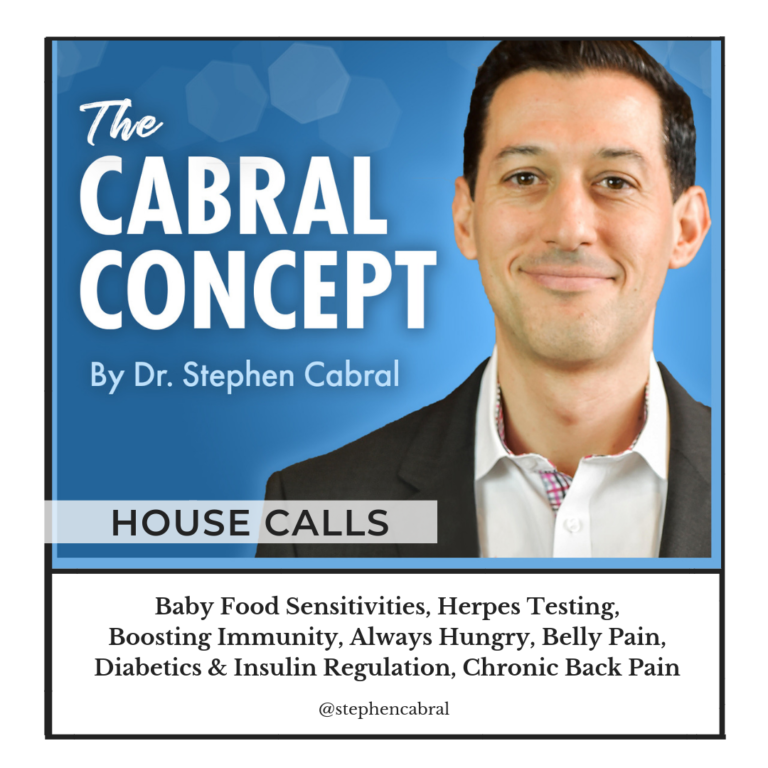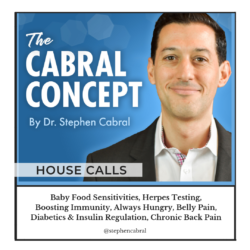 HouseCall: Baby Food Sensitivities, Herpes Testing, Boosting Immunity, Always Hungry, Belly Pain, Diabetics & Insulin Regulation, Chronic Back Pain
Thank you for joining us for our 2nd Cabral HouseCall of the weekend!
I'm looking forward to sharing with you some of our community's questions that have come in over the past few weeks…
Let's get started!
Sarina: Hello there. I'm in Adelaide Australia. I have a 8 month old baby who was born naturally, never had antibiotics or any vaccinations, fully breastfed yet she has food sensitivities and allergies. We have found she is sensitive to salicylates and bananas and allergic to cow and goat milk and I'm not sure about eggs or peanuts but too scared to give them. How can this have happened? What do you think can be done to help reverse this? She has been on gut infant pro probiotics and only recently started with just thrive spore probiotics. She is also on cod liver oil. Still being breastfed and on a very low salicylate diet. I am healing my gut with L glutamine, glycine and emu oil. Any help would be greatly appreciated. Also she did have eczema too but this has all gone from the changes we have made but her food sensitivities have not changed. Thanks
Kierian: is it possible to test for herpes virus after its gone dormant?
Patrick: Hi dr Cabral still doing great since you answered my last question . I'm still getting in about 3 podcast a day and enjoy everyone of them, my question is about the mumps i live in Philadelphia and my nephew goes to temple college where right now there are 90 cases of the mumps . I wanted to know anout any information you know of that could be helpful to him so he doesn't catch it and what someone can do if they do get it . Thanks so much you are the best.
Jessica: Hi Dr. Cabral, love Your podcast and listen everyday! I feel like I have always had a faster metabolism and I'm hungry every few hours. I will eat dinner around 6 or so and try to go to bed around 9. However I'm always hungry right before bed and if that's the case I can't fall asleep or I wake up in the middle of the night starving. I've always just had a bowl of cereal, lately healthier cereal and unsweetened almond milk. I know it's not healthy to eat right before bed but is this normal? Is there anything you would suggest that's healthier than cereal? Thank you again!
James: Hi Doc! I have multiple food intolerances and when I eat certain foods I get a pain in the side of my stomach, mostly on the left side of the belly button and occainsially on the right. It is like a dull lingering pain although before I cut out gluten and dairy it was a lot worse, i actually went to the hospital once because of the pain. My freind gets the exact same pain too and I was wondering if you knew the mechanics behind it as in what is happening specifically that me and my freind get a pain in the exact same place? Is it a specific organ that is being enflammed or is it the yeast/bacteria feeding in that position or something else? Just curious as to why it's in the exact same place (slightly above the belly button about and inch or two to the left) all the time for me, my freind and others I have spoken to. Thanks a lot Doc!! Love the info x
Karina: Hi, Dr. Cabral! My husband is a Type 1 diabetic. I was wondering what your overall approach was to managing Type 1 diabetes? His doctors have always told him to eat "normally" and to just pump insulin for however many carbohydrates he eats. When he gets a low blood sugar, I have organic date bars and bananas on hand (better than the processed bars and candy he used to use for lows). 
Jeanette: Hi There, I wish to firstly thank you for the amazing podcasts you provide each and every day. I would like to ask your thoughts and possible research into hyperbaric therapy for chronic pain? And in particular back pain which has been ongoing for 8 years.
Thank you for tuning into this weekend's Cabral HouseCalls and be sure to check back tomorrow for our Mindset & Motivation Monday show to get your week started off right!
– – –
> Click here to listen in iTunes

> Or, click the play button below to listen to this episode now:
Show Notes & Resources:
> Learn more about the Integrative Health Practitioner Certification
> Dr. Cabral's New Book, The Rain Barrel Effect
> Join Our Online Community (Free Q&A Facebook support group!)
> Apply to Dr. Cabral's Private Practice 
Dr. Cabral's Most Popular Lab Tests:
> Hair Tissue Mineral Analysis
> Thyroid + Adrenal + Hormone Test (also known as the "weight loss test")
> Dr. Cabral's "Big 5" Lab Tests
> View all Functional Medicine lab tests
Get Your Question Answered on an Upcoming House Call!

Submit your question at:
https://stephencabral.com/askcabral/
– – –
Listen to Previous Podcasts:

To listen to other episodes of the Cabral Concept, visit:
https://stephencabral.com/podcasts
– – –
Would You Take 30 Seconds to Rate & Review the Cabral Concept?
The best way to help me spread our mission of true natural health is to pass on the good word, and I read and appreciate every review!
1. Click link: https://itunes.apple.com/us/podcast/cabral-concept-by-stephen/id1071469441?mt=2
2. Click "View in iTunes" button
3. Click "Subscribe" button
4. Click "Ratings and Reviews" text
5. Click to rate and leave a short review and you're done!
* Thank you again and every review gets entered in my monthly contest to win great prizes!
– – –