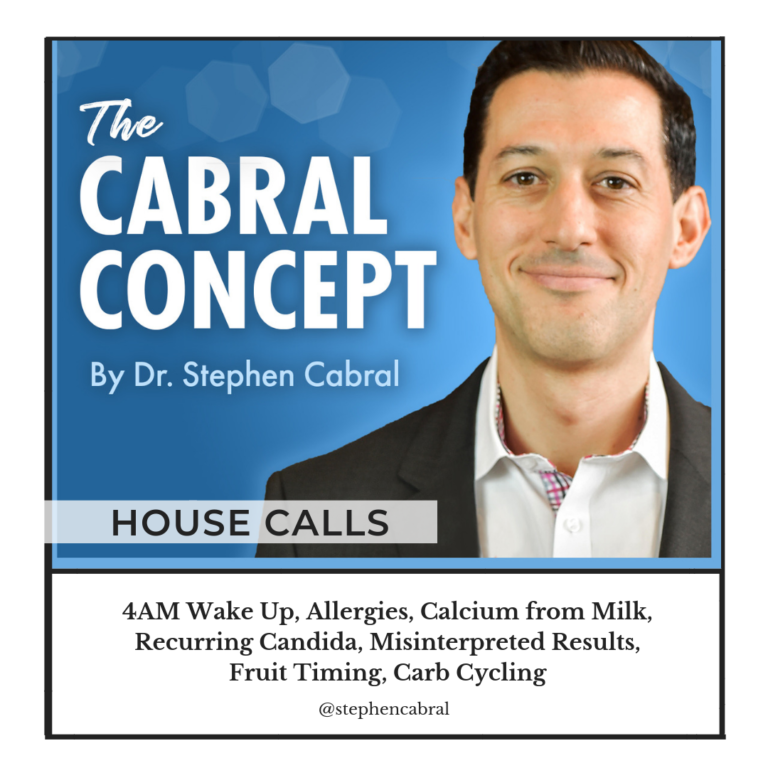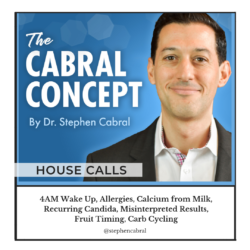 HouseCall: 4 AM Wake Up, Allergies, Calcium from Milk, Recurring Candida, Misinterpreted Results, Fruit Timing, Carb Cycling
Welcome back to our weekend Cabral HouseCall shows!
This is where we answer our community's wellness, weight loss, and anti-aging questions to help people get back on track!
Check out today's questions:
Bree: Hi Dr. Cabral! First of all, thank you for this podcast. I truly see it as an encyclopedia of natural medicine. I've found so much great information by searching the archives, but have a question that I couldn't find an answer to: I wake up around 4am every night, and find it very difficult to go back to sleep. It's very frustrating, and I don't feel rested in the morning. Do you know what might be the reason this is happening? I go to bed around 9.30/10pm every night, have no trouble falling asleep, I follow a healthy (vegan) diet, don't smoke and drink, and work out in the morning 5 times a week. Any help would be much appreciated! Thank you!
Ashley: Hello! I have found my way to this website in hopes of finding relief primarily from allergies. I'm not sure if this is the right place for that. My issues are severe enough that I see an Allergist but am still in a lot of pain that is keeping me from work and day to day activities. Please let me know if I am reaching out to the right place. Thank you, Ashley
Ales: Hello Dr.Cabral,I have a question regarding calcium. You've been talking about the high calcium content of almond milk. Isn't majority of it calcium carbonate added to almond milk, not naturally occurring calcium from almonds? Isn't calcium carbonate an unnatural form of calcium that you have been discouraging people from?
John: Hi Stephen, this is John. I live in the seaport in Boston Ma, and have been struggling with candida overgrowth. I've tired over and over to heal the issues but it always gets better then goes back to it's original symptoms. What would be helpful is if you could put together a protocol for me to follow that would do the trick. I've listened to podcast 515 and some others, but it doesn't explain the exact protocol with supplements. I have purchased some antifungals (oregano oil etc) and the HCL w/pepsin, probiotics, flora film, etc. It would be greatly appreciated if you could help!
Mateo: Greetings, im writing you because i've been suffering from a lot of symptoms all over my body, and recently i get my Organic Acids Test with positive for candidiasis. The thing is that my doctor didn't explain very well the exam, and i want to have more clearness on this subject. Im writing from Colombia, so i wanted to know if there is any possibility to do an online appointment with you, and how much would it cost.
Thanks for the attention Mateo
Tracy: Hi! I had asked a question about fruit in the support group but would love to hear an even more in depth answer from you here. After having listened to many of your podcasts I am still a bit unsure about when best to include fruit into my daily diet. Obviously it is perfect in the morning smoothie, however not all types of fruit go well with a smoothie I find. I know that I should eat fruit away from meals, but at the same time I do not want to snack in between my 3 meals a day. At first I thought fruit would be a good afternoon snack, however, I recently heard an episode where you said you have a juice or smoothie if you snack in the afternoon as it is better to have liquid between meals to make it easier indigestion. I find that I am eating less fruit in order to adhere to all of the above rules, but would like to change this. Would it be best to eat some fruit approx 1 hour before lunch or dinner, or would you have other recommendations? Many thanks!
Audrey: Hello Dr. Cabral. I am a 30 yr. old woman who works out every day early in the morning. Is fasted cardio important to keep the fat off? and does carb cycling work for burning fat? if so, how often should it be done and how many grams of carbs should I be taking on the high carb days? Thanks!
Thank you for tuning into today's Cabral HouseCall and be sure to check back tomorrow where we answer more of our community's questions!
– – –
> Click here to listen in iTunes

> Or, click the play button below to listen to this episode now:
Show Notes & Resources:
> Learn more about the Integrative Health Practitioner Certification
> Dr. Cabral's New Book, The Rain Barrel Effect
> Join Our Online Community (Free Q&A Facebook support group!)
> Apply to Dr. Cabral's Private Practice 
Dr. Cabral's Most Popular Supplements:
> "The Dr. Cabral Daily Protocol" (This is what Dr. Cabral does every day!)
> Dr. Cabral Detox (The fastest way to get well, lose weight, and feel great!)
> Daily Nutritional Support Shake (#1 "All-in-One recommendation in my practice)
> Daily Fruit & Vegetables Blend (22 organic fruit & vegetables "greens powder")
> CBD Oil (Full-spectrum, 3rd part-tested & organically grown)
> Candida/Bacterial Overgrowth, Leaky Gut, Parasite & Speciality Supplement Packages
Dr. Cabral's Most Popular Lab Tests:
> Hair Tissue Mineral Analysis
> Thyroid + Adrenal + Hormone Test (also known as the "weight loss test")
> Dr. Cabral's "Big 5" Lab Tests
> View all Functional Medicine lab tests
Get Your Question Answered on an Upcoming House Call!

Submit your question at:
https://stephencabral.com/askcabral/
– – –
Listen to Previous Podcasts:

To listen to other episodes of the Cabral Concept, visit:
https://stephencabral.com/podcasts
– – –
Would You Take 30 Seconds to Rate & Review the Cabral Concept?
The best way to help me spread our mission of true natural health is to pass on the good word, and I read and appreciate every review!
1. Click link: https://itunes.apple.com/us/podcast/cabral-concept-by-stephen/id1071469441?mt=2
2. Click "View in iTunes" button
3. Click "Subscribe" button
4. Click "Ratings and Reviews" text
5. Click to rate and leave a short review and you're done!
* Thank you again and every review gets entered in my monthly contest to win great prizes!
– – –