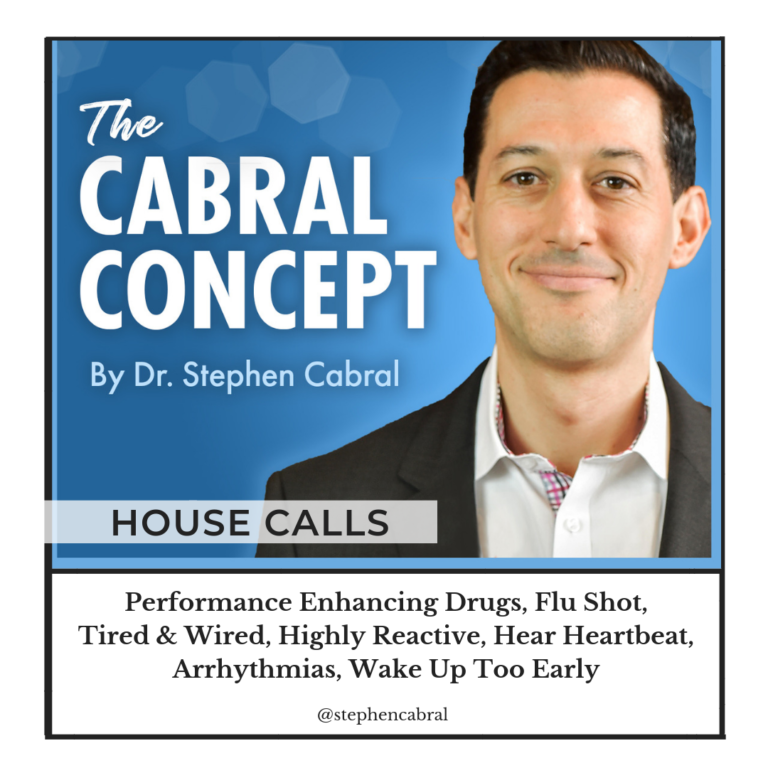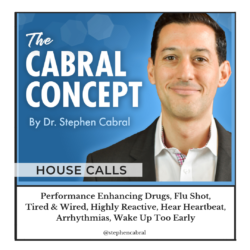 HouseCall: Performance Enhancing Drugs, Flu Shot, Tired & Wired, Highly Reactive, Hear Heartbeat, Arrhythmias, Wake Up Too Early
Thank you for joining us for our 2nd Cabral HouseCall of the weekend!
I'm looking forward to sharing with you some of our community's questions that have come in over the past few weeks…
Let's get started!
Darrel: Hey, great show. It May sound like a silly question but can someone start a performance-enhancing drug cycle to get the body enhancement results in short term then start the Dr. Cabral detox to eliminate any potential side effects? Have you done any show listing those specific side effects? Also aside itune reviews is there any other means to show our appreciation? Especially for those who download your episodes and don't use Apple products so don't have access to iTunes. Keep up good work. 
Heather: If I am being forced to get a flu shot (for work) how can I best protect myself? 
Alan: Wife had organic acid lab run about a year ago. We are learning more via podcast and endocrinologist etc and believe she has adrenal fatigue and hormonal imbalance because of it. She has all of the symptoms from podcast #1040. I plan to order the adrenal soothe today. Can she also take the life support at the same time? If so, how should she time it throughout the day? She has also started taking Vayarin plus which is basically phospotytleserine omega 3. Is it ok that the adrenal soothe will add additional PS and L theamine? Thanks so much for your help 
Leah: Dear Dr. Cabral, I have had several tests done in the past that have determined that I have the MTHFR gene, C667T mutation. I also have Pyroluria, adrenal fatigue, low levels of Histamine and high levels of S-Adenosyl Homocysteine. I experience Health issues such as fatigue, insomnia, constant brain fog, digestive complications and hormone imbalance (just to name a few) and I find are progressively getting worse. I eat mostly organic, exercise, conscious of chemicals and plastics. I have sought help over the past 10 years using naturopaths, nutritional medicine doctors, acupuncture and Chinese medicine and everyone gives me more supplements, however I constantly have paradoxical reactions to EVERYTHING! Even the tiniest amount of a probiotic will affect me. What are your suggestions for improving my health when I cant seem to tolerate anything that could potentially help me? 
Elisha: hello dr. cabral and team – please advise my best course of action to make sure I am covering all important bases and asking all the right Qs in the process – i hear my heartbeat loud and clear only when in bed when going to sleep i hear it and it even gets in the way of my falling asleep and even wakes me up sometimes. i feel like it is more often when i lie on my left side and this has been happening for maybe two-three months. my mother died of heart disease partly related to high blood pressure – dont have the proper name of condition in front of me as i type this but can send to you… i am 48 yo female in most otherwise good health – eat more greens than animal product 90/10 i would say… my body is transitioning in my 48 yo old womanhood but nothing out of the ordinary. what would you recommend my next steps should be re a cardiologist visit (?) and tests – i'm sure i have to havce one/a few- i've done some in the past after my mom passed…. PLEASE respond. I trust you more than most anyone when it comes to my health so want to be prepped on what i need to know ask et al when visiting with doctors and having tests— im paying out of pocket and dont want to waste time on appointments and tests that are not most necessary. THANK YOU. 
Kirstyn: Hi there!Desperate for any advice on how to manage/cure arrhythmia – particularly ectopic heartbeats and SVT.They,and the anxiety they bring,are ruling my life and there has got be a better answer than scary drugs,surgeries that might not work or "learn to live with it".I'm convinced they could often be linked with stomach/GERD issues as this seems to be a trigger.Please help! 
Tiffany: hi doctor Cabral! I've tried to find an answer to my weird sleeping problem everywhere, so really hoping you can shine some light on it. I go to sleep every night at 9.30pm, and my alarm is set for 6am. Unfortunately, about 3 months ago I started waking up around 4am, and am unable to fall asleep again.. even though I'm super tired. I don't drink coffee or alcohol, I meditate every day, not really stressed out, and my last meal of the day is always at least 4 hrs before bedtime. I also don't use my phone before bed.. Basically nothing has changed from before, when I was able to sleep through until the alarm went off. Do you have any idea what the problem might be? Thanks a million! Tiff 
Thank you for tuning into this weekend's Cabral HouseCalls and be sure to check back tomorrow for our Mindset & Motivation Monday show to get your week started off right!
– – –
> Click here to listen in iTunes

> Or, click the play button below to listen to this episode now:
Show Notes & Resources:
> Learn more about the Integrative Health Practitioner Certification
> Dr. Cabral's New Book, The Rain Barrel Effect
> Join Our Online Community (Free Q&A Facebook support group!)
> Apply to Dr. Cabral's Private Practice 
Dr. Cabral's Most Popular Lab Tests:
> Hair Tissue Mineral Analysis
> Thyroid + Adrenal + Hormone Test (also known as the "weight loss test")
> Dr. Cabral's "Big 5" Lab Tests
> View all Functional Medicine lab tests
Get Your Question Answered on an Upcoming House Call!

Submit your question at:
https://stephencabral.com/askcabral/
– – –
Listen to Previous Podcasts:

To listen to other episodes of the Cabral Concept, visit:
https://stephencabral.com/podcasts
– – –
Would You Take 30 Seconds to Rate & Review the Cabral Concept?
The best way to help me spread our mission of true natural health is to pass on the good word, and I read and appreciate every review!
1. Click link: https://itunes.apple.com/us/podcast/cabral-concept-by-stephen/id1071469441?mt=2
2. Click "View in iTunes" button
3. Click "Subscribe" button
4. Click "Ratings and Reviews" text
5. Click to rate and leave a short review and you're done!
* Thank you again and every review gets entered in my monthly contest to win great prizes!
– – –