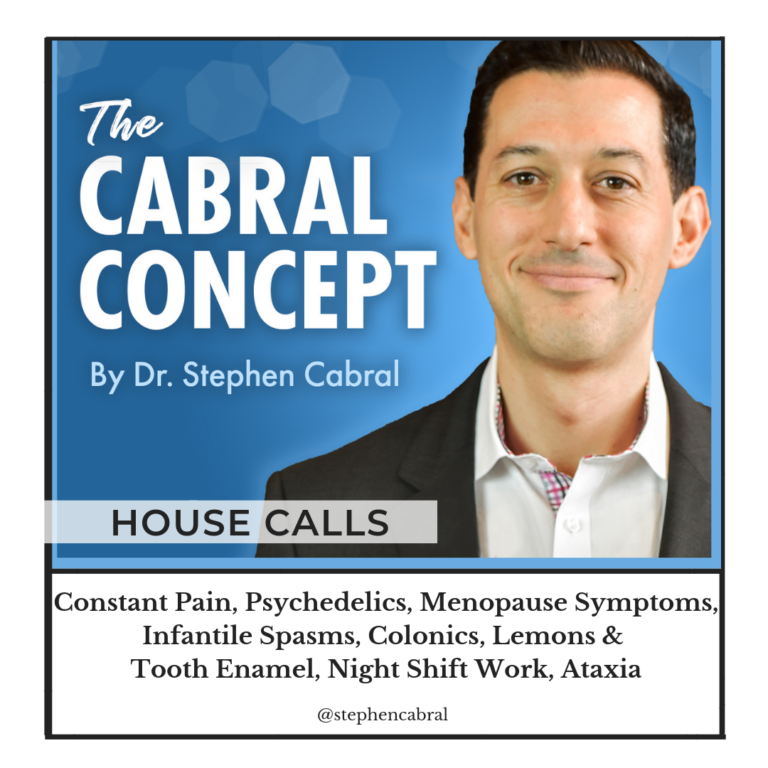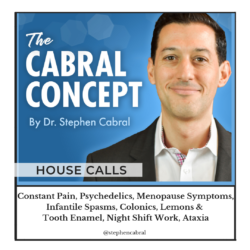 HouseCall: Constant Pain, Psychedelics, Menopause Symptoms, Infantile Spasms, Colonics, Lemons & Tooth Enamel, Night Shift Work, Ataxia
Thank you for joining us for our 2nd Cabral HouseCall of the weekend!
I'm looking forward to sharing with you some of our community's questions that have come in over the past few weeks…
Let's get started!
Lauren: Hi Stephen. Thank you so much for providing such informative and inspirational content on your podcast. Every episode is different and I have learned so much from listening to your podcast over the past year. I've been suffering with lower back pain for a couple of years and have been to numerous experts but no one can figure out what is causing my constant pain. I am 21 years old, fit and healthy, I do not want to be suffering with this pain for the rest of my life! I have a slightly dehydrated disc and bulging disc at the lower part of my spine. The bulging disc is very minor and doesn't seem to be impinging on any nerves. My back lacks the natural curvature of a spine, thus I apparently have something called flat back syndrome. Is there any way I can try to restore my natural curvature at my spine? And if so, will this help with the pain? Thank you, Lauren. 
Chloe: Dear Doctor Cabral, I wondered if you had an opinion on psychedelics and the treatment of mental, or any other, illness? Thanks for all you do. 
Karen: hi Dr Cabral,  please could you do a full show on menopause and/or what to do if your oestrogen levels are too low (per conventional doctor opinion).
Imran: Hi Dr. Cabral. I know you've spoken about during your childhood your were put on medicine that made your condition worse. My niece was just diagnosed with infantile spasms and the treatment is ACTh. A hormone with more side effects than it seems to be worth. My inquiry is if you have any experience with infants(she's 7months old), and if you have any experience with this? Thanks in advance, Imran
Jessica: Hi Dr. Cabral, I would like to know your opinion on two things please. 1. Colonics- I know you recommend coffee enimas, but I have never really heard your thoughts on gravity colonics. If you recommend them, how often do you think they should be done?  2. MSM organic sulfur crystals – I have read this is good for joints. Do you agree? Thoughts please.  Thank you for your wealth of knowledge,  Jessica 
Zack: Do lemons and limes post a threat to our enamel? Even apple cider vinegar has extreme acidity and if not dilluted can erode away enamel, was just wondering about ways to/you mitigate this issue. Lots of info out there, and while I would love good digestive health, I would also love to smile and still have all my teeth 🙂 
Kirsten: Hello! Would love to hear your thoughts on shift workers. Obviously we all know it is bad for your health but would love some tips and tricks around meal timing, sleep and recovering from night shifts. Also maybe some supplementation that could help support our bodies whilst on night shift. I am a paramedic from Australia, I love my job- also currently doing your IHP course- which I'm loving thank you! My shifts are as follows in case you want a template to base it off.  Day shift 1- 0700-1900  Day shift 2- 0730- 1730  Afternoon shift- 1200-0000  Night shift- 1900-0700  Then 4 days off. We work in an 8 day cycle 4 days on and 4 days off. I know a lot of people working in the health care industry have similar rosters as above. Thank you love everything you do!!! 🙂 
Chris: Dr. Cabral, I just heard you on a podcast recently and was totally blown away! I'm a 39 year old male who worked in the entertainment industry in LA for several years and I'm now going back to school to shift my attention and focus to my newly acquired passion of dietetics and wellness from a plant based perspective. All the things you articulate incredibly well like hormone optimization and diet are right up my alley:) I also live in MA – the south shore – and I'd love to meet with you to pick your brain and possibly set up a consultation regarding my hormone levels as well:) I'm sure you're terribly busy, and as we approach the holiday season, even more so. I just wanted to say hi and tell you that your existence and overall mission is truly inspiring to me and the fact that you're here in Boston is such a pleasant surprise! Happy Holidays to you and yours and stay safe! I hope to hear from you down the road:)  Best,  Chris 
Stefanie: Hi Dr. Cabral,  My father-in-law has ataxia and his mother had it before him, as well as his cousin. It clearly runs in the family. He has a VERY difficult time walking. He recently was diagnosed with osteoarthritis in both knees, and has even torn his meniscus, and had surgery on one knee. We believe he will be wheelchairbound soon, which just breaks my heart as he is only 63. What recommendations would you offer for someone in this unfortunate situation? Thank you for your time! 
Thank you for tuning into this weekend's Cabral HouseCalls and be sure to check back tomorrow for our Mindset & Motivation Monday show to get your week started off right!
– – –
> Click here to listen in iTunes

> Or, click the play button below to listen to this episode now:
Show Notes & Resources:
> Learn more about the Integrative Health Practitioner Certification
> Dr. Cabral's New Book, The Rain Barrel Effect
> Join Our Online Community (Free Q&A Facebook support group!)
> Apply to Dr. Cabral's Private Practice 
Dr. Cabral's Most Popular Lab Tests:
> Hair Tissue Mineral Analysis
> Thyroid + Adrenal + Hormone Test (also known as the "weight loss test")
> Dr. Cabral's "Big 5" Lab Tests
> View all Functional Medicine lab tests
Get Your Question Answered on an Upcoming House Call!

Submit your question at:
https://stephencabral.com/askcabral/
– – –
Listen to Previous Podcasts:

To listen to other episodes of the Cabral Concept, visit:
https://stephencabral.com/podcasts
– – –
Would You Take 30 Seconds to Rate & Review the Cabral Concept?
The best way to help me spread our mission of true natural health is to pass on the good word, and I read and appreciate every review!
1. Click link: https://itunes.apple.com/us/podcast/cabral-concept-by-stephen/id1071469441?mt=2
2. Click "View in iTunes" button
3. Click "Subscribe" button
4. Click "Ratings and Reviews" text
5. Click to rate and leave a short review and you're done!
* Thank you again and every review gets entered in my monthly contest to win great prizes!
– – –