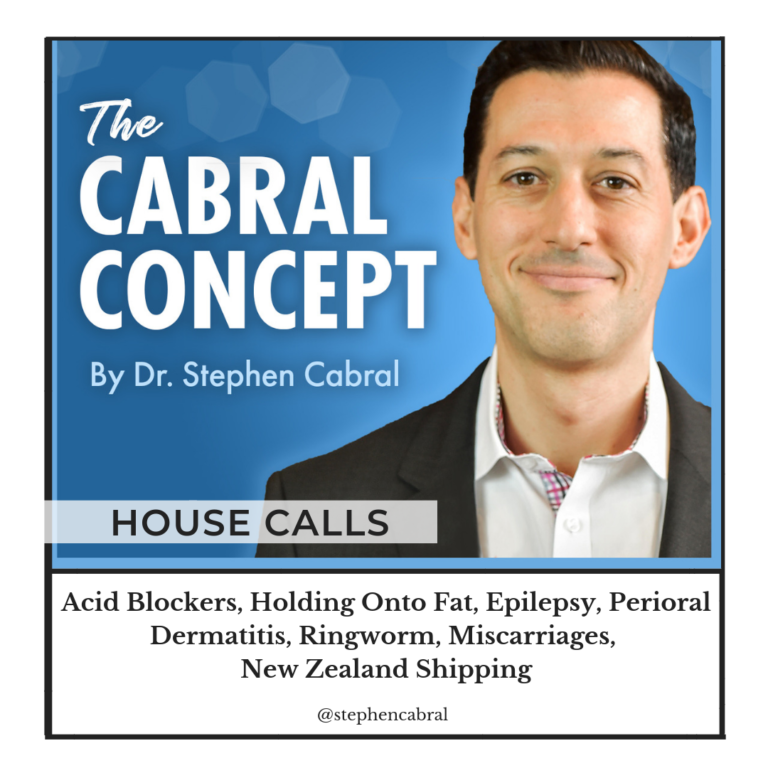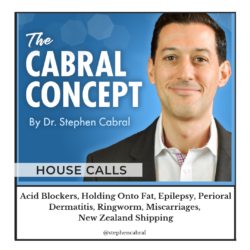 HouseCall: Acid Blockers, Holding Onto Fat, Epilepsy, Perioral Dermatitis, Ringworm, Miscarriages, New Zealand Shipping
Thank you for joining us for our 2nd Cabral HouseCall of the weekend!
I'm looking forward to sharing with you some of our community's questions that have come in over the past few weeks…
Let's get started!
Caris: Hi Dr Carbral, Firstly, thank you for so openly sharing your wealth of knowledge to all of us- I'm so grateful to be learning from you all the way from Australia.  My question is in relation to my Dad's health. He is 61 years of age and has suffered from reflux since he was in his 20's, and subsequently, has been on a the highest dose of Nexium (40 mg/day Esomeprazole) for 30+ years. For the past ~10 years he has also been having surgery every 6 months to remove between 10-20 gastric polyps at a time. His gastroenterologist has also said his stomach lining is chronically inflamed. I have been doing a lot of research on this and believe the polyps may be as a result of the Nexium suppressing his stomach acid for so many years. He has also had high cholesterol since his twenties (requiring long-term statins), has chronic back pain and recently, low iron.  His doctors have said that it is better to stay on the Nexium and deal with recurring gastric polyps than to risk developing oesophageal cancer as a result of his reflux.  He eats a very healthy diet with lots of fruits and vegetables and rarely has junk foods, although he does drink socially a 1-2 times per week. I fear that his low stomach acid means he isn't absorbing enough nutrition from food, and I am greatly concerned for his health and the damage that chronic medication use has caused. I am desperately seeking your advice of what direction we can take to improve his health – we will do anything!! Thank you so kindly in advance.  Caris 
Lauren: Hi Dr. Cabral. Thank you for everything you do! I have listened to all podcasts back to episode 800.  I am 5'3 and 163 pounds. I have always struggled to get back down to where I think I should be at 135 in a balanced approach. About 5 years ago, I trained for a bodybuilding competition, and since then have felt like no matter what I do, I can't lose weight.  Last year, I worked with a local FM doctor, and was able to finally feel like I was making progress. The problem is he had me play around with intermittent fasting. At that point, I stayed at around 155, and felt like my health was finally in my control. Then I tried taking fasting to the next level. I fasted until lunchtime everyday for the past three months. I have listened to your thoughts on this, and stopped. But now what do I do? I bought your thyroid support and now only fast 12 hours daily (8pm-8am), and I do your daily protocol (greens and daily nutritional shake) but I still feel so stuck. I feel like my body just wants to hold on to all the fat. I keep telling myself it is not broken, It is doing what its natural response is to going without food. But how do I get out of this cycle? Logically I feel like I need to eat more often so my body knows it has food, but that goes against what I have been learning about space between meals. 
Valeria: Hi dr.cabral!  So iv had epilepsy (complex partial) for 14 years now (if ur hearing this in 2019 it's 15 years) so since I was 7. After listening to a lot of ayervedic and balance dosha podcasts iv grown curious as to trying ayervedic medicine to rid my seizures for good without undergoing risky surgery which would impact 20% of my verbal memory. It'd be great for you to give me advice as to what I should do. Thanks 
Paul: Hello, My name is Paul and I'm an 18 year old male. Lately I've struggled with acne, primarily Perioral Dermatitis, and took an antibiotic to cure it. It worked very well but now I'm worried and believe I have Leaky Gut. I've read and listened to many podcasts and hear bone broth is great for curing this. I also have had you and your team suggest an organic acids test and food sensitivity but I cannot afford those right now. Do you suggest I try bone broth and if so, how often should I consume it. Also, any other suggestions?  Thanks,  Paul  
Ryan: Hi Dr. Cabral,  I discovered you through listening to Ben Pak and MindPump and love your podcast as well. I have noticed two itchy bumps on two different spots on my scalp. I thought they were pimples at first but the just wouldn't go away. I went to see my doctor and he prescribed me an antifungal topical cream to put on and then a special shampoo. I found all they did was suppress the bumps and they would just move to a different spot on my scalp. My haircut barber said it might be from not washing my hats regularly and that it might be ringworm on my scalp. He said I need to ask for antifungal pills to kill the infections not just topical creams or shampoos. Can you please give me any recommendations that will help me fix this and not just give me temporary relief or suppressants? Are antifungal pills going to give me long term complications? Are more natural solutions that I've seen online like garlic, tumeric, coconut oil, or aloe vera just going to suppress or give temporary relief, not actually fix the issue? Thank you very much! – Ryan
Lisa: I am 39 years old and have two children, but over the last 3 years, I've had two miscarriages at 10 weeks. I am currently doing the seed cycling and have seen good results so far. What tests do you suggest starting with in order to figure out what's happening? I can't afford all the tests at this point, so where should I start? 
Jane: Hi there, I was just wanting to enquire as to how to get your Detox shipped to New Zealand! Kindest regards, Jane 
Thank you for tuning into this weekend's Cabral HouseCalls and be sure to check back tomorrow for our Mindset & Motivation Monday show to get your week started off right!
– – –
> Click here to listen in iTunes

> Or, click the play button below to listen to this episode now:
Show Notes & Resources:
> Learn more about the Integrative Health Practitioner Certification
> Dr. Cabral's New Book, The Rain Barrel Effect
> Join Our Online Community (Free Q&A Facebook support group!)
> Apply to Dr. Cabral's Private Practice 
Dr. Cabral's Most Popular Lab Tests:
> Hair Tissue Mineral Analysis
> Thyroid + Adrenal + Hormone Test (also known as the "weight loss test")
> Dr. Cabral's "Big 5" Lab Tests
> View all Functional Medicine lab tests
Get Your Question Answered on an Upcoming House Call!

Submit your question at:
https://stephencabral.com/askcabral/
– – –
Listen to Previous Podcasts:

To listen to other episodes of the Cabral Concept, visit:
https://stephencabral.com/podcasts
– – –
Would You Take 30 Seconds to Rate & Review the Cabral Concept?
The best way to help me spread our mission of true natural health is to pass on the good word, and I read and appreciate every review!
1. Click link: https://itunes.apple.com/us/podcast/cabral-concept-by-stephen/id1071469441?mt=2
2. Click "View in iTunes" button
3. Click "Subscribe" button
4. Click "Ratings and Reviews" text
5. Click to rate and leave a short review and you're done!
* Thank you again and every review gets entered in my monthly contest to win great prizes!
– – –