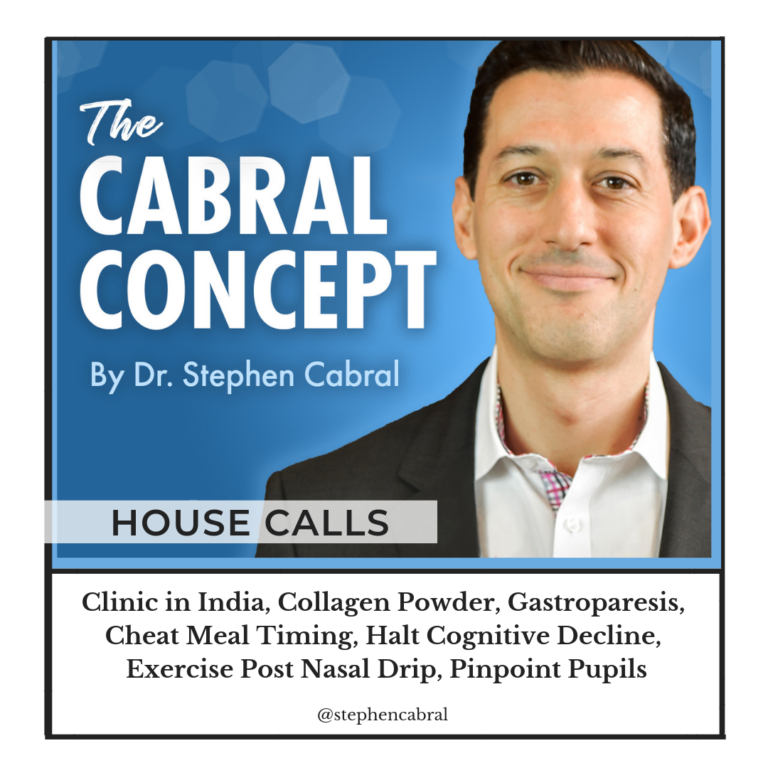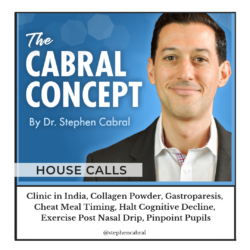 HouseCall: Clinic in India, Collagen Powder, Gastroparesis, Cheat Meal Timing, Halt Cognitive Decline, Exercise Post Nasal Drip, Pinpoint Pupils
Welcome back to our weekend Cabral HouseCall shows!
This is where we answer our community's wellness, weight loss, and anti-aging questions to help people get back on track!
Check out today's questions:
Nala: Hi i was hoping that you could recommend a center in India do a 21 – 30 day panchakarma ? I've been researching my own but thought with your experience you could refer to a place. Thank you. Ps im an organic farmer and permaculture landscaper living in California. I would like to continue eating organic and being in a place out of a city. I loved your book everyone in our family (extended) is reading it
Cherie: I am about to start the CBO protocol and was wondering when/if I can continue to use my collagen powder. Also, I liked day one and day two of the 7 day detox. Could I continue to only have the all-in-one shake on the first two days of each week during the CBO protocol?
Annika: Hello there, thank you for the great work you're doing. My sister told me that you are about to launch your own certified program to teach people your way of healing. Unfortunately, I cannot find anything about it on your website. Maybe I looked in the wrong places. Is there an email list I can join to get more information about it? Thank you for getting back to me. Best regards from Germany Annika
Brooklynn: Hello, I'm in my late 20s, and have been diagnosed by a GI with leaky gut and gastroparesis. I eat gluten, dairy, and almond-free after getting my IgG and IgE results back. I struggle with bloating, constant exhaustion and fatigue, and lately extreme pain and soreness in my neck/shoulders. Can you please let me know what you'd recommend? I'm unsure of what to do. Thanks in advance for your expertise, insight and knowledge. I appreciate and respect how dedicated you are to helping others, and love your consistent enthusiasm and passion on your podcast!
Joel: Hello, I am interested in doing the CBO protocol but since it would go through the holiday season I was wondering if you are allowed cheat meals during the protocol. If so, how far in to the protocol are you allowed a cheat meal and how many times a week? Thanks! In good health, Joel 
Julie: I'm writing in regards to my 83-year old father. He has dementia and suffers from significant cognitive decline and loss of muscle strength and control. He's not wheelchair-bound, but uses a walker full-time and is very unstable. I just listened to podcast #746 on halting/reversing Alzheimer's & brain-based aging diseases. I'm wondering if it's too late to help my dad? He's so thin, I'm afraid of major diet changes that would cause him to lose weight but at the same time, I would do anything to help him if there's any hope.
Lisa: I have been working out for over 10 years but the past 2 month I have noticed that every day when I go to the gym or even when I use my Cybex machine at home I get this post nasal drip down my throat during my workout . What could this be and what do suggest I do for it?
Lydia: Hi Dr. Cabral – I recently found your podcasts and have been listening and learning. For the last 8 or so years, I have done my best to be my own naturopath. I did Dr 30 day incurables cleanse 7 years ago… I found a great homeopath and also a good naturopath, as well as a functional medicine chiropractor, but none seem to have been able to help me the way I feel you will… I feel such a relief to know that I can find some answers, finally. Thank you so much for your willingness to help those of us who just don't know where else to turn. I took the Big 5 Lab tests you recommended and I am on a hopeful path forward and I thank you for that. My question -I have constricted pupils and have had constricted pupils for around 8 or so years now. I guess I would call them pinpoint. My pupils are always small. When I am in a room with a bright light they are tiny and when I cover them or dim the light I see no change or barely a change. I went to an iridologist and she thinks that this happens when someone has extreme adrenal fatigue. When I did the Big 5 lab tests on 7/9/18, the results did show that my cortisol was: 7.7 morning,1.8 noon, 2.7 evening H1.5 night H. I am currently doing the CBO protocol, I am also taking 2 -Adrenal Soother capsules at lunch and dinner. I went to an optometrist who recommended vision therapy and light therapy,
but neither the vision therapy nor light therapy (red and green) have helped. Do you think that my constricted pupils may be from my high cortisol levels? If so, should I take anything in addition to the Adrenal Soother? Is there something else that can cause this? Any thoughts or suggestions are most welcome. I realize you can't diagnose or layout a treatment plan. What would you recommend a member of your family do? thank you . . . with warm regards, Lydia
Thank you for tuning into today's Cabral HouseCall and be sure to check back tomorrow where we answer more of our community's questions!
– – –
> Click here to listen in iTunes

> Or, click the play button below to listen to this episode now:
Show Notes & Resources:
> Learn more about the Integrative Health Practitioner Certification
> Dr. Cabral's New Book, The Rain Barrel Effect
> Join Our Online Community (Free Q&A Facebook support group!)
> Apply to Dr. Cabral's Private Practice 
Dr. Cabral's Most Popular Lab Tests:
> Hair Tissue Mineral Analysis
> Thyroid + Adrenal + Hormone Test (also known as the "weight loss test")
> Dr. Cabral's "Big 5" Lab Tests
> View all Functional Medicine lab tests
Get Your Question Answered on an Upcoming House Call!

Submit your question at:
https://stephencabral.com/askcabral/
– – –
Listen to Previous Podcasts:

To listen to other episodes of the Cabral Concept, visit:
https://stephencabral.com/podcasts
– – –
Would You Take 30 Seconds to Rate & Review the Cabral Concept?
The best way to help me spread our mission of true natural health is to pass on the good word, and I read and appreciate every review!
1. Click link: https://itunes.apple.com/us/podcast/cabral-concept-by-stephen/id1071469441?mt=2
2. Click "View in iTunes" button
3. Click "Subscribe" button
4. Click "Ratings and Reviews" text
5. Click to rate and leave a short review and you're done!
* Thank you again and every review gets entered in my monthly contest to win great prizes!
– – –