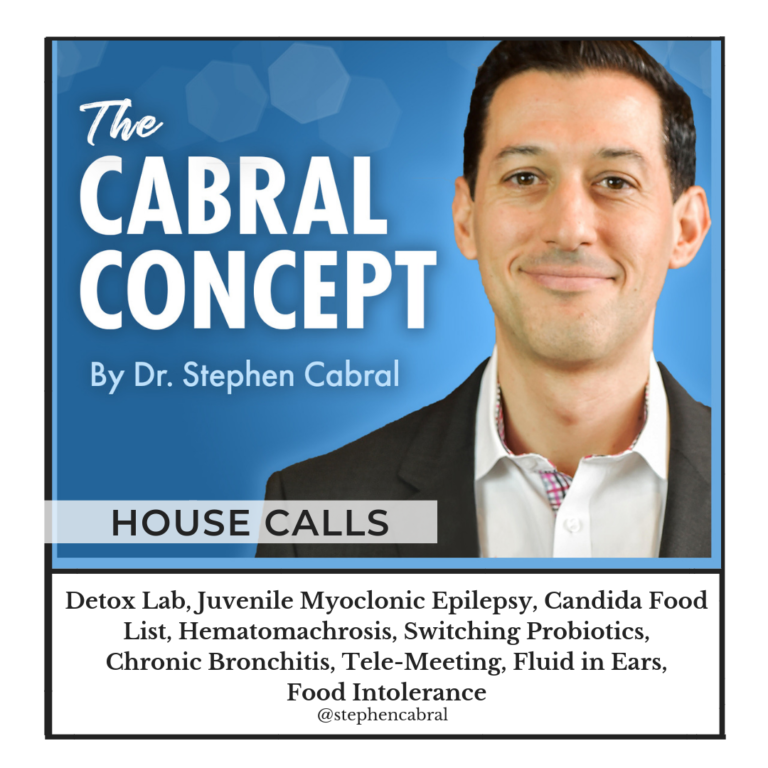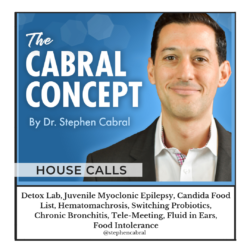 HouseCall: Detox Lab, Juvenile Myoclonic Epilepsy, Candida Food List, Hemochromatosis, Switching Probiotics, Chronic Bronchitis, Tele-Meeting, Fluid in Ears, Food Intolerance
Thank you for joining us for our 2nd Cabral HouseCall of the weekend!
I'm looking forward to sharing with you some of our community's questions that have come in over the past few weeks…
Let's get started!
Megan: I was wondering if you recommend doing particular lab tests before doing your detox? Or Is it okay to just complete the detox at any time? I wasn't sure if you wanted to look at different levels before vs. after the detox. Thanks!
Beth: Hi Dr. Cabral! My name is Beth. I'm 25 years young and I have recently, in the past year and a half, been diagnosed with Juvenile Myoclonic Epilepsy (JME). No one in my family has any form of epilepsy that we know of, so this was strange to us. My neurologist has me taking 750mg of Keppra twice a day, once in the morning and then again at night. I have been told that if I plan to have a family in the future, I will have to come off of this medicine because it can be harmful for a baby. He suggested I also take a good folic acid, which I have been doing every day. My question is, is there anything plant-based I could take in replacement of this medication, or anything in conjunction with? I have never had a full-blown seizure, I was just having what he called "mini seizures" almost daily, especially when tired. One of these "mini seizures" caused me to drop an eight-pound dumbbell on my forehead while lifting weights, and from there having the stitches, EEG, and brain MRI is how I was diagnosed back in 2017. The medication has completely stopped these "twitches" as I called them. Sorry for the long post, just looking for any healthy option here. Thank you for your time. I love listening to your podcasts! 
Cherie: I am about to start the candida protocol soon. I like to make a salad dressing with flax oil, I usually take a couple tablespoons of apple cider vinegar throughout the day and I also usually drink about 4-8 ounces of unsweetened cranberry juice mixed in my daily water intake throughout the day. Are these three things allowed and if not how should I try to reincorporate them into my diet?
Christine: Hi Dr Cabral, I want to thank you for all you do and I'm wondering if you can lead me in the right direction. I am 55 years old, going through menopause, currently on hormone therapy which I know is not the best thing. I also take a compounded thyroid medication-T3, pregnalone, adrenal support, 5 htp, omega 3,probiotics and a daily multivitamin. In addition to all that I use your daily nutritional support shake on a daily basis. My dna testing came back showing I am a carrier for the mthfr gene but also suseptible to hemochromatosis. I have had one lab result come back with elevated iron before. My question is this, I understand the benefits of vitamin C and how it works in many aspects, anti-aging etc etc. My naturapathic dr even said I should take it to help support my adrenals. Also with winter coming I'd like to take it during cold and flu season. But how can this be done safely to avoid elevating my iron levels? Thank you for all you do and I look forward to hearing your reply.
Hanna: Are you supposed to switch up your probiotic after a while? 
Jennifer: Hi Dr. Cabral, I'm a relatively healthy woman in my mid 30's. My diet is ok, though I'd say I have 4-5 cheat meals a week that often include dairy and occasionally gluten (not sure if that is relevant). Once or twice a year over the past few years I will get a lower respiratory cold that I assume to be bronchitis. The coughing is fierce and will typically last a month. My friends and family always push me to go to a doctor to get antibiotics, but most of the research I've done tells me that it is most likely a virus that can't be treated with antibiotics. I take a more holistic approach to health than those around me and would rather treat myself with this approach. Being sick this long takes a toll on my work and pretty much puts me out the entire time I'm sick.
1. At what point do you recommend visiting a doctor if you think you have bronchitis (if at all) and do you think antibiotics are necessary or the best option?
2. Are there supplements or a protocol you'd recommend to treat bronchitis from a more holistic approach?
3. Once you've recovered from bronchitis are there immune-supporting supplements or adaptogens you'd recommend taking to keep your body healthy as a preventative? Something you'd take year-round or maybe seasonally? Thanks so much for all that you do. I really think your podcast is opening people's eyes up to a whole new approach to health that they didn't know existed.
Mackenzie: Hello! I live in Philadelphia and I came across Stephen Cabral's videos on YouTube. I am interested in working with him, does he accept clients via tele-meeting? For reference, I'm a 26-year-old female and I've struggled with disordered eating (being both overweight and underweight at different times in my life). I would like to figure out a final solution to my diet and health, as it's been consuming for me. Please feel free to let me know what opportunities I may have with the center! Thank you,
Stefanie: Hi Dr. Cabral, A friend of mine introduced me to your CBD Oil and I have had really positive results. I was wondering if it will be available online again at some point? If not, is there another place that it is available? Thanks!
Katie: Hi Dr Cabral, I'm writing from Australia and came across your podcast through the gorgeous Melissa Ambrosini and am now devouring every single episode from the start and want to say thank you for taking the time to read my question. My problem is that I've been dizzy for over a year, I have fluid in my ears and inflammation in my nose and constantly feel pressure in my face and behind my eyes. There is no pain just the dizziness and pressure. I have been back and forth to the doctor with no answers. Im losing hope in ever feeling "normal" and well again which is why I am writing to you and I would love to hear what your advice would be. Thank you so very much. Katie
Rebecca: Hi, I have been listening to Dr. Cabral's podcast for the past several months and have found so much value in the content. I have been experiencing some issues that I believe to be food-related and am interested in some type of testing to determine the root cause. On several occasions after eating I have experienced severe nausea which sometimes has led to vomiting or diarrhea and on other occasions has passed after several hours of feeling sick. These symptoms usually occur several hours after eating once I lie down to go to bed and are different from what I consider "typical" acid reflex which I have experienced since childhood. On more than one occasion I have experienced nausea after eating food cooked in a smoker such as ribs, pizza and chicken. However, I have also experienced the same symptoms when eating foods cooked by other methods. I have not been able to pinpoint a specific food or spice so I thought that it may be helpful to do food sensitivity testing. I have an allergy to sulfa drugs but no known food allergies. Is this the best test for me to perform or is there another option that you recommend? Thank you for your guidance, Rebecca
HouseCall Outro for Libsyn For Sunday
Thank you for tuning into this weekend's Cabral HouseCalls and be sure to check back tomorrow for our Mindset & Motivation Monday show to get your week started off right!
– – –
> Click here to listen in iTunes

> Or, click the play button below to listen to this episode now:
Show Notes & Resources:
> Learn more about the Integrative Health Practitioner Certification
> Dr. Cabral's New Book, The Rain Barrel Effect
> Join Our Online Community (Free Q&A Facebook support group!)
> Apply to Dr. Cabral's Private Practice 
Dr. Cabral's Most Popular Lab Tests:
> Hair Tissue Mineral Analysis
> Thyroid + Adrenal + Hormone Test (also known as the "weight loss test")
> Dr. Cabral's "Big 5" Lab Tests
> View all Functional Medicine lab tests
Get Your Question Answered on an Upcoming House Call!

Submit your question at:
https://stephencabral.com/askcabral/
– – –
Listen to Previous Podcasts:

To listen to other episodes of the Cabral Concept, visit:
https://stephencabral.com/podcasts
– – –
Would You Take 30 Seconds to Rate & Review the Cabral Concept?
The best way to help me spread our mission of true natural health is to pass on the good word, and I read and appreciate every review!
1. Click link: https://itunes.apple.com/us/podcast/cabral-concept-by-stephen/id1071469441?mt=2
2. Click "View in iTunes" button
3. Click "Subscribe" button
4. Click "Ratings and Reviews" text
5. Click to rate and leave a short review and you're done!
* Thank you again and every review gets entered in my monthly contest to win great prizes!
– – –