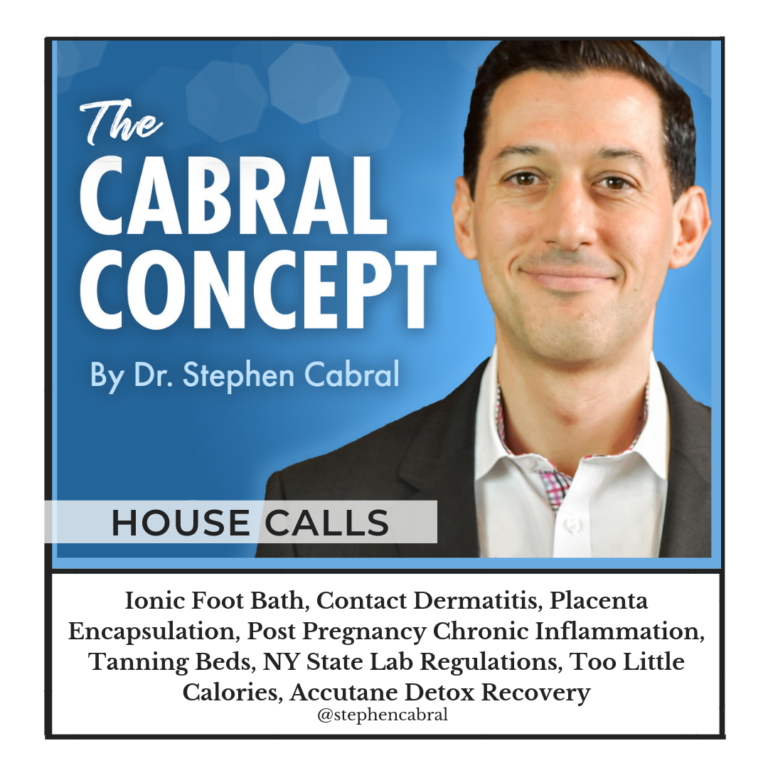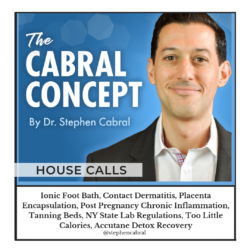 HouseCall: Ionic Foot Bath, Contact Dermatitis, Placenta Encapsulation, Post Pregnancy Chronic Inflammation, Tanning Beds, NY State Lab Regulations, Too Little Calories, Accutane Detox Recovery
Thank you for joining us for our 2nd Cabral HouseCall of the weekend!
I'm looking forward to sharing with you some of our community's questions that have come in over the past few weeks…
Let's get started!
Gretchen: Hi Dr. Cabral, Can you tell me if the ionic foot bath helps to detox? I hear controversy whether it is actually removing toxins or not. Thank you!
Anonymous: Hi Dr. Cabral, I'm a massage therapist and I believe that I've picked up a skin fungus from one of my clients via contact dermatitis. I have eczema on my hands and when it flares up, I can go into scratch mode w/o thinking about it. Because of this, I probably had small open sores on my hands that I couldn't see which, I'm sure, contributed to making me susceptible to any skin pathologies. What do you suggest as a cure for skin fungus? I've been using OTC creams like Lamisil and Lotrimin for coming up on a month now and while the bumps, oozing and itchiness have subsided a great deal, there are still a few stubborn spots. I've also started drinking sarsaparilla in the form of a tea to also target the fungus internally since I read that sarsaparilla is a detoxifier. Any help you can give would be greatly appreciated! Thanks very much!
Casey: Hi Stephen, massive fan of your podcast I tell everyone about them here in Australia. Could you do a podcast on placenta encapsulation or eating your placenta & your thoughts on it. I heard very mixed reviews.
Kathleen: Hello, I've recently heard about you from listening to the Melissa Ambrosini podcast. Since having my child 18months ago I've suffered chronic inflammation, pain in my joints, depression, low mood, etc. My inflammation markers were so high that my gp arranged for me to go to the hospital for an appointment with a Rheumatologist. After various blood tests for arthritis, lupus, etc they all came back negative. The rheumatologist couldn't tell me what was causing the inflammation but prescribed me the following; Naproxen, Plaquenil, Sulfasalazine & now recently Methoblastin. They told me I need to take these to reduce the inflammation so my joints don't go deformed. All of these meds are immunosuppressants. Having a small child who attends daycare I am constantly sick & rundown. Two weeks ago I had to have two iron infusions (ferrinject) as I had anemia. I would love to stop taking these medications and heal my body naturally. I'm in Australia, & I'm unsure which test I need? If you can please recommend the right one for me that would be wonderful. Thank you for your time. Regards Kathleen. Ps. I'm 35, 4-5 years ago I was competing in triathlons, now I can't even run.
Eliana: Hi, I would love to hear what you think of tanning beds! I've heard most doctors say it leads to skin cancer and others say it's actually beneficial once a week for a short length of time. Also, are berries better to have after a workout because of antioxidants cleaning up free radicals, or are the benefits just as good if eaten before the workout?
Mary: Hi, I would like to find out more about the upcoming program to become a "coach" or "integrative practitioner," unsure if I'm identifying it correctly. Can you please direct me as to where to learn more? Currently, I am an RN, Certified Diabetic Educator and Credentialed School Nurse. I also have my own personal journey towards wellness and would love to learn more. thank you!!
Maureen: Hi there, I am a listener of the podcast and I am eager to hopefully work with you in the future and have been doing a lot of research. I have a ton of health issues that have been going on for a little over two years and still haven't solved anything. However, I live in NYC – and I keep seeing the messages that lab sales are prohibited to those that live in NY state. My question is – why is this and is there anything I can do about it? I can't accept that because I live in NY I won't be able to get the tests I need to heal myself – is there any way I can work around this or figure this out? Have you worked with anyone from NY before? Thank you in advance! Maureen
Valerie: Hi goodmorning, so I'm 21 and have been trying to lose body fat (not weight) for a bit over 3 years now. Iv done trial and error both in food and exercise. I got my RMR studied at a local university using the oxygen mask and have been eating at that deficit for months now. I weigh my food on a digital food scale and log it into the calorie counting app and pay attention to my macros. I eat healthy and I havnt seen any progress instead iv seen weight gain which has been through higher fat. I got my blood work done it came back normal my GP said I should do more exams such as hair tissue exams and such but 1) idk where to take it and 2) ur packets are expensive for me to get so I need ur help through advice please iv gone around and asked everyone
Antony: Hi Dr. Cabral! Question about Accutane (Isotretinoin) Thank you so much for your message at the end chapters of the Rainbarrel effect. It's made a profound difference in my life. What are your thoughts on detoxifying Accutane? I took it 5 years ago when I was 18, on a high 80mg dose every day from an unaware dermatologist. It has wrecked my eyes and caused burning dry eyes with severe meibomian gland dysfunction and gland atrophy. I am able to cope by taking high dose Omega 3's thanks to a PubMed study I found myself. I'm not sure if the glands will regenerate (conventional opthamologists say no) but I have other health issues as well after taking Accutane. Accutane also caused me my first depressive episode and panic attack. I've since had generalized anxiety since then, fatigue, and brain fog, which I still experience to this day. Besides working on the liver with coffee enemas, broccoli sprouts, and beet juices, do you have any targeted detoxifying modality for fat soluble pharmaceuticals like Accutane (Assuming it is stored)? I've taken it for 5 months in the past at incredibly high doses. I've heard of the niacin sauna potentially eliminating any 'stored' fat-soluble Accutane. What are your thoughts, Dr. Cabral? Please keep doing what you do 🙂
– – –
> Click here to listen in iTunes

> Or, click the play button below to listen to this episode now:
Show Notes & Resources:
> Learn more about the Integrative Health Practitioner Certification
> Dr. Cabral's New Book, The Rain Barrel Effect
> Join Our Online Community (Free Q&A Facebook support group!)
> Apply to Dr. Cabral's Private Practice 
Dr. Cabral's Most Popular Lab Tests:
> Hair Tissue Mineral Analysis
> Thyroid + Adrenal + Hormone Test (also known as the "weight loss test")
> Dr. Cabral's "Big 5" Lab Tests
> View all Functional Medicine lab tests
Get Your Question Answered on an Upcoming House Call!

Submit your question at:
https://stephencabral.com/askcabral/
– – –
Listen to Previous Podcasts:

To listen to other episodes of the Cabral Concept, visit:
https://stephencabral.com/podcasts
– – –
Would You Take 30 Seconds to Rate & Review the Cabral Concept?
The best way to help me spread our mission of true natural health is to pass on the good word, and I read and appreciate every review!
1. Click link: https://itunes.apple.com/us/podcast/cabral-concept-by-stephen/id1071469441?mt=2
2. Click "View in iTunes" button
3. Click "Subscribe" button
4. Click "Ratings and Reviews" text
5. Click to rate and leave a short review and you're done!
* Thank you again and every review gets entered in my monthly contest to win great prizes!
– – –