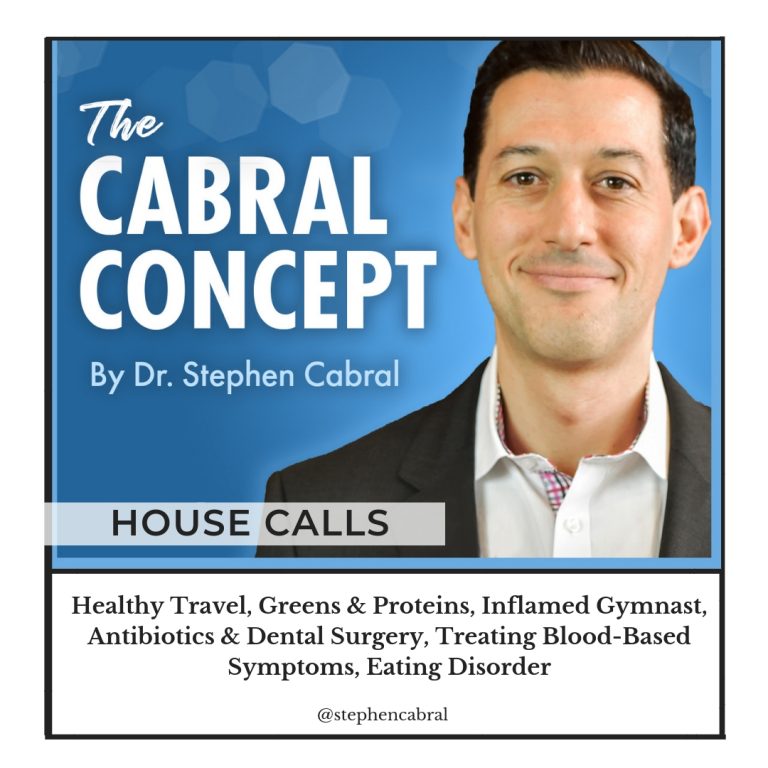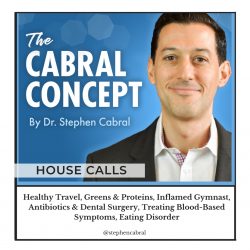 HouseCall: Healthy Travel, Greens & Proteins, Inflamed Gymnast, Antibiotics & Dental Surgery, Treating Blood-Based Symptoms, Eating Disorder
Welcome back to our weekend Cabral HouseCall shows!
This is where we answer our community's wellness, weight loss, and anti-aging questions to help people get back on track!
Check out today's questions:
Brodie: Hi Dr. Cabral. I thoroughly enjoy listening to your podcasts and really appreciate the knowledge that you share. I am traveling to India for approximately one month this year. I am worried about falling sick whilst I am there from food or other sources. Can you suggest some key supplements and natural first aid products that would be useful for my trip? I am not based in America and unfortunately cannot afford to purchase your products and then pay for shipping fees on top of the cost (I have already inquired with your team about this). I have previously listened to one of your podcasts suggesting that low stomach acid can contribute to some bacteria illnesses'. I was wondering if a product related to this would be suitable for me to take? I look forward to hearing your suggestions and I would much prefer to use natural products than conventional ones, I am just unsure exactly what to bring. Thank you!
Erin: Is it okay to mix the greens powder and the daily nutritional support shake in the morning or should I drink them separately/ at different times? I wasn't sure if it matters or not. Thank you!
Lauren: Hi Dr. Cabral, I was so excited to find your show! I have been listening to several shows a day and can't seem to get enough. When you speak about functional medicine chronic illnesses both physical and mental seem to make sense and there is so much hope out there for those that suffer from them! I have a question about my younger sister and was hoping you could provide some insight. My sister is a competitive gymnast and 15 years old. Over the last year, she has intermittently complained of shortness of breath. After Christmas, she got a cold, followed by influenza (which she tested positive for) and sinus infections, and then hand foot and mouth (vs a reaction to the antibiotics she was on for her sinus infection). She was out from school and practice for over 2 weeks.After the illnesses, this winter her difficulty breathing became much worse (notably on her floor routine). My mom had just taken her down to Rush in Chicago for testing for an exercise challenge test last week and the test confirmed exercised induced asthma. She also had her IgE preliminary test was negative awaiting on the specific results. She has prescribed an inhaler containing albuterol and steroids taken 2 puffs 20 min prior to practice. I feel like we are just applying a bandaid over a much bigger problem and was wondering if you could shed some insight onto how you may work up this case. Thank you so very much for all you do and for sharing your knowledge with so many others to help improve their quality of life! ~Lauren
PS- no need to share this on the podcast as this is a complete tangent, but I am a small animal veterinarian and starting my journey in a more holistic approach in my practice because of how you and other functional medicine practitioners have inspired me! Animals have more chronic illness and cancer now than ever before…. and its time to start looking for those root causes in them too!
Nancy: Dear Dr. Cabral, Firstly, I'd like to say thank you so much for all your excellent advice and nutritional supplements, both of which have helped me dramatically improve my overall health and energy levels in just a few short months. My question is regarding the prophylactic use of antibiotics post-surgery. I am scheduled for gum graft surgery in a few months, and I know the periodontist will prescribe some antibiotics afterwards to prevent infection and to ensure the graft doesn't fail. I was prescribed amoxicillin after my previous gum graft and had horrible side effects (a rash that lasted a month and lots of digestive issues), so I'd really like to avoid taking antibiotics again, especially now that I've done the Dr. Cabral Detox and am feeling so much better. I'm wondering if I start taking extra nutritional supplements such as high doses of vitamin C, D and zinc in advance of the surgery and afterward, would it be sufficient to minimize the risk of infection? If so, what would be the recommended dosages, and would you suggest any other supplements as well? Overall I am quite healthy; I don't take any medications and rarely get sick, so I think my immune system is pretty decent already. I follow a mainly plant-based diet, and am taking the DNS powder and fruit and vegetable blend daily, along with immune-boosting mushrooms like Chaga and lion's mane. Any advice you can give would be greatly appreciated! Kind regards, Nancy
Katie: Hi Dr. Cabral, I'm a fairly new listener of your podcast and I've found it to be extremely educational and helpful in my journey to improve my health. I was diagnosed about 4 years ago with Triangular Alopecia shortly after taking an antibiotic (when I was 22 my skin drastically changed and I suffered severe breakouts–antibiotics and acne creams where the Dermatologists treatment recommendation). I've had my hormone and thyroid levels tested several times by my Dermatologist and my PCP, all of which came back normal except for my estrogen levels which were slightly low according to my PCP. I've taken Spironolactone, Doxycycline, and Birth Control. My acne is under control but I continue to lose hair around my scalp and on the sides near my ears. I had a biopsy done a couple years ago that showed signs of female pattern hair loss, which my Derm could not make sense of because of my young age and location of the hair loss. After several years of treatment with creams and pharmaceutical drugs failing, I decided to see a local CD that also addresses hormones and other imbalances in the body. The tests I did with him showed normal levels for my thyroid but extremely low levels of Estradiol (<0.20), Progesterone (<0.20), and Testosterone (0.20), High Cortisol (12.6), Deficient in Vitamin (B12 13%), and Deficient in Vitamin D. The results confirmed all my symptoms. He recommends I take B Complex vitamins, Vitamin D3, a Multivitamin, B 12 Folate, Progesterone cream (1/4 teaspoon days 12-27 of the cycle), and Testosterone Cream (1/2 teaspoon daily). Have you ever connected these imbalances or deficiencies to Alopecia and used this treatment regimen? I am excited to have answers and alternative treatment to Rx but worried about inciting further damage to my body. Sorry for such a lengthy question. Thank you for all your hard work and compassion towards helping people!
Mia: Hi Dr. Cabral! My name is Mia and I'm 27 years old. I've struggled with eating issues for 10 years 5 years bulimia and 5 years binge eating disorder. Any tips on how to manage that and control my mind? Also I became a carrier of tuberculosis when I was 13 years old and I had to take isoniazid for nine months. I feel like I'm always tired even though I get good sleep. Would you think that antibiotic contributes to my fatigue and also I have hormonal acne on my neck, jawline and chin? What tests would you recommend for me?!
Thank you for tuning into today's Cabral HouseCall and be sure to check back tomorrow where we answer more of our community's questions!
– – –
> Click here to listen in iTunes

> Or, click the play button below to listen to this episode now:
Show Notes & Resources:
> Dr. Cabral's Big 5 Lab Tests
> Dr. Cabral's New Book, The Rain Barrel Effect
> Join Our Online Community (Free Q&A Facebook support group!)
Dr. Cabral's Most Popular Supplements:
> "The Dr. Cabral Daily Protocol" (This is what Dr. Cabral does every day!)
> Dr. Cabral Detox (The fastest way to get well, lose weight, and feel great!)
> Daily Nutritional Support Shake (#1 "All-in-One recommendation in my practice)
> Daily Fruit & Vegetables Blend (22 organic fruit & vegetables "greens powder")
> CBD Oil (Full-spectrum, 3rd part-tested & organically grown)
> Candida/Bacterial Overgrowth, Leaky Gut, Parasite & Speciality Supplement Packages
Dr. Cabral's Most Popular Lab Tests:
> Hair Tissue Mineral Analysis
> Thyroid + Adrenal + Hormone Test (also known as the "weight loss test")
> Dr. Cabral's "Big 5" Lab Tests
> View all Functional Medicine lab tests
Get Your Question Answered on an Upcoming House Call!

Submit your question at:
https://stephencabral.com/askcabral/
– – –
Listen to Previous Podcasts:

To listen to other episodes of the Cabral Concept, visit:
https://stephencabral.com/podcasts
– – –
Would You Take 30 Seconds to Rate & Review the Cabral Concept?
The best way to help me spread our mission of true natural health is to pass on the good word, and I read and appreciate every review!
1. Click link: https://itunes.apple.com/us/podcast/cabral-concept-by-stephen/id1071469441?mt=2
2. Click "View in iTunes" button
3. Click "Subscribe" button
4. Click "Ratings and Reviews" text
5. Click to rate and leave a short review and you're done!
* Thank you again and every review gets entered in my monthly contest to win great prizes!
– – –