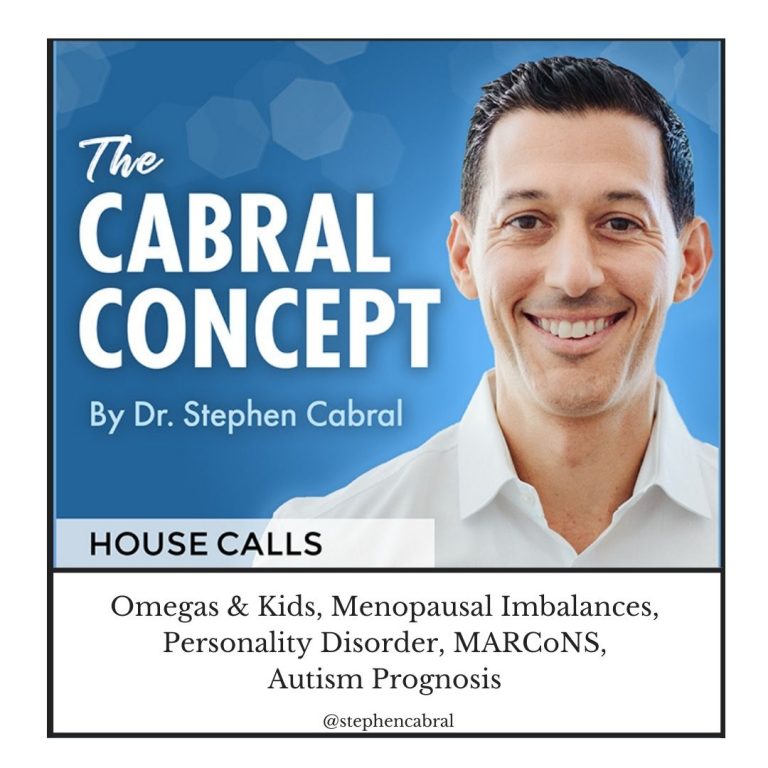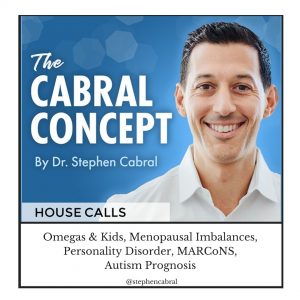 Today's Cabral Concept is here!
HouseCall:
Thank you for joining us for our 2nd Cabral HouseCall of the weekend!
I'm looking forward to sharing with you some of our community's questions that have come in over the past few weeks…
Let's get started!
Sarah: Hi Dr Cabral, I'm a big fan. Thank you for all you do. My daughter is 6 and seems to find it difficult to articulate what she needs to say and even though we constantly correct her, she often pronounces words wrong. I do not see that any of her peers have the same problem. I thought giving her DHA may help, I just struggle to give it to her as she dislikes the taste, even the lemon one. I even tried to sneak it in apple juice but I got found out. What are your thoughts on DHA and would you have any other suggestions on what we could do to improve things? I really appreciate your time, thank you very much. Sarah
Cass: Hi Dr C, i cant thank you enough for all you do, teach and be……WE are all truly blessed A very deep heart felt Thank you. …..Could you please recommend what advise you would offer to a 51 year old menopausal women. No cycle for 2 years. Has had high levels of deep emotional stress for 2 years. Is coming out the other side. Thank goodness!! Suffered chronic fatigue in past from high levels of stress/loss/trauma and over training / under eating scenarios when younger. Anyway been suffering with gut issues bloating gas etc, for long time. Completed Oat / HTMA / food Sensitivity and omega 3 …..High on candida / bacteria markers / Succinic…HIgh aluminium and mercury Very High cal / mag / sodium and low potassium chromium and selenium and phosphorus and very low iron. A slow metaboliser. Completed heavy metal detox , 2 x parasite protocols (one advanced) and CBO with limited finisher as felt very bloated on the healthy gut support. Retested and candida reduced but still high bacterial markers. Also still showing parasites present. (Blastocytes and now cryptosporidium) Take FP level 3, B's, Zinc, A.soothe, Calm, Cal-Mag, Alk Vit C. Still suffers constipation, slow bowel movement, fatigue, bloated, gut better but not great, Clean diet, exercise, meditation, etc, daily. 
Anonymous: I was recently diagnosed with Borderline Personality Disorder which I know is not your specialty but I was wondering if you had any advice on the subject. I am already working with a therapist and things like that but would like to know if you have any supplement or lifestyle recommendations that might be helpful in addition to what I'm already doing. Thank you so much.
Laura: Hi Dr. Cabral! I've got a question about MARCoNS. I've had three positive tests in the past two years. I've tried different treatments and I haven't found something yet that has helped me eradicate it yet. I just saw a new functional medicine doctor recently about this – she suggested that I try using a nebulizer to inhale a solution of diluted hydrogen peroxide, saline and iodine – she said it can help rid the body of MRSA so it was likely to help with MARCoNS. Do you have any thoughts on this treatment she's suggesting? And…do you happen to know of something that actually works to help the body heal from this? Thank you so much for your time and care!
Marlene: Would you say that autism can be cured?
Thank you for tuning into this weekend's Cabral HouseCalls and be sure to check back tomorrow for our Mindset & Motivation Monday show to get your week started off right!
– – –
Audio Podcast:
Video Podcast:
Show Notes & Resources:
> Learn more about the Integrative Health Practitioner Certification
> Dr. Cabral's New Book, The Rain Barrel Effect
> Join Our Online Community (Free Q&A Facebook support group!)
> Dr. Cabral's Personal Resource Page
> Apply to Dr. Cabral's Private Practice 
Dr. Cabral's Most Popular Lab Tests:
> Complete Minerals & Metals Test
> Complete Candida, Metabolic & Vitamins Test
> Complete Stress, Mood & Metabolism Test
> Complete Stress, Sleep & Hormones Test
> Complete Food Sensitivity Test
> Complete Omega-3 & Inflammation Test
> Complete Gut Bacteria & Parasite Test
> Comprehensive "Big 5" Lab Tests
> View all Functional Medicine lab tests
Get Your Question Answered on an Upcoming House Call!

Submit your question at:
https://stephencabral.com/askcabral/
– – –
Listen to Previous Podcasts:

To Listen to other episodes of the Cabral Concept, visit:
https://stephencabral.com/podcasts
– – –
Would You Take 30 Seconds to Rate & Review the Cabral Concept?
The best way to help me spread our mission of true natural health is to pass on the good word, and I read and appreciate every review!