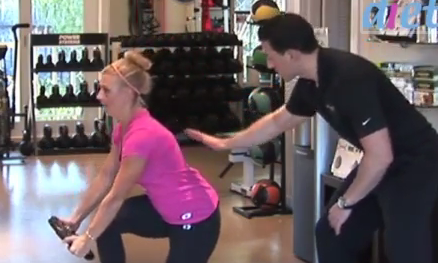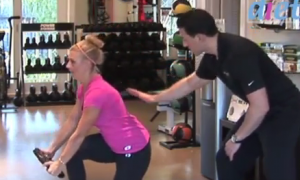 This is one of my favorite exercises…
It's great for both fat loss and tightening your core muscles like the abs, obliques and lower back.
I originally started using it with athletes and mixed martial arts fighters, and they thought it was "killer."
So after seeing it work so well to condition and strengthen athletes I brought it into my body transformation and weight loss client programs.
The Corkscrew
The exercise I'm referring to is what I call a "Corkscrew."
The reason I call it that is that you are literally winding up your body and then exploding out of it like a corkscrew.
You have to see it to understand what I'm talking about, which I why I created a short 3-minute video (below) on how you can add this exercise to your own program.
You'll hear me explain it in the video, but I recommend adding this move to the end of a tri-set, or even the end of a workout as an interval.
Also, if you're a true beginner make sure you watch the whole video, since I want you to complete the exercise I demonstrate at the end before moving onto this more advanced movement. (The exercise at the end is called an "Axe Chop" or "Wood Chop.")
You'll Love to Hate It Too!
Although my clients "love to hate" this corkscrew exercise, it's really is fun to do and you'll feel the results with every rep!
Just make sure you follow my cues in the video where I explain how to rotate your feet in order to keep your knees safe. Plus, I also mention not to round your back (spine) or overarch it on the way up…
Like I said, you have to see this great exercise in action to know what I'm talking about. Check it out now below.
I hope you enjoy the new corkscrew exercise video and put it to good use!
Committed to your success,
Stephen Cabral, CSCS, CPT, NS
Voted "2011 Personal Trainer of the Year"
Author of Fatlossity, Lose5in7 Weight Loss System
Health Consultant for MTV, Men's Health, Women's Day, MAXIM, NutritionData, Dietcom, SELF
https://stephencabral.com
Please Note: I do not endorse any advertisements in my YouTube videos.
>>> Here are the Exact TOP 3
Fat Burning Systems My Clients Use:
http://Lose5in7.com
– my complete 12 week in-home
step-by-step, weight loss system as seen on TV.
***************************************************************************************************
Please feel free to forward this article to anyone it could help!
****************************************************************