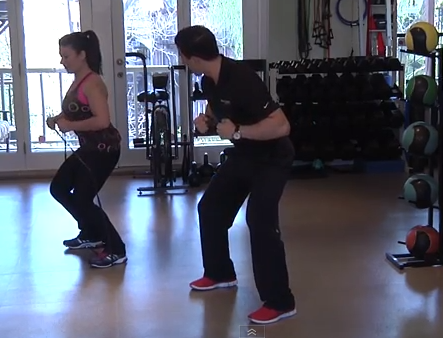 This is one of those exercises that looks super simple to do, but couldn't be any further from the truth…
Give this a go.
Try doing 3 sets of this exercise as part of your warm-up or at the end of your current workout and then let me know how your glutes (butt) feels the next day.
(If you do it correctly you'll feel your glute muscles working with every step.)
Is This Exercise for You?
I use this exercise with 3 types of clients:
1. Any client that has trouble squatting due to knee pain or if their knees buckle inwards when lunging, squatting, or dead lifting. (Typically, a sign of weak abductor muscles/glutes.)
2. Any client that wants to lift a "sagging" butt. This exercise specifically targets the top of the glute muscles in order to strengthen and add shape to the butt.
3. Any client looking to improve their athletic or strength performance. You may be shocked to hear that some of my strongest and most athletic clients are the most sore the next day after this little exercise. However, that soreness passes quickly and they love what it does for their leg strength (especially squats) and how much more explosively quick they are.
To be honest, unless you have a specific orthopedic health issue I'd recommend adding this exercise into your program for 4-6 weeks and see how much improvement you see (be sure to let me know!)
Okay so now it's time to introduce you to "X" Band Walking. Check out the video (below) for all the details:
X Band Walking
And, as you're trying this "X" Band Walking exercise keep these 5 important tips in mind:
1. Keep your knees open wide – over or to the outside of your ankles at all times.
2. Keep tension on the band at all times – even when you step together.
3. Take a huge step with your outside leg followed by a small step with your inside leg. Repeat 15x in each direction.
4. Hold your chest up high and pull your shoulders back for added postural benefit.
5. Increase the tension of the band as the 15 repetitions in each direction gets too easy for 3 sets.
Enjoy this new fun exercise and let me know how it goes for you!
Committed to your success,
Stephen Cabral, CSCS, CPT, NS
Voted "2011 Personal Trainer of the Year"
Author of Fatlossity, Lose5in7 Weight Loss System
Health Consultant for MTV, Men's Health, Women's Day, MAXIM, NutritionData, Dietcom, SELF
https://stephencabral.com
Please Note: I do not endorse any advertisements in my YouTube videos.
>>> Here are the Exact TOP 3
Fat Burning Systems My Clients Use:
http://Lose5in7.com
– my complete 12 week in-home
step-by-step, weight loss system as seen on TV.
***************************************************************************************************
Please feel free to forward this article to anyone it could help!
****************************************************************