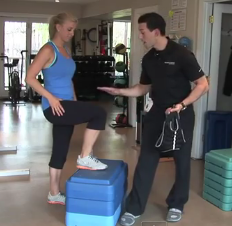 Today, I have a fantastic "1-minute weight loss interval" that you can do when you're short on time, or after a metabolic resistance workout!
This is one of my favorites since it works your body in an unusual way…
Typically, when you're exercising you are moving in the sagittal plane (forward and backward). There's nothing wrong with this, but when you move in another plane of motion you challenge your muscle and nervous system to a greater degree.
This also means you should burn more body fat!
That's why today I'm going to have you exercise during this 1-minute weight loss interval in the frontal plane – moving side to side.
I call this fat loss interval, "Lateral Step-Up & Overs."
Here's how to do it:
1. Place a 16-22" box at your knee height to the side of one leg
2. Wear a weighted vest, use dumbbells on your shoulders, or just complete the exercise with your own bodyweight
3. Put the foot closest to the box on top of the box
4. Press up through the leg/hip on the box and step up
5. Switch legs on the box and step down with the leg that began on the box
6. Repeat rapidly moving side to side
Also, in the video I will show you 2 different versions and you can pick the one you'd like to start out with.
My favorite way to use this interval is after a metabolic superset or after a full resistance workout.
This is also the type of fat loss interval I call the "icing on the cake," because it will leave your metabolism spiked for even greater period of time!
Check out the video below now to see my recommendations on how many times to complete it, how many reps to do, and how to maximize your results:
I hope you enjoy the new fat loss video and I'll be back soon with a brand new article on sneaky food manufacturer "packaging" that is hurting your body transformation goals!
Committed to your success,
Stephen Cabral, CSCS, CPT, NS
Author of Fatlossity, Lose5in7 Weight Loss System
Health Consultant for MTV, NutritionData, Diet.com, MAXIM, Gather, SELF
https://stephencabral.com
Please Note: I DO NOT promote or endorse any advertisements seen in my YouTube videos. To skip the intro advertisements that YouTube puts there just click the "skip ad" link at the bottom of the video.

>>> Here are the Exact TOP 3
Fat Burning Systems My Clients Use:
http://Lose5in7.com
– my complete 12 week in-home
step-by-step, weight loss system as seen on TV.
***************************************************************************************************
Please feel free to forward this article to anyone it could help!
***************************************************************************************************