FREE RESOURCE for STEPHEN CABRAL.com SUBSCRIBERS!
We're back with Issue #2 of our very own SCS Fit and Healthy Newsletter!
As you know, our team comprises many diverse backgrounds within the health & fitness industry and although you may only be working with one of our fitness professionals on a weekly basis, we now have an outlet to share with you research, tips, case studies, and nutritional supplement reviews of what really works and what are just myths.
In Issue #2 of SCS Fit and Healthy News you'll find the answers to: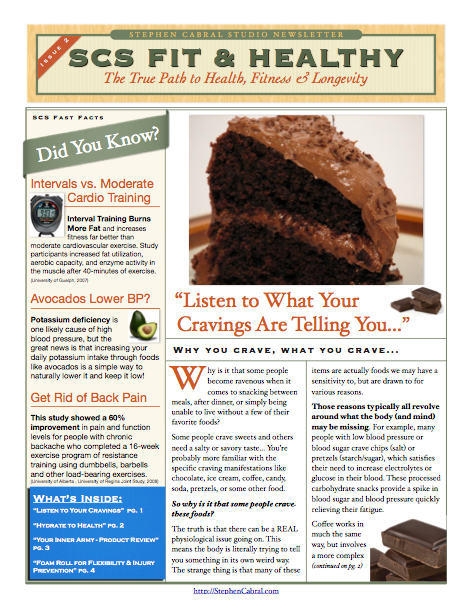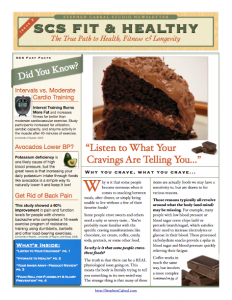 * What your food cravings are really telling you…
* Which mineral and foods are best for lowering blood pressure
* Why water is so important to weight loss and health
* How to choose the right probiotic supplement
* Why foam rolling is better than static stretching for increasing flexibility before a workout
* Intervals vs. moderate cardio – which is better for fat burning and increasing aerobic capacity
* The best equipment to exercise with for a bad back
* The very best of our Facebook fan page – you voted!
* SCS Success of the Month – he lost 88lbs in 9 months!

I hope you enjoy this 2nd Issue of SCS Fit and Healthy News and feel free to contact us with any suggestions or questions you'd like to see answered in the next issue!
Lastly, visit us on Facebook to see our Daily SCS Fit and Healthy Quick Tips and feel free to forward this page to anyone it could benefit!

http://facebook.com/StephenCabralStudio <= Check in with us on Facebook!
Committed to your success,
Stephen Cabral, CSCS, CPT, NS
Voted "2011 Personal Trainer of the Year"
Health Contributor for MTV, Men's Health, NutritionData, Maxim, Dietcom, Gather, SELF
http://StephenCabralStudio.com
>>> Here are the Exact TOP 3
Fat Burning Systems My Clients Use:
http://Lose5in7.com
– my complete 12 week in-home
step-by-step, weight loss system as seen on TV.
***************************************************************************************************
Please feel free to forward this article to anyone it could help!
**********************************************************************************