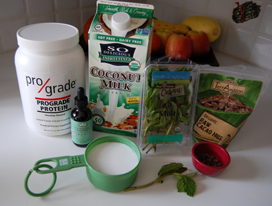 Ever wonder what the best protein shake you can make for yourself is?
Or what the safest and best supplements are?
Today, I have those answers for you as well as the recipe for my "Super High Antioxidant Protein Shake!" (The other great thing is that it doubles as what I call a "Protein Fat Loss Smoothie" since it contains the perfect amount of amino acid loaded protein (that's a good thing) without any empty calories.
In my opinion you should always make every calorie count, so in this recipe I use some really flavorful ingredients that are not only good for you, but also taste great!
First off, this is how and why I use it:
Every morning I have client training sessions with people looking to exercise before they head off to work for their day which means I have to be out of my house early…
Therefore, I need a breakfast that is fast to make and portable.
And, I also need to pump up my energy levels so that I can give each client a great workout without being half asleep.
So after years of trial and error I've finally come up with the ultimate healthy breakfast that you can make in less than 2 minutes and it will provide all the nutrients you need to keep you feeling full, healthy, and alive without any caffeine!
I choose a clean whey protein isolate (lactose free), the most powerful antioxidant fruit (frozen), and my secret ingredient to sneak some "greens" into my breakfast without noticing they are there.
I also make it like a "fruit smoothie" with only about 10oz of water so I sip it more slowly over the course of about 30 minutes.
Sometimes making smoothies can be a little confusing so I created a video of me in my kitchen mixing up my favorite Super High Antioxidant Shake.
Check out the "recipe" video at the link below!
http://www.PersonalTrainerSupplements.com
Plus, I in the video I give you my preferred ingredient list and show you where to find these items so that you don't have to scour the internet not knowing whether the items you are buying are really safe or contain they say they do…
Here's my video demonstration and tips:
http://www.PersonalTrainerSupplements.com
(Please note that this video is hosted on another website, but that doesn't necessarily mean you have to buy anything from them – although they do have reputable products. The video is free so please enjoy watching how I make my morning "Protein Fat Loss" HIGH-Antioxidant Smoothie!)
http://www.PersonalTrainerSupplements.com
Also, if I don't look like a natural in the kitchen, you'll have to excuse me since although I like to eat,  I'm not the greatest chef!
I hope you enjoy the Super High Antioxidant Shake, 2-minute breakfast suggestion, and my personal recommendations for the supplements I use.
Lastly, if you're looking for details on my complete 307pg, step-by-step, weight loss and healthy lifestyle manual click the link below for a special bonus offer today:
https://stephencabral.com/fatlossity.html
Committed to your success,
Stephen Cabral, CSCS, CPT, NS
Author of Fatlossity, Lose5in7 Weight Loss System
Health Consultant for MTV, NutritionData, Diet.com, MAXIM, Gather, EDGE
https://stephencabral.com
>>> Resources to GUARANTEE you will achieve your goals:
http://Lose5in7.com – my complete 12 week
step-by-step, weight loss system – as seen on TV.
http://TrimToneTighten.com – my monthly online
T3 Personal Training & Coaching Program.
http://BathingSuitBodyDiet.com – my secret
17 Day Bathing Suit Body Diet.