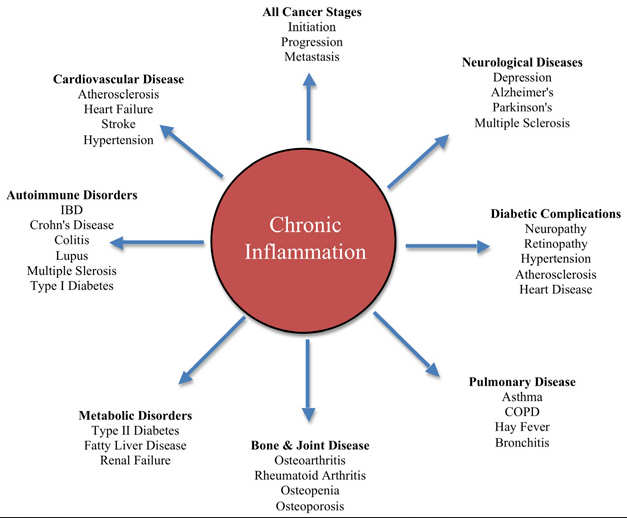 The clients that I work with are busy.
Most don't have the time or interest to use a trial and error method to figure out what works best for them.
Plus, with something as serious as their health, they don't want to take any chances…
And when it comes to your heart or cardiovascular health, you could argue it's one of the more important health markers to look at.
But, simply looking at your cholesterol levels isn't enough.
Look at These 2 Markers
I can't recommend enough checking your blood homocysteine and C-reactive protein (CRP) levels every 6-12 months.
Of course, those are only two inflammatory markers to look for, but it's a start. Your PCP can also add them to any blood draw panel, so it's pretty easy to run the next time you're looking at your cholesterol.
But did you know there's an at-home Functional Medicine test that allows you to look deeper in your cardiovascular health from an inflammatory standpoint.
What Are Your Levels of Inflammation?
What this simple blood drop card looks for is your levels of inflammation based on Omega-6 to Omega-3 fats.
The higher your Omega-6s vs Omega-3s the more prostaglandin series 2 activity (PGE2) is running rampant in your body (think inflammation).
The ideal ratio is estimated at 2/3:1 Omega-6s to Omega-3s, but from a health standpoint you're looking for a 5:1 or better ratio.
Here's my favorite part of this lab –
Research shows that if you have a 9% or greater saturation rate in your blood of Omega-3s, then you're 90% less likely to die from sudden cardiac death.*
(Please re-read that line above – it's an amazing statistic.)

The reason why this statistic exists is because plaque or cholesterol does not tell the whole picture.
And that's because if your arteries can't expand due to inflammation (too much Omega-6s) then you're far more likely to have a cardiovascular event.
So, by increasing your Omega-3 levels to balance your Omega-6s your overall cardiovascular and health profile should improve.
This same test can be used to help inflammatory muscle/joint pain, skin, nervous system issues, energy, mood, and much more…
Personalized Medicine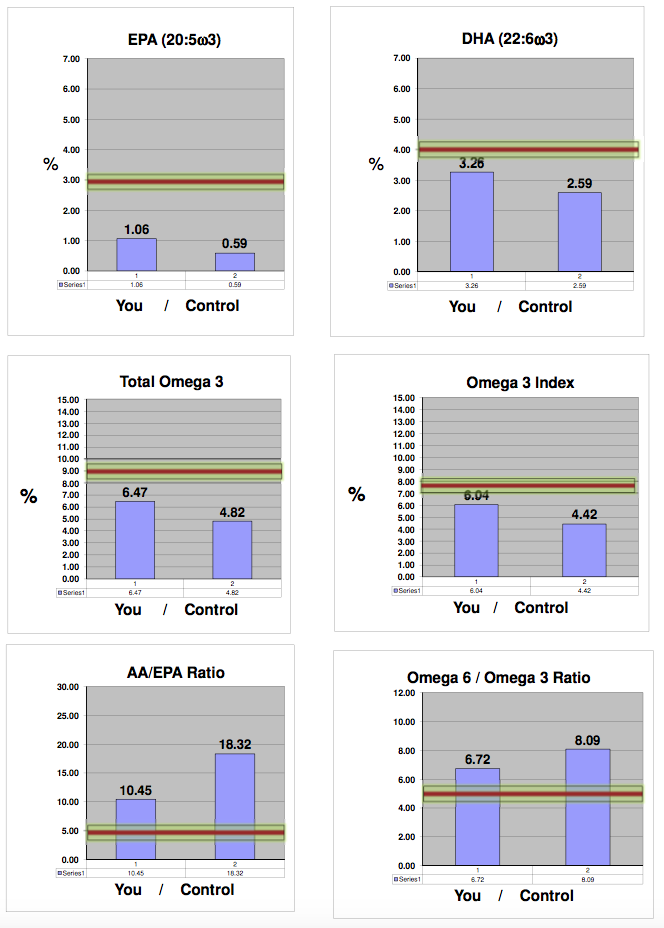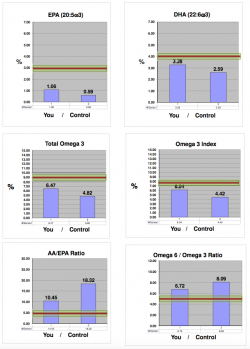 Using a fairly inexpensive lab like this that you can do right at home, is what I consider the future of personalized medicine.
It's important to take control of your own health.
Completing an at-home mail-in test like this Omega-3 test is something I recommend to many of the people I care for in my practice and something you may want to look into for yourself…
And, if you're currently suffering from any cardiovascular, mood, skin, pain, or inflammation based health concern, I highly recommend completing this lab today.
Either way, I did want to make sure you knew it existed and how to access this information if you or a family member could benefit from it.
How to Get Started
Simply click the button below to order your at-home Omega-3 test kit.
You will then be directed to our secure shopping cart where you can pay by credit card or PayPal.
After you place your order, we will mail out your at-home lab test the next day with simple to follow instructions on how to complete it.
We'll be with every step of the way, and if you ever have any questions simply email us at anytime!

I look forward to reading over your labs and getting you started on the path to increased energy, less stress, and greater wellness!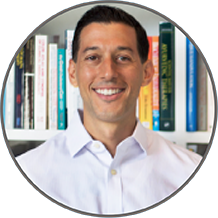 Ayubowan,
Stephen Cabral
Board Certified Doctor of Naturopathy
Watch More Details on the Omega-3 Test Below:
* Albert CM, Hennekens CH, O'Donnell CJ.  et al.  Fish consumption and risk of sudden cardiac death.  JAMA. 1998;279:23-28