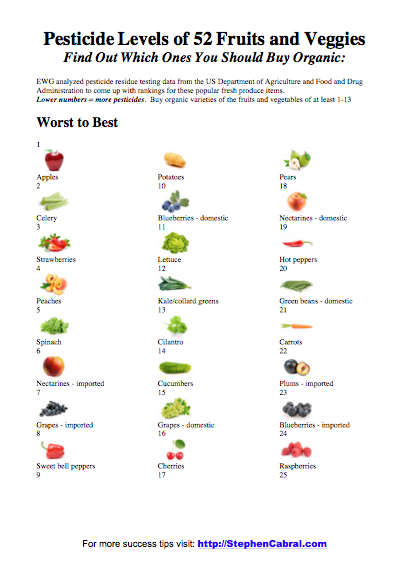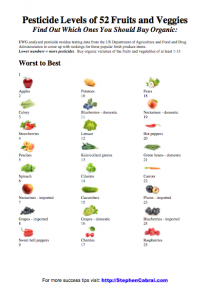 It's not so common knowledge right now that most farms in the US are using KNOWN poisons in our food system.
It's no different than chemical warfare, but just on a scaled down version.
Seriously, the same company that developed chemical nervous system destroying weapons for Vietnam is supplying the same type of chemical sprays to keep bugs from destroying fruits and vegetable crops.
The result is soil that has been depleted of natural minerals, and something even worse…
After the spraying, many fruits and vegetables actually ABSORB the poisons directly into the fruit.
This means that you simply can NOT wash off the pesticides.
For example, apples are one of the top fruits that are infected by these chemical toxins. So, if you think scrubbing the skin with a fruit and vegetable wash is going to take off the chemicals think again…
Those toxins are now in the skin of the apple.
Scary (and nobody tells you this!).
The only way you're not going to be affected by the chemicals is to peel the apple and throw away the skin.
But, like I said before what's the point of eating an apple if you throw away the greatest source of minerals and antioxidants…
This is why spending a little more on organic varieties for the fruits and vegetables that are affected the most is a good idea.
Personally, if it's a choice between buying organic and conventional for the most harmful fruits and vegetables there's no choice at all.
I simply won't poison myself, or my family by eating chemical agents that work by destroying the nervous system of bugs.
Sure, eating a little may not hurt, but over time it's just common sense that these poisons will accumulate in your body and you'll begin to feel its effects manifesting as lowered immunity, fatigue, auto-immune diseases, MS, Parkinson's, Alzheimer's and many more.
Thankfully, we have a choice.
Try to save money in others of life and spend a little more where it counts, and that is with the food that sustains your and your family's health.
To make it easy for you I've created an easy to read downloadable PDF of the worst fruits and vegetables to stay clear of, and those that are more acceptable to eat conventionally grown since they can be naturally peeled or washed.
(Click the link below to download the free PDF)
As a general rule, though, whenever possible opt for organic produce that is locally grown.
It'll always be your best choice!
I hope this article helped expose how profits are usually put before people in this day and age, so we must look out for each other!
Now, download the "52 Fruits and Vegetables Safety Sheet" while the link is up:
Committed to your success,
Stephen Cabral, CSCS, CPT, NS
Voted "2011 Personal Trainer of the Year"
Author of Fatlossity, Lose5in7 Weight Loss System
Health Consultant for MTV, Men's Health, Women's Day, MAXIM, NutritionData, Dietcom, SELF
https://stephencabral.com
>>> Here are the Exact TOP 3
Fat Burning Systems My Clients Use:
http://Lose5in7.com
– my complete 12 week in-home
step-by-step, weight loss system as seen on TV.
***************************************************************************************************
Please feel free to forward this article to anyone it could help!
***************************************************************************************************