Create a Better Body Workout Video! (in under 4 minutes)
Over the next 4 weeks I'm going to show you EXACTLY how to progress from
one exercise to another using these movements shown in the video below.
Here's how to "Create a Better Body" in just 3 exercises…
Create a Better Body Details:
Tri-set of exercises working every muscle in your body for maximum fat loss results
Intervals keep your heart rate up and burning body fat
Work your entire body for maximum results with minimum time!

… now let's get right into the workout.
Week 1: (2-3 sets using a challenging weight)
Exercise #1: Dumbbell shoulder press x 15 repetitions
Exercise #2: Dumbbell split lunge x 15 repetitions on each side
Exercise #3: Crunches with your legs raised at a right angle x 20 repetitions
>>> Check out the video below  to see me take Sarah through my "create a better body" workout video! Click the play button now:
Week 1 of 4: Create a Better Body
I hope you enjoyed the video!!!
Committed to your Success,



Stephen Cabral, CSCS, CPT, NS
Author of Fatlossity – Lose5in7 Weight Loss System
Health Consultant for MTV, NutritionData, Diet.com, Gather, EDGE
PS. I've done all the hard work for you in designing the step-by-step program
to help you lose weight PERMANENTLY and now all you have to do is follow
the fast and easy steps to get started today. It's the same one seen you've
seen proven on TV, in magazines & in the news.
… and you won't find it anywhere else.
* IF you're finally ready to let me PROVE to you how you can quickly
and easily get in your best shape EVER click the link below to take
my exclusive 30-Day Challenge!
(My online training system is fun and it WORKS every time – EVEN if
you've failed in the past…)

GO TO: Stephen Cabral's 30-Day Challenge!
(strictly limited to 100 new clients per month in order to be able to provide
outstanding customer service and ensure your reach your goals!)
————————————————————————————————-
>>> Please feel free to forward this page to anyone it could help!
————————————————————————————————-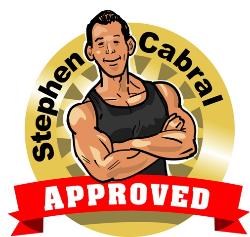 New exercise video progression on how to create a better body will be sent
out each week for a month, so stay tuned and keep checking your newsletter
emails for the next video to be released!