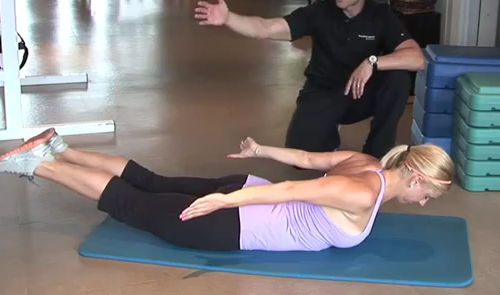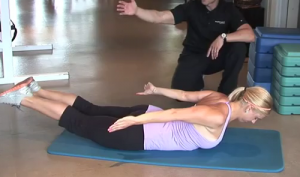 This video has gotten an amazing response since its debut, so I wanted to make sure you got to see it.
I think the reason why it's become popular is because most people now understand that in order to get a flat midsection you can't just do crunches…
Okay, enough talk, let's get right into the complete core workout!
Here are the 3 main points I want you to take away from this video:
1. You'll always end up with a smaller tighter waist if you FOCUS LESS on crunches and more on working ALL of the muscles of your core
2. In order to keep your lower back safe and pain-free you must make sure you're NOT doing crunches or other abs exercises without balancing out your lower back with opposing muscle group movements
3. Don't forget your obliques! I love targeting the obliques with rotational or "anti-rotational" exercises and you'll see one of them in the video today
So now that you know what to look for here is how to complete this quick, but highly effective core workout:
The Abs Exercise
The 1st exercise is an "Alternating 1-Arm/1-Leg Full Body Crunch (a.k.a. Shin Slaps)." It is a phenomenal exercise to work every muscle in your abdomen, and I even give you a few different ways to complete it depending on your fitness level.
The Low Back/Glutes Exercise
This opposing exercise, "Cobra Back Extensions (a.k.a. Cobra Supermans)", squeezes your glutes and back muscles while firing all of those neglected posterior chain muscles that you cant see in the mirror. These are also the ones that tend to get weak from all the sitting we do at our desks and behind the wheel.
The Obliques Exercise
This exercise, "Brazilian Crunches," actually works every muscle in your core to a high degree, but it's focused on your obliques. It's intense, but worth every rep!
(You can watch the Complete Core Workout video by clicking the play button below)
Also, in the video I explain why some people have that "bloated" or distended look to their abs even when they don't have a lot of body fat…
This video is 4 minutes 49 seconds of waist-tightening tips that you don't want to miss!
I hope you enjoy following along with the workout and incorporating these moves into your exercise program. If you're following my Guaranteed Results Fatlossity Weight Loss System I highly recommend you add this in to one of your metabolic interval days…
Committed to your Success,

Stephen Cabral, CSCS, CPT, NS
Author of Fatlossity – Lose5in7 Weight Loss System
Health Consultant for MTV, Maxim, Men's Health, SELF, Nutritiondata, Diet.com, Gather, EDGE
http://Lose5in7.com
– my complete 12 week in-home
step-by-step, weight loss system as seen on TV.
***************************************************************************************************
Please feel free to forward this article to anyone it could help!
***************************************************************************************************