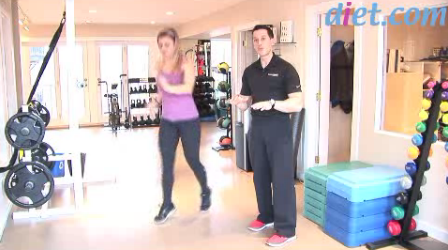 No workout could ever be called complete without this component.
It gets even more important when you come into the workout that day "cold" or having sat down for most of the day.
And, if you workout first thing in the morning then it goes without saying you're going to need to properly warm-up the body and get it ready for the day's exercise program…
At my Boston personal training and weight loss studio, it's absolutely mandatory that every client complete a dynamic warm-up before they begin the planned exercises for the day.
This increases the likelihood that your muscles, joints, and nervous system will be primed for the workout and you'll be able to safely perform each exercise with the proper technique.
Please keep in mind that walking, jogging, or running on a treadmill or other cardio piece is NOT a dynamic warm-up.
I've mentioned it before but it bears repeating…
Using a cardio piece does get your blood pumping, increase heart rate, raise body temperature, and increase cortisol.
However, what cardio fails at doing is mimicking any of the dynamic movements you'll be doing during your workout. This means you're not going to be fully opening up your chest (thoracic spine), shoulders, neck, hips, and ankles.
This is crucial.
Plus, if you haven't already guessed cardio warm-ups only utilize a single direction of movement. This means you only get warmed up in the sagittal plane (forward and backwards).
It also means you just left out the rotational plane (transverse) and side-to-side plane (frontal). If you're doing any type of free weight exercises being properly warmed up in all THREE planes of motion will better prepare you for the workout.
That equates to better balance, mobility, flexibility, and range of motion.
Simply put, you'll be able to maximize your workout and decrease your chance of injury by completing a short dynamic warm-up that utilizes 2-3 planes of motion.
Now you may think this is complex or will be difficult to complete, but I can assure you it's easy and fun to do.
Best of all you'll only need to complete 3-5 quick exercises taking no more than a minute each to finish.
If you've been using my Fatlossity 12-week weight loss system for some time you already know that each new 4-week program comes with a dynamic warm-up you can do right at home or in the gym.
If you're not following my Fatlossity "Lose 5 in 7" System you can check out this dynamic warm-up that I created for you.
Sample Dynamic Warm-Up:
W1. Split Jacks (30-60 seconds)
W2. Transverse Plane Lunges (20-24 reps)
W3. Hand Walkouts (8-10 reps)
I highly recommend checking out the video below to see these exercises in action:
So, the big take away should be that you can still do a short general cardio warm-up before your workout, but it is crucial to add in some specific dynamic movements.
As I said, this will maximize your results and keep you safe…
Hopefully you enjoyed the article and you put this dynamic warm up to good use!
Committed to your success,
Stephen Cabral, CSCS, CPT, NS
Voted "2011 Personal Trainer of the Year"
Author of Fatlossity, Lose5in7 Weight Loss System
Health Consultant for MTV, Men's Health, Women's Day, MAXIM, NutritionData, Dietcom, SELF
https://stephencabral.com
Please Note: I do not endorse any advertisements in my YouTube videos.
>>> Here are the Exact TOP 3
Fat Burning Systems My Clients Use:
http://Lose5in7.com
– my complete 12 week in-home
step-by-step, weight loss system as seen on TV.
***************************************************************************************************
Please feel free to forward this article to anyone it could help!
****************************************************************